Moving To Fort Lauderdale – Relocation Guide for 2022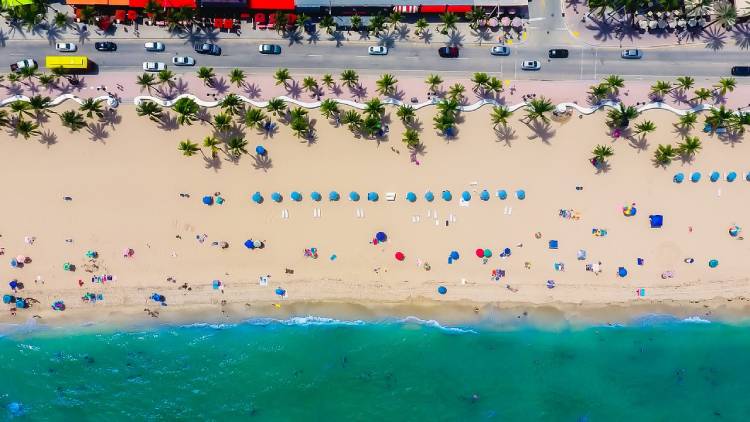 If you like beaches, warm weather, community life, good nightlife, and sunshine, consider moving to Fort Lauderdale. Located in Broward County in South Florida, Fort Lauderdale is home to over 185,000 people and is suitable for practically all kinds of people.
Also known as the 'Venice of America,' the intricate canal system that runs through Fort Lauderdale has made it a popular tourist destination. Besides, it has ample outdoor activities and is so close to the beaches of Florida. If you're on the hunt for a quiet and calm place to call your home, you have Fort Lauderdale. Let us look at a few things to help you gauge whether Fort Lauderdale is a good option for you to reside in.
Pros And Cons Of Living In Fort Lauderdale
Pros
1.Beaches Galore!
Fort Lauderdale has the most beautiful sunset view from the gorgeous beaches it is surrounded with. All the nature lovers are going to love living here.
2. Great Schools
The quality of education in Fort Lauderdale is rated high and is home to some of the best-rated schools in the county.
3. Good Healthcare
The healthcare facilities in Fort Lauderdale are top-notch. As a resident of Fort Lauderdale, you have access to the best healthcare services available in the city.
4. Low Taxes
The tax rates in Fort Lauderdale are lower, allowing you to have an overall steal deal on apartments and groceries.
5. Tons Of Adventure Activities
The amount of outdoor activities in Fort Lauderdale is absolutely worth it, if you are an adventure enthusiast, you will love living in Fort Lauderdale.
Cons
1.It's Hot, Muggy, And Stormy!
If you're not used to hot summers, brace yourself for the stormy and humid summers in Fort Lauderdale. It can get really hot and the summer storms can be scary as well.
2. Lots Of Bugs And Critters!
You need to be aware of the bugs and mosquitoes that you'll be exposed to when living in Fort Lauderdale. Carrying a bug spray is highly recommended.
3. Hurricane Season
The hurricane season in Fort Lauderdale (June to November) is when you need to prepare for hibernation. Make sure you have stored your food and other necessities as you'll be quite a lot of time at home.
4. Wildlife Moving About
Fort Lauderdale is located in the southern part of Florida and you need to be aware of the wildlife (in particular alligators) moving around freely in residential areas.
5. Bad Traffic
The traffic in Fort Lauderdale is borderline annoying as it takes you a few extra minutes to reach your desired location.
Weather In Fort Lauderdale
Fort Lauderdale in general experiences tropical rainforest weather where it rains for more than 140 days and is sunny for more than 200 days a year. The annual rainfall in the region reaches 60 inches on an average every year.
The 200 days of summer are hot and humid whereby you need to keep your body hydrated to avoid heatstrokes. The winters are mild and the lowest temperature in winters on an average reaches about 50°F. That is as cold as it is going to be in Fort Lauderdale during winters. Hate snowfall? You'll totally love it here!
Fort Lauderdale also experiences some of the wildest weather conditions that you must be aware of. Flooding, hurricanes, and thunderstorms are extremely common in many areas. To add to that, Fort Lauderdale is very prone to tornadoes. Keep an ear out for weather updates and we recommend hurricane-proofing your house!
See Also: How Much Does It Cost to Move Out of Fort Worth?
Cost Of Living In Fort Lauderdale
The cost of living in Fort Lauderdale is high and you will end up spending more on groceries, transportation, housing, and certain taxes as well. It's not surprising considering that Fort Lauderdale is a tourist destination with a growing population.
The healthcare services and utilities in the county are relatively affordable though, so you'll end up saving some in those areas. The cost of living index of Fort Lauderdale is 117.9. It is 17.9 higher than the national average index of 100. We have listed down the areas that play a part in determining the cost of living in Fort Lauderdale
Buying A House In Fort Lauderdale
The housing market in Fort Lauderdale is on the higher end and not everyone can afford to buy a property in the city. The market for rentals is equally expensive and we recommend that you buy a house if you're planning on living in the city long term. Renting could get really expensive and buying a house is also a great investment in the city.
| | | |
| --- | --- | --- |
| | Fort Lauderdale | United States |
| Median Home Value | $430,165 | $312,728 |
As you can see, the median home value in Fort Lauderdale is much higher than the national average, according to Zillow. There's also a shortage of houses that are open for sale which further leads to an increase in demand for housing properties in Fort Lauderdale.
Renting A House In Fort Lauderdale
It's not just buying a house that is expensive, renting can be even more expensive as the market for rentals is also running higher with fewer properties in the market on rent. You'll end up spending quite a bit of money when renting in Fort Lauderdale, which you could have spent on paying off the mortgage of a house.
Fort Lauderdale is one of the most expensive cities to reside in the US. So before you make any decision, you need to have a look at the kind of money you would most likely be spending on the rent each month.
| | | |
| --- | --- | --- |
| Apartment Size | Monthly Average Rent | US Average Monthly Rent |
| Studio apartment | $1,160 | $950 |
| 1 Bedroom Home | $1,277 | $1,050 |
| 2 Bedroom Home | $1,602 | $1,278 |
| 3 Bedroom Home | $2,272 | $1,680 |
Utilities And Other Expenses In Fort Lauderdale
The expenses on utilities and healthcare facilities in Fort Lauderdale are relatively cheaper than the expenses on transportation, and groceries. You'll be spending higher than most citizens of the US as living expenses in Fort Lauderdale are much higher. Let us look at a breakdown of some expenses to help you better understand the kind of expenses you will be required to pay each month.
Loaf Of Bread: $3.50
Monthly Transportation Pass: $65
Internet Bill: $59.23 monthly
Utilities: $149.27 monthly
Tax Rates In Fort Lauderdale
Florida is among the nine states in the US that do not impose income tax on its residents. Fort Lauderdale is no exception to this rule and you get the chance to save up some of your hard-earned money. On one hand, where you'll be saving on income tax, you'll be spending a bit more on the property tax. The average property tax in Fort Lauderdale is 1.33%.
The average sales tax in Fort Lauderdale when compared to other cities in the US is 1% higher than the average of 6%. Broward County applies 1% extra sales tax. As a resident of Fort Lauderdale, you'll have sales taxes that vary depending on how the state and county decide to impose them. On one hand where you save a good amount, you spend a little extra in other areas.
Crime Rate In Fort Lauderdale
The crime rate in Fort Lauderdale is the highest in all of Florida and also among other cities in the US. It's one of the most unsafe places to reside in Florida. About 57 people out of 1,000 fall prey to violent and nonviolent crimes in Fort Lauderdale. This rate is higher than most other cities in Florida. Comparing these rates to most other cities in the US, Fort Lauderdale still stands as one of the top cities in terms of crime rates.
According to NeighborhoodScout, there is one in 18 chances of a person falling prey to property or violent crime in Fort Lauderdale. This is a very high rate of crime and you need to carefully look for a neighborhood with lower crime rates. If you are looking for safe neighborhoods, you may want to look at the neighborhoods of Victoria Park, Edgewood, Coral Springs, and Parkland.
Economy And Job Market Of Fort Lauderdale
The economy of Fort Lauderdale is flourishing as there has been growth in different sectors and industries in the town. In the past few years, the economy of Fort Lauderdale has seen consistent growth in sectors like mining, tourism, education and finance. Here's a quick rundown of the salaries and the job market in Fort Lauderdale:
| | | |
| --- | --- | --- |
| | Fort Lauderdale | US Average |
| Average Household Income | $52,315 | $57,652 |
| Job Growth | -7.7% | -6.2% |
| Median Family Income | $62,045 | $70,850 |
| Unemployment Rate | 3.5% | 6.0% |
The major industry that has helped Fort Lauderdale maintain a steady economy is the tourism industry. The unemployment rate in this town is 3.5%, which is lower than the national average. Some of the other industries that have also contributed to the town's economy are trade, business, finance, and the marine industry.
The majority of the skilled population in Fort Lauderdale is employed in these prominent industries themselves. A few companies that have the majority of the population working for them are Citrix, Signature Consultants, Moss and Associates, AutoNation, and Broward Health.
Education In Fort Lauderdale
If you're looking for a new school or a college for your child or yourself, Fort Lauderdale is the place to go. There are over 27,000 students studying in more than 213 schools in the district. Broward County Public Schools is one of the largest school districts in the country. Needless to say, it is known for its top-class colleges and universities that provide quality education for all.
Let us have a look at some of the best schools, colleges, and universities in Fort Lauderdale that you can enroll yourself or your kids in:
Elementary Schools
Bayview Elementary School
Harbordale Elementary School
Virginia Shuman Young Elementary School
Middle Schools
Sunrise Middle School
New River Middle School
William Dandy Middle School
High Schools
Fort Lauderdale High School
Stranahan High School
Colleges and Universities
City College Fort Lauderdale
University of Florida
Keiser University
Florida Atlantic University
Broward Community College
University of Fort Florida
Traffic And Transportation In Fort Lauderdale
The city of Fort Lauderdale has a limited source of public transport. Broadway County Transit provides bus and shuttle services in certain metropolitan areas with an average efficiency. The taxi system, Sun Trolley, and bike share are some other ways that the public uses to get around in the city.
Most people in the city use their personal vehicles as it is one of the most convenient ways to commute. The roadways are relatively free and the commute takes moderate time to reach the destination. The government has also been taking measures to control the public transportation system and improve efficiency as well.
Places To Visit In Fort Lauderdale
The South Florida town has some of the best beaches and some other destinations that you may want to visit when you move:
1. Bonnet House
Bonnet House is one of the locations in Fort Lauderdale that will take you away from city life. It makes for the best weekend getaway destination that you can go to with friends and family.
2. Diplomat Beach
If you're a beach baby, you must visit Diplomat for a relaxing weekend. It's a white sand beach that you're sure to fall in love with. The restaurants around the area serve the best food and drinks for your enjoyment.
3. Flamingo Gardens
The botanical gardens and the wildlife sanctuary of Flamingo Gardens is a place you must visit when in Fort Lauderdale. The 60 acres of botanical gardens have several species of plants that you can see along with the Flamingos during the migration seasons.
Best Places To Live In Fort Lauderdale
Now that you have learned a thing or two about Fort Lauderdale, let us have a look at some of the neighborhoods that you could live in.
1. Victoria Park
Victoria Park is a city with ample amenities, job opportunities, and educational scope. The crowd in this neighborhood mainly consists of college students and professionals working in different sectors. The living is affordable along with a lit nightlife that the younger generation enjoys. The neighborhood has low crime rates and is safe for everyone making it one of the highly demanded places to live in.
Population: 6,618
Median Home Value: $458,600
Annual Median Household Income: $67,990
Monthly Median Rent: $1,400
2. Sunrise Intracoastal
Sunrise Intracoastal is a neighborhood with a sparse population of people. It's a quiet and peaceful neighborhood consisting of a majority of elderly people spending their retirement life in the neighborhood. The people here are helpful and have old town vibes. You can move to this neighborhood if you want to live a life away from the bustling city life.
Population: 1,000
Median Home Value: $457,500
Annual Median Household Income: $91,618
Monthly Median Rent: $2,300
3. Edgewood
Edgewood is a friendly and close community based neighborhood with majorly families living together. The community is diverse in this neighborhood. Besides, the crime rate is low and is a safe place to raise a family. Downtown Fort Lauderdale is also just a few minutes away from this neighborhood, making going back and forth convenient for Edgewood residents.
Population: 5,450
Median Home Value: $255,000
Annual Median Household Income: $430,165
Monthly Median Rent: $2,100
4. Rio Vista
Rio Vista is a neighborhood where the wealthy folk of Fort Lauderdale live. Unsurprisingly, it's among the most expensive neighborhoods of Fort Lauderdale. The property in this area is highly demanded by businessmen, investors, and realtors.
Population: 2,264
Median Home Value: $1,19,960
Annual Median Household Income: $80,119
Monthly Median Rent: $2,310
Summing It Up
From the abundance of entertainment and adventure options, gorgeous beaches, abundance of schools and more, we understand why people have been moving to Fort Lauderdale. If all these are things you're looking for, you can definitely consider moving to Fort Lauderdale permanently!
Also Read: Moving to San Diego – A Relocation Guide for 2022
FAQs
Is It Worth Moving To Fort Lauderdale?
Fort Lauderdale is very similar to Miami when it comes to adventure and entertainment activities. If you want to have fun but also have a quiet and peaceful life, Fort Lauderdale is the better option for you.
Is FT Lauderdale A Good Place To Live?
Fort Lauderdale is an excellent place for you to live with your family. The low cost of living, job opportunities, and outdoor activities for the young and old make it one of the finest places to live in Florida
See Also: What Salary Do You Need To Live In Fort Worth
Is It Expensive To Live In Fort Lauderdale?
When compared to the other cities in Florida, Fort Lauderdale is on the expensive side. But when compared to the cities in the US, it's one of the cities that are in the affordable range with regards to housing, taxes, and education.
See Also: Know the Moving Companies to Move to Fort Lauderadale
Enter your information
Almost done!
Enter your information to view your quote.
Your information is safe with us. By using this service, you agree to receive email communications solely regarding your relocation process