Moving From Los Angeles To Seattle – A Detailed Guide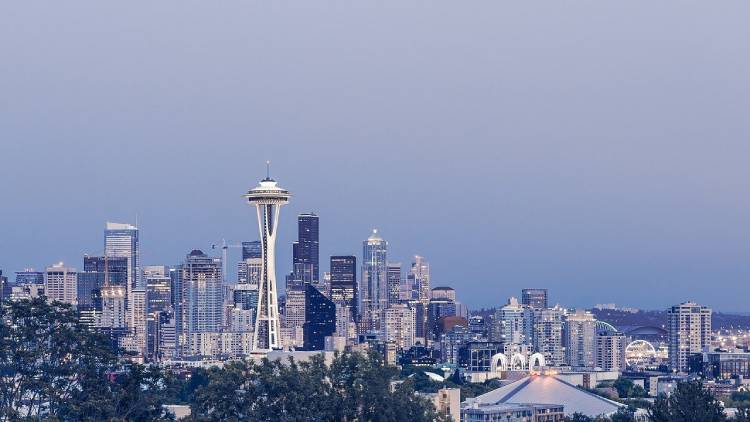 The high expenses of Los Angeles getting to you? Then consider moving all the way north to Seattle in Washington State. With its quirky restaurants, coffee shops, and diverse culture, you'll surely feel that Seattle is a breath of fresh air. LA is known for its warm weather year-round and affluent neighborhoods. But do you know that you can enjoy those same qualities of LA while not busting your bank? That's what's in store for you if you move from Los Angeles to Seattle. Keep reading to know more!
Some Points To Consider Before Moving From Los Angeles to Seattle
Weather
You'll feel the change of climate once you reach Seattle. Los Angeles is blessed with a warm temperature climate year-round with many sunny days to spare. However, Seattle's weather is gloomy as it has the most cloudy days than any other city. But that is nothing to be bothered about because Seattle has its fair share of sunny days as well.
Summers in Los Angeles are dry and humid since they don't see much precipitation. During the peak summer season, Los Angeles sees temperatures around 62°F to 79°F and they never go beyond three digits. On the other hand, summers in Seattle are slightly wet and have much more favorable temperatures than in Los Angeles. Peak temperatures during the summer months in Seattle fall between 57°F to 72°F with an average of 4 days of rainfall.
Now we come to the slightly harsher side of Seattle: its winters. The temperatures during the winter months range between 39°F to 47°F with an average of 13 days of rain! So better take your raincoats and umbrellas from the high shelf because you will be needing them. On the contrary, Los Angeles' winter temperatures fall between the warm range of 49°F to 68°F with a few days of rainfall.
Cost Of Living
If you're moving to Seattle to save a couple of bucks, then you're making the right decision. On the cost of living index, Los Angeles scores 176 whereas Seattle has a figure of 167. While this means that both cities have a cost of living index more than the national average (100), it means living in Seattle is 4.8% cheaper than in Los Angeles. One factor that affects the cost of living is real estate. And in Seattle, prices of real estate are 3.6% less than in Los Angeles.
If you're buying a house in either of the cities, here's what you'll be shelling out on an average:
Median home cost in Los Angeles – $883,400
Median home cost in Seattle – $851,400
However, rent in Seattle is is pretty much the same as in Los Angeles:
| | | | |
| --- | --- | --- | --- |
| City | 1-bedroom | 2-bedroom | 3-bedroom |
| Los Angeles, CA | $1,588 | $2,025 | $2,668 |
| Seattle, WA | $1,624 | $1,920 | $2,627 |
The best part about living in Seattle is that you don't have to pay any state income tax. However, you'll have to pay sales taxes that are as high as 10%. This is the only drawback where taxes in Seattle are concerned.
Job Market
There's no denying that Los Angeles' economy is diverse and HUGE. In fact, it is one of the biggest cities in the US where the GDP is concerned. Industries such as international trade, entertainment, and finance have been responsible for the stupendous $960.25 billion GDP. Unsurprisingly, the diverse economy has always been appealing to people from all over.
Seattle's economy might be comparatively smaller, but it still has had an impressive GDP of $382.63 billion in 2019 wherein the service, technology, and manufacturing sectors have contributed majorly to the city's economy. Due to that, people who are inclined towards the technical field have been moving to Seattle to avail themselves of its many job opportunities.
To understand how prosperous Seattle's economy is, take a look at some of the best employers in the city.
Amazon
Starbucks
Nash Holdings
Trident Seafoods
Seattle has an unemployment rate of 4.8% whereas Los Angeles has a rate of 10.6%. This huge difference in unemployment rates shows how Seattle has the upper hand against Los Angeles where the availability of jobs is concerned.
There's one thing that will probably seal the deal for you moving from Los Angeles to Seattle: the salary. On average, what you earn in Seattle will be more than in Los Angeles! With no state income taxes in Seattle and salaries above the national average, you can be sure of "living life king-size" in the Emerald City!
| | | |
| --- | --- | --- |
| City | Average Median Household Income | Average Income Per Year |
| Los Angeles, CA | $49,682 | $28,320 |
| Seattle, WA | $67,367 | $44,167 |
Also See: Moving From Chicago To Seattle – A Detailed Guide
Transportation
LA also has a pretty decent public transit system but it doesn't cover remote parts of the city. As a result, people in LA prefer driving around the city to get efficiently from point A to point B instead of using public transit. On the other hand, traveling in Seattle is convenient since it has a proficient bus and railway system touching nearly all parts of the state.
Here are some of the best easy to get around in Seattle, Washington:
Metro Transit: Buses that cover pretty much of the city including major areas like Downtown Seattle, West Seattle, Ballard, and University District.
Light Link Rail: Covers Sea-Tac Airport, University of Washington, Westlake Center Downtown, South Seattle, and Tukwila.
Taxi: Uber and Lyft services are available in any area of the city.
Some Notable Places Worth Sightseeing In Seattle
Seattle Center & the Space Needle
Pike Place Market
Museum of Flight
Woodland Park Zoo
Also See: Moving to Washington
Best Places To Live In Seattle
Belltown
If you want a neighborhood far from the hustle and bustle of city traffic, then Belltown in Seattle should be first on your checklist. Despite being smaller than most neighborhoods in Seattle, its sidewalks are filled with shops, eateries, and restaurants. All of these are within a walking distance from where you reside, so you don't have to worry about driving to get a packet of chips. Also, people from Belltown are health conscious; hence, you'll see many gyms spread out in every nook and corner of the place. Parking is a bit expensive in Belltown. So this is just a heads up if you plan on driving around the neighborhood.
Population: 27,051
Median Home Value: $643,387
Monthly Median Rent: $1,947
Annual Median Household Income: $108,508
Fremont
Getting around Seattle will be a breeze if you choose to live in Fremont since it is centrally located. Most of Seattle's bus routes pass through Fremont which means you might not need a car to travel around its neighborhoods. Once you reach Fremont, you'll find a vast array of sculptures, bars, and shops adorning its sidewalks which in turn adds a certain hip vibe and feel to the place. If you're worried about safety, don't be since its neighborhoods are one of Seattle's safest.
Population: 20,904
Median Home Value: $699,420
Monthly Median Rent: $1,806
Annual Median Household Income: $108,508
Eastlake
Many have been moving to Eastlake because of the tech culture this neighborhood possesses. So if you're more career-oriented, then you need to settle in Eastlake. Apart from that, the nightlife is vibrant and the community is welcoming. Living in Eastlake won't make you feel homesick as the place has a warm, homely vibe to its surroundings.
Population: 8,592
Median Home Value: $818,927
Monthly Median Rent: $1,742
Annual Median Household Income: $114,965
Also Read: Moving From Los Angeles To San Francisco | Moving From Denver To Seattle – A Detailed Guide
The Cost Of Moving From Los Angeles To Seattle
Moving from Los Angeles to Seattle means covering a distance of about 1,135 miles. A long distance interstate move such as this would cost you quite a bit of money. Other factors such as the time and location of the move also affect the net cost of the move. You can glance at the prices below which will help you in understanding how the size of an apartment can affect the overall price of the move.
| | | | | |
| --- | --- | --- | --- | --- |
| Size Of The Move | Professional Moving Company | Moving Container Company | Freight Trailer Company | Truck Rental Company |
| 1- bedroom | $1,724 – $2,989 | $1,800 – $2,275 | $1,427 – $2,027 | $1,082 – $1,460 |
| 2-bedroom | $1,921 – $3,452 | $2,287 – $2,888 | $1,664 – $2,364 | $1,108 – $1,494 |
| 3-bedroom | $2,651 – $4,104 | $2,701 – $3,413 | $1,853 – $2,634 | $1,265 – $1,707 |
To save up on money on such a move, you should try your best in minimizing costs by downsizing. Only if a certain article has value then it is worth transporting. Otherwise, transporting unimportant articles is just a waste of space and money. Also, plan your move at least 2-3 months in advance. Waiting to do things at the last moment is not only harmful to your move but also for your peace of mind. One way of staying more organized is by having a checklist of items that have to be transported.
Depending on how much you're willing to spend, you can either hire a professional moving company or rent a truck. The former option will do all the work for you that includes all the lifting, loading, unloading, packing, and unpacking. Some services even offer junk removal for a small fee. However, a professional moving company is expensive but at least you have someone doing all the heavy work for you. On the other hand, renting a truck is cheaper, but all the lifting and loading will have to be done by yourself.
Conclusion
There are more positives than negatives where moving from Los Angeles to Seattle is concerned. With its booming economy, vibrant culture, and abundance of green spaces, you can be sure of living a good life in Seattle. True, the weather can get a bit depressive when it's cloudy, so use that time to laze around your couch.
Also Read: Why People are Moving out of Los Angeles
FAQs
How Much Does It Cost To Move From Los Angeles To Seattle?
Depending on the size of your move, the price can vary between $2,294 to $6,550. Chances of getting better offers are high if you get quotes from at least 2-3 moving companies. Therefore, do not settle on the first deal you find.
What Salary Do You Need To Live Comfortably In Seattle?
You'd need around $40k annually to live comfortably in Seattle. However, the variables change when children are involved. Assuming that you're the sole working member providing for yourself and one child, the amount roughly translates to $73,190 a year.
Is Seattle Cheaper Than Los Angeles?
Yes, it is! The cost of living in Seattle is a bit cheaper than in Los Angeles. On top of that, Seattle's booming economy can afford salaries higher than the national average. Therefore, you'll be earning a lot more living in Seattle than in Los Angeles.
See Also: Moving From NYC To LA | Moving To Seattle – Relocation Guide
Enter your information
Almost done!
Enter your information to view your quote.
Your information is safe with us. By using this service, you agree to receive email communications solely regarding your relocation process