Moving From NYC To LA – A Detailed Guide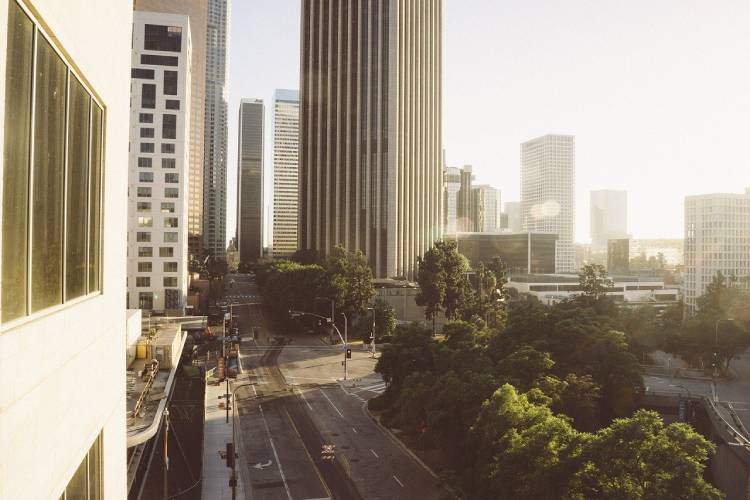 Without a shadow of a doubt, New York City and Los Angeles are America's most bustling cities. But people have been moving from the Big Apple to the City of Angels for numerous reasons. Living in NYC is a thrilling experience, but its hectic work culture often burns people out. Hence, to maintain a proper frame of mind, many New Yorkers have been moving to Los Angeles as the environment is much calmer and serene. This is just one of the many points why people have been moving to the City of Angels. To know more, continue reading our article.
Some Points To Consider Before Moving From NYC To LA
Weather
If you're tired of the blistering winters, then moving from NYC to LA would possibly be the best decision you make! You'll indeed feel the difference in weather conditions once you reach LA. Throughout the year, LA is blessed with warm weather even during the winter months. During the peak summer season in Los Angeles, temperatures range between the comfortable 62°F to 79°F. Very rarely you'll see temperatures crossing above 100°F.
New York City's snowy winters and cold temperatures are an escape if you live in Los Angeles. NYC sees snow above the national average whereas LA rarely receives any snow. Instead, LA has 284 sunny days per year which means that you don't have to worry about blizzards canceling your outdoor plans. The average temperature during the peak winter season in LA ranges in the warm 49°F to 68°F zone.
Cost Of Living
Let us lay down all the facts for you. Compared to NYC, the cost of living in Los Angeles is 4.3% higher than living in NYC. Real estate is the major cause of that increase. The median home cost in Los Angeles is $883,400, which is 35% more than the rates in NYC (the median price of a home in NYC is $654,300). However, rent is much cheaper in Los Angeles than in NYC. For a one-bedroom apartment in Los Angeles, the average rent per month is about $1,631 while the rate in NYC is $2,125. If you do that math, rent in LA is 24% less as compared to the rent in NYC.
Where income taxes are concerned, you'll be saving more living in Los Angeles since the tax rate is 8.0%, which is much lower than New York City's 10%. You'll have to watch out for sales taxes in LA since they're a bit more than the rate in NYC.
However, you should know that utilities, transportation, groceries, and healthcare are much cheaper in Los Angeles as compared to the prices in NYC.
We suggest that you rent an apartment in LA since it's much more affordable than buying a house. Only buy a house in LA if you have substantial savings in your account.
Job Market
Los Angeles' economy is diverse. Industries such as entertainment, international trade, and finance have driven this city's economy for years and have provided a plethora of job opportunities for newcomers. This diverse economy has attracted people not only from NYC but from different parts of the country to avail of Los Angeles' robust economy.
To give you a broader understanding of Los Angeles' thriving economy, here are some of its top employers for you to glance at:
Molina Healthcare, Inc.
CBRE Group, Inc
Activision Blizzard, Inc.
Mercury General Corp.
The unemployment rate in both cities is higher than the national average. But Los Angeles' unemployment rate is a bit lower than New York City's. According to BestPlaces, Los Angeles' unemployment rate stands at 10.6% whereas New York City's rate is 11.2% which proves that the job opportunities are a bit better in LA.
Also, you'll earn a bit less in LA than in NYC. Therefore before moving to Los Angeles, see that you have a steady job in hand first. This is Los Angeles' taxes and real estate rates are slightly towards the higher end of the spectrum.
| | | |
| --- | --- | --- |
| City | Annual Median Household Income | Average Income Per Year |
| New York City, NY | $52,737 | $32,459 |
| Los Angeles, CA | $49,682 | $28,320 |
Transportation
When it comes to the public transportation network, there's no city in the US that comes close to NYC. So no matter where you move to, it will always seem comparatively inferior!
LA, on the other hand, has an extensive public transportation network, but since it doesn't reach all parts of the city, people prefer driving to get around the place. Hence, expect to see traffic congestion on its main highways especially during mornings and afternoons.
Using the train lines in LA is the most efficient way of traveling within the city if you don't own a car. The Metro Rail system will take you to some of the many famous tourist destinations around LA such as Downtown LA, Koreatown, Hollywood, North Hollywood, Santa Monica, Chinatown, Pasadena, and Long Beach.
If you want to get to the suburbs surrounding LA, then you can use the Metrolink commuter rail system. The rail commutes to Ventura, Lancaster, San Bernardino, and Oceanside but their services are restricted on weekends and at night.
Buses are the primary source of transportation for those who don't own a car. However, the bus system is frequent only in certain areas such as in Santa Monica and in Downtown Los Angeles. Anything outside those areas doesn't hear the sound of buses.
Some Notable Places Worth Visiting In LA
Los Angeles County Museum of Art
The Getty Center
Hollywood Bowl
Walt Disney Concert Hall
Best Places To Live In LA
Downtown Los Angeles
There's a reason why we put Downtown Los Angeles (DTLA) on the top of our list. People have been moving to DTLA because its transit facilities are convenient and along with that the neighborhood is pretty much walkable. You may not even need your car to travel around this area. Youngsters are drawn towards its vibrant nightlife and culture. So if you're seeking a neighborhood that is happening, hands down, DTLA is the place you should be in.
Population: 70,298
Median Home Value: $660,596
Monthly Median Rent: $1,710
Annual Median Household Income: $59,677
Glendale
Glendale has a little Armenian hub in the city. This brings out the cultural diversity of Glendale as 40% of its residents are Armenian. And this culture is reflected in the cuisine and the mannerisms of the people. Where safety is concerned, Glendale is voted as one of America's safest cities by the FBI. This makes raising a family even easier knowing that your children are in the safe hands of the law. Also, the public schools in this area are good, so now you have one more reason to settle in Glendale.
Population: 200,232
Median Home Value: $769,900
Monthly Median Rent: $1,622
Annual Median Household Income: $66,130
Santa Monica
Santa Monica is more of a tourist destination due to its abundance of amusement parks and beautiful beaches. Nevertheless, it still remains to be one of Los Angeles' safest cities. If you ever need to buy groceries, the shops are just within walking distance from where you reside. And once you step outside your home, you'll see various coffee shops and restaurants hemmed along the sidewalks of the place.
Population: 91,577
Median Home Value: $1,382,700
Monthly Median Rent: $1,802
Annual Median Household Income: $96,570
The Cost Of Moving From NYC To LA
Moving interstate is not cheap. And to add to that, NYC and LA are literally located on the opposite ends of the US (almost 2,800 miles!). So you'll have to account for a lot of things including the time and location of the move, the number of articles that are being transported as they affect costs as well. So start planning at least 2-3 months in advance.
It's better to downsize and take articles that are of value. Moving furniture is expensive as well, so if moving a certain bed is falling expensive for you, then you might as well sell it and use the profit for something else.
Here is the approximate price range of moving from NYC to LA. A glance at the rates below should give you a better idea.
| | | | | |
| --- | --- | --- | --- | --- |
| Size of the Move | Professional Moving Company | Moving Container Company | Freight Trailer Company | Truck Rental Company |
| 1-bedroom | $2,302 -$3,954 | $2,720 – $3,4340 | $2,285 – $2,883 | $2,100 – $2,652 |
| 2-bedroom | $3,505 – $5,455 | $3,527 – $4,460 | $2,661 – $3,362 | $2,182 – $2,757 |
| 3-bedroom | $4,322 – $6,900 | $4,250 – $5,367 | $3,232 – $4,082 | $2,500 – $3,156 |
Moving can be done according to your budget. Professional moving companies are a bit expensive but they'll do all the hard work for you such as loading, unloading, packing, unpacking, and to some extent, junk removal. This is best if you want a hassle-free move leaving all the driving to a 3rd party. However, if you're on a budget, then you can rent a truck. However, you'll have to do all the work yourself which can get strenuous, especially in such a long distance move!
Read Also: Moving From NYC To Atlanta | Moving From Los Angeles To San Francisco – A Detailed Guide
Conclusion
Los Angeles is one of California's gems. With the amount of history, culture, and opportunities it offers, you can be sure of having a good experience living in this city. Sure there are certain drawbacks, the primary among them being a high cost of living. But if that's not a problem for you, moving from NYC to LA might just be the decision that works in your favor!
Also Read: Moving From NYC To Houston
FAQs
How Much Does It Cost To Move From NYC To LA?
Your move from NYC to LA should come close to $4k. However, each moving company has different price ranges offering different packages. Research at least 2-3 moving companies before taking the plunge.
Is Living In LA Better Than New York?
LA has a better quality of life than any other place in NYC. The City of Angels is home to some of the most impressive architecture, state parks, and much more. The weather is Los Angeles' ace of spades when it comes to reasons why people should move to this city. The summers and the year-round weather are pleasant as well. We guarantee that moving to LA from NYC won't be a bad decision.
Is It Cheaper To Live In LA Or NYC?
When it comes to real estate, buying a property in LA is more expensive than buying a home in NYC. If you leave the real estate part out of the picture and include only everyday expenses such as utilities and groceries, LA will save you a ton of money.
Also Read: Moving From New York To Texas | Moving To Los Angeles – Relocation Guide
Enter your information
Almost done!
Enter your information to view your quote.
Your information is safe with us. By using this service, you agree to receive email communications solely regarding your relocation process