Moving From Michigan To Florida – A Detailed Guide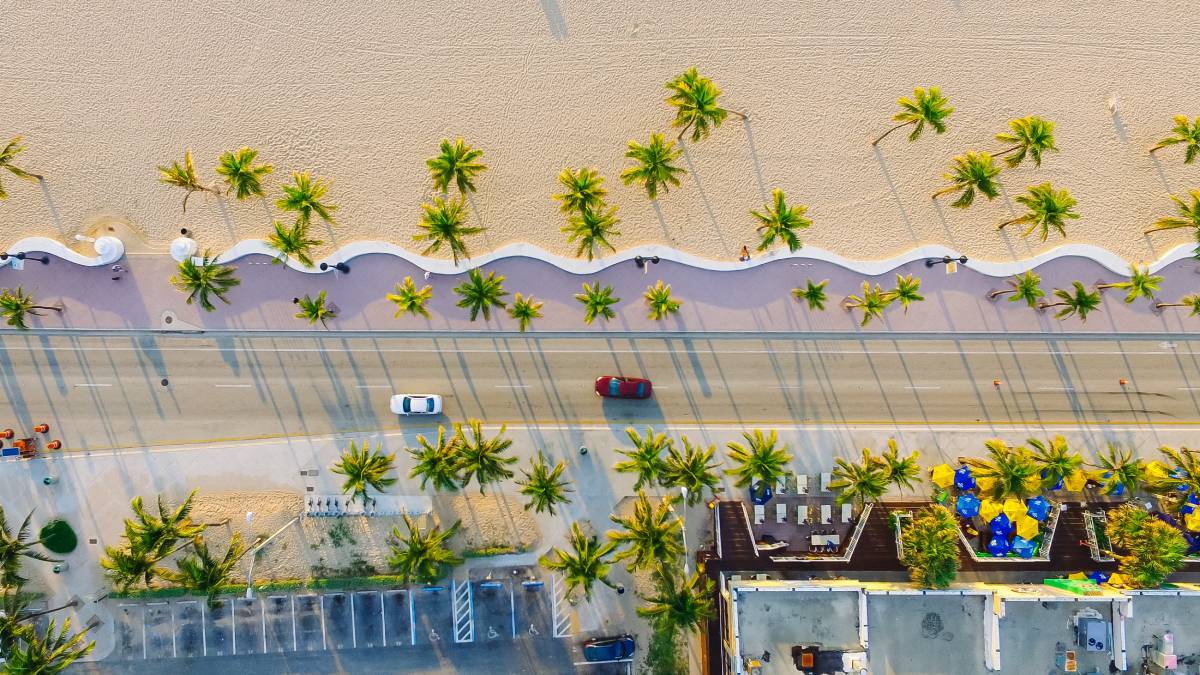 The state of Michigan has seen more than a few of its people leave to settle down somewhere else. Whether because of the slow growth rate of the job market or the harsh weather, the fact is, people are leaving, and you seem to be one of them!
When it comes to the Sunshine State, you have a lot on offer. Strong job markets, affordable cost of living, diverse population, and miles of mind-blowing coastlines. However, that's not all. You also get welcomed into an accepting community, you get to experience the beaches and the mountain ranges, and you get to explore all of them in very comfortable weather. So, if you're thinking of moving from Michigan to Florida, keep on reading to know more about living in the Sunshine State!
Weather
In Michigan, the residents feel the full force of Mother Nature as the seasons frequently go to the extremes. The summers are mild, but the winters are cold and snowy. The climate in Michigan is such that as soon as you start getting used to one weather cycle, another one comes in and makes you adjust all over again.
Also Read: Moving in the Winter – Useful Tips and Advice
On the other hand, the fact that Florida is called the Sunshine State should give you an idea of the weather in this area. It is sunny and humid for most of the year. However, this state does see a few months of monsoon, giving Florida a clear distinction between the dry season and the wet season.
The wet season in Florida lasts between October and May. During this season, the state experiences high levels of humidity followed by a brief patch of intense thunderstorms. On average, the temperatures hover between 61°F and 82°F. This means that the entire state does not experience snowfall at all. Yet, the seasons maintain balance and the residents love it.
Cost Of Living
According to Upgradedhome, the state of Florida ranks 102 on the cost of living index, while the state of Michigan ranks 89. Both of these are on either side of the national average, which lands at 100. So, while the state of Michigan is much more affordable, Florida might not pinch you as hard since it's almost in line with the national average. The economic heat of Florida is further cooled a little when you take into account the bigger job market in the area.
Buying A House
Both the states follow the theme that the overall cost of living sets. The median home price in Florida is upwards of $100,000 when compared to the median home price in Michigan. Of course, this price does fluctuate if you zero in on specific areas. However, you can expect the houses in Florida to be $100,000-$200,000 more expensive than the ones in Michigan.
Here is a table with data taken from Zillow for you to understand the housing market much more clearly.
| | | |
| --- | --- | --- |
| | Michigan | Florida |
| Median Home Value | $225,774 | $356,349 |
Renting A House
When it comes to renting, the state of Michigan is considered to be one of the more affordable places in the country. Since the housing prices here are low, the residents also have the benefit of a low overall cost of living.
On the other hand, the state of Florida sees a much higher influx of people than Michigan. This has given rise to a much more competitive rental market in Florida. In fact, it is the eleventh most expensive state in the USA in terms of rent. So, you might have to be on your toes for a good deal.
| | | | |
| --- | --- | --- | --- |
| State | 1 Bedroom | 2 Bedroom | 3 Bedroom |
| Michigan | $778 | $979 | $1,255 |
| Florida | $1,103 | $1,350 | $1,790 |
Taxes
The tax scenes in both states differ vastly. Both of them have their ups and downs and could change your entire monetary planning. For the clearest picture possible, here's a breakdown of the sales tax, property tax, and income tax in Florida and Michigan.
Starting with the sales tax, Michigan is very helpful in this regard since the state only charges a flat statewide tax rate. This means, regardless of which part of the state you live in, you'll pay only 6% as your sales tax.
On the other hand, while the base sales tax rate in Florida is the same as in Michigan, some counties charge their own sales tax as well. This county sales tax rate in Florida can range between 0.5% to 2.5%. This means, depending on where you live, you might have to pay as much as 8.5% as the sales tax.
Next, property taxes are something you'll have to take into consideration before you decide on a place to live. Thankfully, Florida is much more affordable than the rest of the country and definitely more than the state of Michigan. The average effective property tax rate in Florida is 0.83%, which is significantly lower than the average effective property tax rate in Michigan of 1.45%.
Lastly, as a resident of Michigan, you might be used to paying a flat rate of 4.25%, plus the citywide tax rate as your income tax. However, once you move to Florida, this whole expense is gone as the Sunshine State does not charge any income tax whatsoever! Although, you do have to file a federal income tax return and pay your federal taxes.
Expenses
The state of Michigan is known to be more affordable than a majority of states in the USA. According to the Bureau Of Economic Analysis, the state of Michigan is approximately 7.6% less expensive to live in than the national average. On the other hand, Florida is about 0.6% more expensive than the rest of the country.
To give you the specifics, here's a comparison of the expenses in both the states. On average, basic utilities like water, heating, electricity, and garbage disposal cost almost $342. This includes a phone and internet connection. On the other hand, the same bill in Florida adds up to about $459. This makes Florida about $100 more expensive than Michigan, and about $50 more expensive than the national average in this regard.
Somehow, the expense of food is something that a lot of people miss out on when looking at new places to live in. Michigan is the more affordable state in this regard as well. A single adult only spends around $3,026 on food annually, while a family of four spends around $8,740. Both of these amounts lie under the national average.
The state of Florida tells a different story entirely. According to 24/7 WallSt., a single adult in the Sunshine State has to shell out an average of $3,411, while a family of four might spend somewhere around $9,850. Both of these amounts exceed the national average. So, it is safe to say that Florida is relatively expensive.
The cost of healthcare in Michigan is also more affordable than it is in Florida. In Michigan, all out-of-pocket costs like check-ups and medicines, including insurance premiums, cost around $3,455 for a single adult, while the same costs around $10,545 for a family of four.
On the other hand, the costs of the same expenses in Florida add up to about $4.213 for a single adult and about $12,763 for a family of four. Both the states land under the national average. However, Michigan is much more affordable than that milestone as well, while Florida is on par with the national average.
Crime Rate
Both Michigan and Florida boast of a low overall crime rate. However, that's where the similarities between the two states end. According to NeighborhoodScout, the total crime rate in Michigan is 18.19, while the same in Florida is 21.73. Both of these lie very close to the national median of 19, but on either side of it.
Starting with Michigan, the violent crime rate in this area is 4.73, which is only 0.73 over the national median. This brings the chances of becoming a victim of violent crime in this state to 1 in 212. Property crimes in the area paint an even better picture as the property crime rate in this area is only 13.46, significantly below the national median of 19. This brings the chances of becoming a victim of property crimes in Michigan to 1 in 74.
On the other hand, the statistics in Florida, even though closer to the national median, are below it. The violent crime rate in Florida is 3.87, barely below the national median of 4. This brings the chances of becoming a victim of violent crimes in Florida to 1 in 258.
Similarly, property crimes in Florida rank at 17.85, while the national median is 19. This ranking brings the chances of becoming a victim of property crimes in Florida to 1 in 56. Overall, though Florida's crime rates are higher, the difference is minimal, and it continues to remain a fairly safe state to live in.
Economy And Employment Opportunities
When compared, the economies of Florida and Michigan are poles apart. According to US News, the economy of Michigan ranks 29th in the country, and the state ranks 38th in terms of fiscal stability. On the other hand, the economy of Florida ranks eighth, while the state ranks exactly that much in terms of fiscal stability. So, it's safe to say that the economy of Florida is stronger than the one in Michigan.
Talking about the economy of Florida, it is driven by industries like tourism, hospitality, aviation, financial and professional services, life sciences, and manufacturing. Cumulatively, these industries brought the GDP of Florida to approximately $1,106,035 million in 2021. Here is a table of the average annual income in both states, with data taken from Bestplaces.
| | | |
| --- | --- | --- |
| | Michigan | Florida |
| Average Income Per Year | $59,093 | $64,000 |
All of these factors brought the unemployment rate in Florida to 4.6% in 2021. This was exactly the same as the countrywide average unemployment rate, making the economy of Florida look even stronger.
Education
Florida is known for constantly ranking high when it comes to education. The education system in this state consists of 67 school districts and about 12 public universities. All of these educational entities have some institutions that outperform themselves. In fact, US News has ranked the quality of education in Florida as no.1 in the country! Here's a list of some of the many best schools and colleges in the state, with data taken from GreatSchools.
Schools
Manatee Bay Elementary School
Mater Academy East Charter
Osceola County School For Arts
International Studies Charter High School
Polk State Collegiate High School
Colleges & Universities
University Of Florida
Florida Institute Of Technology
Florida College
Florida State University
See Also: How to Find a Good School When Moving
Traffic And Transportation
In Michigan, the public transportation system is fairly extensive. It is divided into two modes of transport: roadways and railways. Both of these modes cover almost the entirety of the state and will take you to every corner of the city. However, the road conditions in this state are infamous for their imperfections and you should expect a delay in the commute times if you're using the roads.
On the other hand, the state of Florida has one more mode of transport in addition to the roadways and railways: the waterways. Speaking of which, since Florida is a part of the intercoastal waterway as well as the Okeechobee Waterway, some parts of the state can avail of the services of water taxis.
Other than that, the state of Florida also has two railway lines going through it. One of them is the interstate rail that consists of Amtrak, Sunset Limited, and Brightline. Other than that, a lot of cities have their own light-rail systems.
There are also multiple fixed-route bus systems in the state. Some of these bus systems are dedicated to the cities in the state, while the others focus more on intercity as well as interstate transportation. The services that focus on intercity travel are provided by several companies like MegaBus, OurRoad, Greyhound Lines, RedCoach, and Falcon Charter Bus Orlando.
Lastly, Florida is very well connected to the world by air as well. There are about 131 airports in the state, out of which there are seven large hub and medium hub airports. These are Miami International Airport, Orlando International Airport, Fort Lauderdale Hollywood International Airport, Tampa International Airport, Southwest Florida International Airport, Palm Beach International Airport, and Jacksonville International Airport.
These airports are connected to the cities via bus networks. So, you'll have an easy time traveling to the airport from anywhere in the state.
Best Places To Live In Florida
Palm Beach
With just a short drive along the coast of Florida, you'll find yourself in Palm Beach. This is a great place for families to settle down in, and it also has a sturdy and diverse economy that is still booming. You get the fourth-highest median household income in the state, as well as the 11th lowest unemployment rate, all in one place.
One thing you should keep in mind before you move to Palm Beach is that it isn't the most high-paced place in Florida. The fact that the median age of this area is 70 is evidence of that fact. So, all in all, Palm Beach is a beautiful place on the coast of Florida that is home to a lot of shopping centers, natural beauty, and a serene, calm vibe for you and your family.
Population: 8,723
Median Home Value: $1,177,100
Monthly Median Rent: $1,744
Annual Median Household Income: $141,348
Key Biscayne
Key Biscayne is a pearl on the beach called Florida. It is a beautiful area with rather expensive houses, so you might want to make sure you have a lucrative job before you actually move. However, the home prices in this area can be slightly justified with low crime rates, cooler summers, and the biggest benefit: you live on an island!
Once you do move to Key Biscayne, you have easy access to places like Bill Baggs Florida State Park, and Crandon Park. However, you are living on a gorgeous island. So, you might not have to look for a lot of other places to find yourself on a beach with a view.
Population: 12,915
Median Home Value: $1,211,000
Monthly Median Rent: $2,548
Annual Median Household Income: $151,310
Naples
Naples is one of the more affluent cities in Florida. In fact, it's the third-most-expensive place in the state with regards to housing costs.
However, you also have the 11th-highest statewide income and amazing schools. You're surrounded by beautiful landscapes like The Everglades (perfect for the adventurous kind) and world-class botanical gardens, right alongside the pier.
Population: 21,812
Median Home Value: $988,501
Monthly Median Rent: $1,357
Annual Median Household Income: $107,013
Parkland
Parkland is one of the few places in the state that is known for resilience and compassion. Quick Googling about Stonemason Douglas High School will tell you all that you would need to know about it. Homesnacks names Parkland as one of the best places to raise a family.
Apart from this, Parkland is known for the 6th lowest poverty rate in the state and affordable housing. You are also a short drive away from Fort Lauderdale and Miami, making it even better for professionals working in either city. Moreover, Greatschools ranks the schools of Parkland a solid 8.5. So, young families can also settle down here without a lot of worries.
Population: 31,454
Median Home Value: $611,801
Monthly Median Rent: $2,440
Annual Median Household Income: $154,844
Cost Of Moving From Michigan To Florida
Moving between Michigan and Florida is an almost 1,400 mile-long drive that will take you to a different world altogether. It's no wonder that getting everything you own moved to Florida is going to be a little expensive. Based on multiple factors, we figured out that moving from Michigan to Florida will cost you somewhere around $3,500 on average. However, this price can go anywhere between $3,000 to $5,500, depending upon what moving company you choose and what services of the said company you avail of.
Summing Up
Moving from Michigan to Florida is a huge task. But, if you like what you've read so far, it can be quite a treat for you and your family. You are bound to find exciting jobs, dynamic people, and a beautiful place to call home. Of course, there's also the perpetual heat, humidity, and a relatively high cost of living you have to deal with. But, it's Florida after all. You might just find something crazy to fall in love with and stay there forever!
FAQs On Moving From Michigan To Florida
How Much Does It Cost To Move From Michigan To Florida?
Depending on what service you choose from which moving company, the move from Michigan to Florida will cost you anywhere between $3,000 and $5,454.
Is It Cheaper To Live In Michigan Or Florida?
The quick answer to this question is, Michigan is cheaper than Florida, but it misses out on a lot of the benefits that Florida offers. To put it in perspective, Michigan is almost 6.3% cheaper than Florida.
How Can I Move To Florida?
You do not require any sort of specific paperwork or government permission to move to Florida or arrange for housing. So, all you need to do is pack up your things, put them in the back of a truck, and move! Ensure you hire a reputable moving company to take of packing and transporting all your belongings well.
How Do I Change My Residency From Michigan To Florida?
You will have to file a domicile in the county's office where you plan on moving. These domiciles are provided by the County Clerk and are generally easily available on the website as well. Then rescind your residency in Michigan and register to vote in Florida. You are done!
Is Moving To Florida Worth It?
A diverse population, delicious food, an interesting and large job market, great weather, and more attractions to see than you can cover in a lifetime. All of this is served to you with a lot of sunshine and no income tax on this platter called Florida. It's no doubt that moving to Florida is absolutely worth it.
Enter your information
Almost done!
Enter your information to view your quote.
Your information is safe with us. By using this service, you agree to receive email communications solely regarding your relocation process