Long Distance Moving with Pets – Planning Guide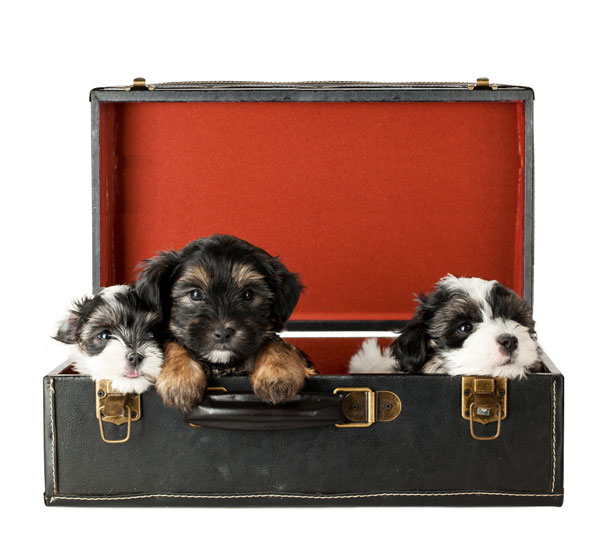 Moving cross-country is exciting, and it requires careful preparation. You've thought of everything, packed everything and you are ready to go. Now it is just time to pack up your fur babies and start your long-distance trip. While moving can be somewhat stressful for humans, it can be downright unsettling for pets. If you have pets, there are some things you can do to reduce the stress related to moving. Following a plan that considers the needs of your pets as you move will help ensure that it is a positive experience for all.
Make sure to think about the routines you follow with your pets, and be prepared to continue them during your move.
1. Consider all of the routines you use with your pets daily. Do you feed and water them at particular times? Do you take them outdoors or out to play? Whatever your particular daily routines are, aim to replicate these during your move. Some forms of travel are more conducive to maintaining routines than others. For example, it may be easier to keep a routine if you are moving via car rather than by plane. However, you can also adjust and make sure to implement your routines both before and after you complete your air travel. Plan for how to achieve this routine during your cross-country travels. Make sure if you always take your dog for a walk in the morning, for example, that you plan to stop during your moving trip to take your sweet companion for a walk. This will help reduce the stress on your pet, and make it an easier trip for everyone.
2. Consider the materials or equipment you will need to maintain your routines. For example, if you walk your dog daily, what do you bring? If you routinely use a leash, a collar, bags to collect waste and a portable water bowl, make a note of this. Whichever equipment you use daily, make sure to add that to your packing list. Also, if you have multiple pets, make sure that you have enough equipment (leashes, travel food and water bowls, etc…) accessible during your trip.
3. Make sure to put all equipment you will need during your long-distance trip in one central location. For example, pack a duffle bag with all of the equipment you will need. When you are moving, you will have enough boxes and bags to keep track of and you don't want to misplace your much needed equipment to care for your pets.
If you have multiple animals, ensure that you have a plan in place to travel safely and comfortably with all of them.
1. Plan ahead for where you will stay during your travels and make sure they are pet friendly. If you are traveling by car, an important consideration is where will you stay overnight when you need to stop, and know if the hotel you are staying in will accommodate multiple pets. If not, plan ahead and use a local pet sitting agency or kennel service. This will require careful planning ahead both for your budget and also your arrival and departure times.
2. Whether you are traveling by plane or car, make sure to pay special attention to the safety of your pet loading and unloading from your modes of transportation. Ensure your pets' safety when you are exiting and entering vehicles or transitioning between locations. This can be a time of disorientation for animals who are used to being in the safety of their homes. Make sure to keep a careful eye on your animals during this time.
See Also: How to Move a Horse
Make sure to have all of your pets' information in an accessible location.
1. Ensure that you have all of your pets' tags, records, shots and medication collected and in one central location. If you have special medication for your pet, make sure it has the original labeling and instructions with it. This will be especially important if you are traveling by plane. You might need to demonstrate what the medication is and what its purpose is. Another consideration is whether or not the medication needs to be kept cool, if it does, plan accordingly by packing it carefully in an insulated carry-bag.
2. Make sure to have your vet's number on hand in case it is needed during your travels. The last thing you need during a move across the country is for your beloved companion to be ill and without proper care. Having your vet's information easily accessible will give you peace of mind and you will be prepared in case it is needed. Mobile vets are becoming more available across the country, and if you are traveling by car, you might find having some contact information in hand can be helpful, especially if you have an older or ailing pet.
See Also: How to Transport Chickens
Plan breaks for your pets to eat, stretch and have bathroom breaks.
A key to a peaceful and healthy cross-country trip, whether by plane or car is making sure everyone's physical needs are met during the travels. This can be done by planning time to make sure that your pets are able to get plenty of sustenance through regular eating and drinking and also time to go potty. For your fur pets this can be especially important to plan for as it will take some time to get your pets outside to a place where they can have a bathroom break. For other pets like gerbils or birds, this is equally important, of course, but just requires other planning. Frequent bedding or liner changes will be important in the case of other types of pets.
See Also: Tips For Moving With Birds To A New Home
While taking the time out to make sure each pet has its physical needs met will make moving across the country take a bit longer, it is vital to their health. Everyone will be much happier when you get to your final destination if everyone's needs have been met along the way. Some tips to help wit this include:
1. If you have fur babies, try to plan your travel to be able to stop by a pet-friendly park to let your pet out to stretch his legs.
2. If you are traveling by plane, plan to meet your pet's dietary and bathroom needs before the plane departs.
3. If you have other pets that require other forms of food and bathroom accommodations, make sure to have plenty materials on hand and schedule in time for addressing their needs.
4. Keep a few trash bags and cleaning materials on hand for changing bedding, cage liners, etc… These are not typical items that are easy to come across during a cross-country move, and even if you could find a store, it will be much easier to just have them in your vehicle or carry-on. If you are traveling by plane, keeping a trash bag and some diaper wipes on hand are recommended.
5. Don't forget to pack a few disposable training/bathroom pads for accidents, if you have dogs or cats. This will help make clean up easier and cut down on the time needed to clean up after any accident.
Also Read: Moving Hacks
Plan food and water around your travel plans.
If you carefully plan when you give food and water to your pets, they will more comfortable in the move and will not need to stop as soon as you leave the driveway. You know your pet the best, plan according it his needs.
1. Pack enough food and water for the trip. Measure out how much food and water will be needed. Package the food amount needed per meal and pack each serving separately. This will help with your time accessing the food, feeding your pet, and any cleanup afterwards. This will also help cut down on extra baggage. There is nothing worse than carrying a 30 pound bag of pet food in your car, when you could just bring 2 gallon bags full of food.
2. Do not introduce any new food items during your trip. Your pet already has some changes and will be a bit nervous. Any new food items introduced can cause an upset stomach, which could result in bathroom accidents. That will make the trip challenging for you and your pet, so it would be best to keep your pet on his regular diet.
See Also: Tips for Safely Moving a Fish Tank
Packing favorite pet toys that are familiar to your pet will cut down on the stress of moving.
This will also give your pet something to play with during the long move. Most importantly, though, this will help bring something familiar of your pet's into the new home as soon as you enter the building, which will help your pet transition.
Creating a safe travel space for your pet/s will be paramount.
1. Making sure to have travel kennels and padding to protect the perimeter is important. This will help protect your pet from getting hurt during the move due to items moving in transit. You don't want anything to fall on your pet's travel container. This could result in injuries.
2. Make sure that the kennel, box or packing container that your pet is secured in is safely secured away from anything that could fall on it.
3. Also, keep in consideration the temperature needed by your pet. The requirements of lizards will be different from dogs. Knowing the need of your animal is important to make sure that the temperature is kept at an appropriate level. If you need to stop for any amount of time, plan for the temperature needs of your pets. If needed, you could bring extra padding for heat, or roll down a window to keep your pets cool if you have to step away from the vehicle, if you are traveling by car. If you are traveling by plane, know what is acceptable materials to keep your pet's temperature at the correct level.
See Also: How to Help a Dog Adjust to a New Home After Moving
Know the laws and guidelines for animals in your moving destination, as well as any locations you will be passing through during your travels.
This will help make sure your travel doesn't get delayed or your pet detained. This is especially an issue to consider if you are traveling by plane. Getting a letter from your vet before you travel that contains all of the information about you pet, along with any health statements, will be important. Keep this in an accessible location, preferably with the kennel or "packing", in the case of non-fur animals like lizards, snakes, etc..
Maintain normality for your pet, while also providing treats during travel.
Helping to make your pet feel extra special during your travels will help enhance your fur babies' happiness and contentment during your move. Reward their good behavior. Create new experiences for your pet can also keep them entertained during long travel, especially fur animals. Having new toys can keep your pets busy while you drive, but it is advisable to also bring along the toys that your pets have long-loved for security.
Take special consideration for exotic pets.
Before you begin your move, make sure to understand the particular needs of your animal. Birds, dogs, cats, snakes and lizards all have different needs. If you are traveling with exotic pets, their needs are usually a bit more restrictive. Make sure to know if heat is needed and how you will provide it consistently during your travels, or if live food is a requirement for your pet, how you will transport that given your moving plans. Traveling with rare or dangerous animals can be restrictive with travel, especially by plane, so know the travel regulations around the types of pets you have and choose travel accordingly.
See Also: How to Dog Proof Your Home After Moving
Once you arrive to your new home, take some time to orient your pet and find a comfortable place for your pet to call his new home. Finding a new room or corner for your pet to identify as his will help create a renewed sense of security and safety. Your pet will settle in nicely knowing his place, and you'll have a peaceful environment to unpack and set up your new home.
Visit MyLongDistanceMovers.com to get long distance moving quotes from top-rated moving companies in USA!
Enter your information
Almost done!
Enter your information to view your quote.
Your information is safe with us. By using this service, you agree to receive email communications solely regarding your relocation process