Moving To Montana – Relocation Guide for 2022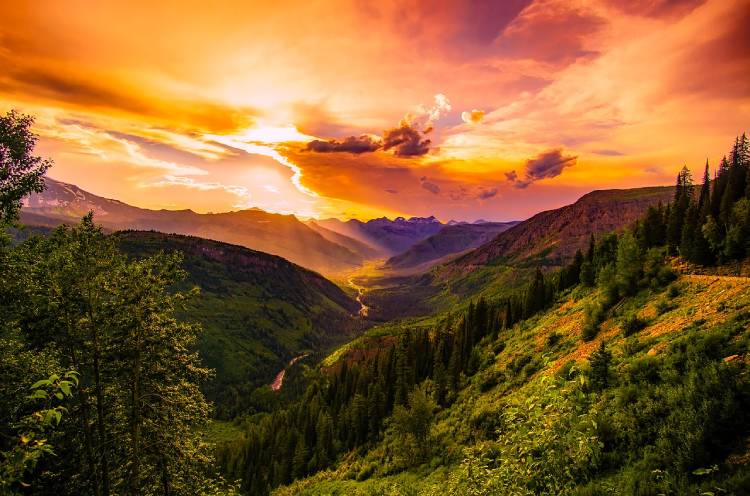 Montana, the 'Big Sky Country' of the United States, is located in its mountain west subregion. This state is one with mesmerizing views of the 77 named mountain ranges located in the state. It is also called the 'Treasure State' as it has an abundance of natural resources located all over the state and has a strong and rich history and culture.
Many have been moving to Montana to live a peaceful life close to nature especially as the pandemic is almost over. There are several factors other than the history, culture, nature, and mountains that you must look at if you really want to move to Montana. There are a number of challenges that you must be aware of to know for sure if you want to move to Montana. Let us dive deep into all that you need to know when moving to Montana.
Montana: Pros & Cons
Pros
Isn't Glacier National Park enough to move to Montana? And Yellowstone National Park? Another reason!
You do not have to pay tolls for road transportation and can freely move across the state whenever you need.
Montana has extremely low taxes and no excise tax that needs to be paid. You end up saving a lot of money.
Less population density, more peaceful living conditions with liberty-minded people that live in the state.
Numerous winter recreational activities to enjoy with the family during the holiday season.
Fun activities like fishing, hunting, horseback riding, etc that you can enjoy all year long.
Celebrates local and indie music and culture by music bands playing during the weekend at several spots throughout the state.
Cons
Montana is a poor state and engages majorly in the agricultural industry. With the average annual salary of households being less than $36,000, you can see rampant poverty in the state.
The weather is very rigid both in summers and winters. You need to be prepared for too much snow during winters as well as super scorching heatwaves in the summer.
Montana is a very sparsely populated state and does not have close communities like other states in the USA. Hence, Montana can be lonely for you if you enjoy having company.
Weather
The terrain of Montana is divided into two parts; the western part of the state consists of high mountain ranges and valleys, while the eastern part consists of plains, hills, isolated mountain ranges, and badlands. All of this makes Montana a state with semi-rigid and continental climate with equally variable weather conditions.
The topographical divide of the state affects the climate of Montana in a big way. The mountain high ranges prevent the warm air from the Pacific to move to the eastern parts of the state. The ranges also restrict the dry continental air from the east from moving to the western area of the state. These winds usually flow with a steady speed of 25-30 mph.
This allows the western part of Montana to have a pleasant coastal climate with cool summers, less windy areas, and mild winters. The valleys of the west are foggy and cloudy while the north-eastern parts of the state have harsh climate conditions. They have freezing winters with 50 inches to 1.2 meters of snow each year and blazing summers.
The average temperature in Montana is anywhere between 84.5°F in the summer and 28°F in the winter. The precipitation is about 15 inches and it increases at higher elevations.
Cost Of Living In Montana
Studies have shown that the cost of living in Montana is 6.25% lower than the rest of the states in the USA. The major energy resources are available in the state itself, which enables in reduction of living costs for individuals. Besides, the property tax rates in the state are also low as compared to many other states in the country. This allows you to buy a house or your own family or personal vehicle at a more reasonable rate.
Housing Rates
Generally speaking, if you're planning on buying a house in Montana, it will be on the slightly pricier side as compared to the national average ($291,700). But to be fair, the median home value in Montana, at $353,700, is somewhere in the middle.
On the other hand, if it's a rental apartment that you seek, you're in luck as renting in Montana is relatively inexpensive. The table below can help you understand better!
| | | |
| --- | --- | --- |
| Apartment Size | Average Monthly Rent In Montana | US Average |
| Studio | $630 | $950 |
| 1-bedroom | $705 | $1,050 |
| 2-bedroom | $903 | $1,278 |
| 3-bedroom | $1,236 | $1,680 |
| 4-bedroom | $1,460 | $1,950 |
Tax Rates
The income system in Montana is primarily divided and calculated under 7 ranges. The government of Montana aims at reducing the burden of taxes from the shoulders of homeowners. This is why the tax rates on residential real estate are low in the state of Montana. The property tax in the state is 0.87% which is lower than the national average of 1.19%. In addition to this, the residences that are occupied by the owners are spared up to 47% tax. This is not the case for businesses and other industries within the state.
The tax rates of Montana are usually determined by its cities, counties, and school districts. After all the processes and calculations, you'll only have to pay 2.47% of the taxable market value. The appraisals in tax systems are carried out once every six years allowing residents of the state to enjoy tax benefits for a long duration without having to worry about sudden changes in the tax systems.
Economy
If you're moving to Montana, you should have an overall understanding of the economic status of the state. Montana is one state that has seen consistent growth in the GDP in the past decade. The growth of GDP in the state has been faster than the average national income and has been growing consistently.
According to recent studies and statistics, the state's unemployment rate is 3.5% as of 2021. The per capita income of Montana in 2020 was $41,280 with a majority of the population being employed in the mining, fishing, hunting, construction, manufacturing and agriculture industry.
Montana has a brewing mining industry and the majority of the population is employed in the same industry. The minerals extracted by the state are coal, silver, gold, talc, and vermiculite. Tourism is also an essential industry that contributes to the economy of the state. Tourism in Montana alone contributes majorly to the economy as more than 10 million people visit the national parks, waterfalls, and mountain ranges.
| | | |
| --- | --- | --- |
| | Montana | US Average |
| Average Annual Income | $25,977 | $28,555 |
| Median Household Income | $46,766 | $53,482 |
| Unemployment Rate | 4.4% | 6.0% |
As you can easily glean from the table above, you'll be earning less than the national average. Combine that with a higher-than-average cost of living, it definitely makes for a bad pairing. Ensure you have a well-paying job when you're moving to Montana!
Traffic And Transportation
The state of Montana shares borders with several states of Canada and hence has a number of transportation modes: railroads, interstate highways, highways, US routes, etc. Railroads have been the primary mode of transportation in Montana since the 19th century. Today, the BNSF railways is the state's largest railroad with its major transcontinental route incorporating the former Great Northern mainline across the street. Additionally, Montana RailLink and Amtrak's empire builder trains also run in some parts of the state.
Since the bus services are very sparse throughout the day, this mode of transportation is not ideal. Bus tickets are cheaper and some routes are also free of cost. Bozeman Yellowstone International Airport is one of the busiest airports within the state while there are seven other major airports that undertake a major chunk of international and domestic services as well. The right minor airports in Montana take over the commercial services in case you want to travel somewhere within the country itself.
When it comes to public transportation in Montana, it's not that great. So we'd recommend that you have your own car; in fact, most people of Montana prefer getting around in their personal vehicles. Also, Montana has barely any traffic, so you can drive around the state effortlessly. Just be mindful during the winter months.
Education
One thing to note is that the government of Montana does not spend a lot of its finances on education in the state. While we're not saying that education in Montana is bad, it isn't among the best in the US either. Even so, many private schools and colleges in the state offer an excellent education with professional and highly educated teaching staff for your children.
There are ample community schools and colleges, private schools and universities, tribal colleges, public schools, and colleges for your child to choose from. A few educational institutes that offer some of the best courses for children are as under:
Elementary Schools
Great Falls Elementary School, Great Falls
Missoula School, Missoula
Creston School, Creston
Bozeman Elementary School, Bozeman
Cold Springs Elementary School, Missoula
High Schools
Gardiner High School, Gardiner
Bozeman High School, Bozeman
Hellgate High School, Missoula
Fort Benton High School, Fort Benton
Billings Central Catholic High School, Billings
Universities And Colleges
Montana Technological University, Butte
Salish Kootenai College, Pablo
Rocky Mountain College, Billings
Montana State University, Billings
Dawson Community College, Glendive
Miles City Community College, Miles City
Food In Montana
The food culture in Montana is diverse with an abundance of meat, fish, and fresh foods as it is a state that is inhabited by hunters and fishermen. If you're a meat lover, you'll have a great time devouring the local cuisine of Montana.
Flathead cherries, meat burgers, Mackenzie river pizza, ice cream from Arrowleaf, the perfect Montana grilled meat steak, and meat pastries are foods you'll definitely come across. Not to forget Huckleberries in all forms. Huckleberry pie, jam, juice, pudding, ice cream, you name it, you have it!
Places To Visit In Montana
When you move to Montana, it is imperative that you visit some of its historically rich and local places. It allows you to get to know more about the cultures and history that the people of the state share along with a glimpse of the naturally gifted state. The state has a wide number of museums and various other places that you can visit with your family and children.
1. Montana Museum Of Art And Culture
The museum is home to more than 10,000 historical items and is categorized under several collections. The contemporary American Western is one of the most popular collections in the museum.
2. Montana Military Museum
Montana Military Museum has a display of all the uniforms that the military of Montana has worn over the years along with all of the equipment as well. You also get to hear stories of bravery and the stories of war that the military of Montana fought in.
3. Great Falls
Great Falls is the perfect weekend getaway destination with family. There are several hiking routes that allow you to see the beautiful waterfalls located in the area.
4. Yellowstone National Park
Yellowstone National Park is a host to several ecosystems that portray the diverse and unique natural beauty of Montana. It became the world's first national park in the year 1872. This national park is not just rich in history and culture, but also home to several kinds of domestic and wild animals and birds.
Places To Live In Montana
1. Missoula
Missoula has become a prime spot for residents as it is known for its rich background of art with the balance of urban housing and amazing outdoor activities around the city. It is the city to move to if you want to own a luxury bungalow and have some personal space away from people. Missoula is home to many prestigious arts and historical galleries of the state with bookstores, exhibitions, museums, theaters, and art scattered all over the city in different areas. The city also has ample hiking trails, trout fishing spots, adventure sports like kayaking, and more.
Population: 76,848
Median Home Value: $459,400
Monthly Median Rent: $1,095
Annual Median Household Income: $41,968
2. Helena
Helena is the capital city of Montana and also one of the most populous cities in the state. The place is an attraction for residents for its affordable living spaces and neighborhoods. It's a great city for someone who is just starting out on their own and wants to live under a budget. Besides, Helena also has an abundance of entertainment services and cultural attractions around the city for its people to enjoy. The nightlife in Helena is great as there are several concerts, live shows at bars and restaurants, festivals, etc.
Population: 33,737
Median Home Value: $368,100
Monthly Median Rent: $850
Annual Median Household Income: $50,311
3. Dillon
Dillon is one of the cities with a low cost of living with a wide range of historically rich and other outdoor activities to explore. Because of all this, it has quickly become one of the places for the elderly to spend their post-retirement life. Fishing for blue-ribbon trout is one of the most renowned activities that residents enjoy in the city the most.
Population: 4,333
Median Home Value: $262,800
Monthly Median Rent: $970
Annual Median Household Income: $37,827
4. Four Corners
Four Corners has been the number one place for people to live around Montana with their family. It has friendly neighborhoods and stress-free life which is ideal for families with children. Additionally, there are ample educational institutes that provide quality education. The rich cultural heritage, low crime rates, ample amenities, entertainment activities, and outdoor activities are some of the reasons why Four Corners is one of the best cities to live in with your entire family in Montana.
Population: 4,683
Median Home Value: $542,500
Monthly Median Rent: NA
Annual Median Household Income: $73,986
Things To Do After Moving To Montana
Once you have moved to Montana and settled in, there are a few things that you must do to ensure that you do not face any issues later on.
Register to vote at the nearest local county office once you have completed 30 days of stay in Montana.
The waste management system in Montana is not up to the mark, hence, ensure that you hire a local recycling and trash company to get waste management sorted for your household.
You're eligible to apply for a commercial driver's license upon completing 30 days of stay and 60 days for a Montana license.
Now that you know pretty much all there is to know about moving to Montana, you can weigh your options and make a decision. Sure, the higher cost of living and lower pay can put a damper on your plans, but if it's open green spaces and a slower pace of life you seek, the Big Sky Country might just be the one for you.
FAQs
Is Montana Expensive To Live In?
Montana is a state that's not too expensive. Some parts of the city are more expensive than the others depending on the development in the cities. The countryside, of course, would be a lot affordable for anyone.
What Are The Bad Things About Montana?
The few reasons you could consider before you move to Montana would be the harsh weather in the state. It gets too cold and also extremely hot during winters and summertime respectively. If you're accustomed to a fast-paced life, this state might not be for you. Also, the state has a higher cost of living combined with a lower average salary!
Where Is The Best Place To Move To In Montana?
Montana has ample cities to live in depending on the family you have and the kind of environment you desire. Dillion is the perfect city for retirees to spend their retirement while Four Corners is the perfect city for families to reside. Great Falls and Billings are the two other cities that have a relaxed lifestyle with multiple entertainment options for children and adults.
See Also: Best Moving Companies to move to Montana
Enter your information
Almost done!
Enter your information to view your quote.
Your information is safe with us. By using this service, you agree to receive email communications solely regarding your relocation process