7 Best Moving Companies In North Carolina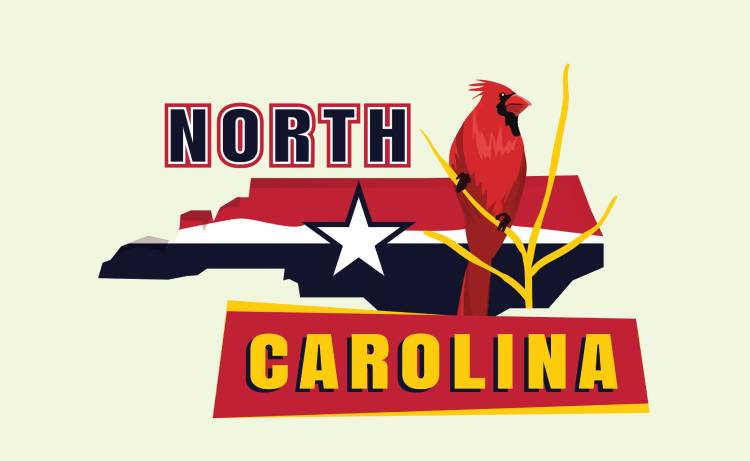 North Carolina is certainly a well-rounded state where you can live a satisfactory quality lifestyle. In all honesty, it has great climatic conditions, a healthy economy, and stunning natural scenery of the Appalachians, making it a preferred choice among many. Even though it is a great place to live, the thought of leaving the state can occur at any stage of your life.
If has thrown a moving bullet at you, we'll be the armor you need. Whether you've decided to move within the Old North State or are saying adios to the state altogether, you will need the right moving company by your side. Finding the right moving company in today's day is as hard as finding the right partner but let us do the matchmaking for the prior. We have curated a list of some of the best moving companies in North Carolina so you can have the best options and we are sure you will find your perfect fit amidst our list.
7 Best Moving Companies In North Carolina
New Beginnings Moving & Storage
Gentle Giant Moving Company
Hornet Moving
Easy Movers
Little Guys Movers Raleigh
Miracle Movers Charlotte
Athens Moving Experts
New Beginnings Moving & Storage
Leaving for a place is definitely a new beginning for you and New Beginnings Moving & Storage in Charlotte can help you ensure it is a pleasant experience. They have over 17 years of moving experience so you can remain assured that your belongings are in experienced hands. They offer same-day labor services and can organize your residential or commercial move. If you are looking for additional services like storage, packing, and unpacking services, they can be of help with that. They are a BBB (Better Business Bureau) accredited company that also offers delivery services and moving supplies, so you can be completely assured that you will get everything you are looking for. So, go ahead and have a new beginning by applying for their free estimates.
Website: www.nbmoving.com
Contact Number: +1-980-219-4646
Address: 2920 N Tryon St, Charlotte, NC 28206, United States
Rating: Google (4.7/5)
Services / Products Offered
Local and long-distance moving services
Storage services
Residential moving services
Commercial moving services
Loading and unloading PODS
Packing and unpacking services
Pros
Same-day labor services
17 years in the moving business
Fast and on-time delivery
BBB (Better Business Bureau) accredited business
Cons
They do not serve outside the state
Some customers complained about missing items during the move
Gentle Giant Moving Company
A sign of a good moving company is understanding customer expectations and meeting them, this is something that Gentle Giant Moving company aces in. Due to their impeccable services and high customer satisfaction rate, 80% of their business comes from referrals. They are a company that has four decades of experience in handling customer valuables just like their own, so you can definitely trust them with your precious stuff. They offer a full range of moving services so you can avail of all your moving requirements under one roof. Other than organizing standard moving services, you can get in touch with them for craning and custom crating services at competitive rates. All in all, they are giants in the industry with incredible reviews so you don't want to miss out on contacting them!
Website: www.gentlegiant.com
Contact Number: +1-704-376-2338
Address: 3827 Barringer Dr, Charlotte, NC 28217, United States
Rating: Google (4.9/5)
Services / Products Offered
Local moves
Piano moving
Crating and specialty moving services
Long-distance moving
Packing services
Storage services
Pros
Four decades of moving experience
International moving
Dedicated moving co-ordinator
High customer referral rate
Competitive pricing
Cons
N/A
Also Read: 8 Best Raleigh NC Neighborhoods To Live In
Hornet Moving
There are many benefits of hiring a family-owned local company for your move. For starters, the attention to detail and concern in which items are taken care of is exemplary. Local movers also understand the region very well and that's probably why you might want to consider hiring a local moving company. Your search for one ends with Hornet Moving. You will have a great experience with them because they are extremely knowledgeable about the industry. Knowing the art of moving helps them accomplish the tasks of your move in no time.
They can also successfully complete any move as they also bring the right equipment along with them to haul your furniture efficiently. The best part of hiring Hornet Moving is that they offer you flat rates if you require labor-only services. For two movers, it will cost you $150 per hour on Saturdays and Sundays. If your move requires an extra mover, you can also hire an additional mover by just paying $50. They can successfully handle residential and commercial moves so go ahead and get the estimate, they will help you figure out everything from that point.
Website: www.hornetmovingnc.com
Contact Number: +1-704-620-2154
Address: 6161 Brookshire Blvd, Charlotte, NC 28216, United States
Rating: Google (4.9/5)
Services / Products Offered
Residential moves
Long-distance moves
Packing services
Commercial moves
Pros
Affordable and flat hourly rates for labor-only services
Senior moving services
Piano moving services
Cons
Inconsistent reviews about the damage to items
Easy Movers
If you think moving and the word easy don't go hand in hand, Easy Movers is a company that will break all those preconceived notions of the moving process. It is a BBB (Better Business Bureau) accredited, completely licensed, and insured moving company that will definitely take your stress away. They offer varied services, have equipped moving vans, and are highly professional and trained movers.
Easy Movers can take care of all your local and long-distance moving needs, they also offer storage facilities and moving supplies. If you are looking for business moving services, they offer commercial moves as well so basically all your moving-related needs are met in one place. They are also an award-winning moving company and their process of getting a quote is also pretty simple so you can check their website out.
Website: www.easymovers.com
Contact Number: +1-704-588-6868
Address: 11021 Downs Rd suite c, Pineville, NC 28134, United States
Rating: Google (4.7/5)
Services / Products Offered
Office moves
Storage facilities
Packing services and supplies
Local moves
Long-distance moves
Pros
Angi's Super Service Award Winner for 2021
Licensed and insured
Free, no-Obligation on-site surveys available
Cons
N/A
Also Read: Moving From Florida To North Carolina – A Detailed Guide
Little Guys Movers Raleigh
Though the company is called little guys, do not let it mislead you because they can handle the needs of the biggest of moves in the state. With years of experience, an athletic trained team of movers, and love for all of their customers, they do check off all the boxes you might have for an ideal moving company.
They handle everything from office, residential, or long-distance kinds of moves. Being a licensed and insured moving company also always you to put your trust in them. To get the process started, all you have to do is simply fill out a small form on their website explaining your moving requirements and they will get in touch along with a free estimate.
Website: www.littleguys.com
Contact Number: +1-919-439-2454
Address: 1301 Capital Blvd, Raleigh, NC 27603, United States
Rating: Google (4.9/5)
Services / Products Offered
Commercial moving
Residential moving
Long-distance moving
Local moving
Heavy item moving
Pros
Over three decades of moving experience
Licensed and insured
Trained, experienced, and professional movers
Cons
A couple of reviews found the estimate to be slightly expensive
Miracle Movers Charlotte
It takes a miracle to provide one with a smooth moving experience and Miracle Movers aim to achieve just that with their trained team of professionals. As a company, they understand the nuances of moving and offer you a versatile number of services to tackle moving day efficiently. Their movers will take the necessary time to wrap your belongings cautiously so everything reaches your new place safely.
They're licensed, insured, and consider their team as a family so your stuff will be well taken care of. Overall, you should definitely consider them in case you are looking for a company to take care of your local move which is the kind of move they are most proficient with. To further assure you, you should know that they are an A+ accredited company by BBB. They will most certainly curate personalized services and estimates for you so, go ahead and make that call.
Website: www.miraclemoversusa.com
Contact Number: +1-704-275-3053
Address: 1838 Starita Rd, Charlotte, NC 28206, United States
Rating: Google (4.7/5)
Services / Products Offered
Long-distance moves
Business moves
Apartment moves
Condo moving
Pros
A+ rating by Better Business Bureau
Family-owned local business
Personalized estimates
Cons
They do not offer international moves
Athens Moving Experts
Athens Moving Experts is a company that will not only provide you with personalized estimates and services but are also willing to go the extra mile to ensure you are happy with your move. As a company, they understand the value of your sentiments, time, money, and hence offer you reliable estimates and all-encompassing services. They mainly focus on local moving services wherein they can offer you end-to-end services.
From packing to handling large equipment to loading, unloading, and finally unpacking, they will take care of it all. They specialize in moving heavy items as well like piano and gun cases so you can stop worrying about those specialty items that need to be moved. Go ahead and check out the testimonials and how they work on their website.
Website: www.athensmovingexperts.com
Contact Number: +1-919-760-7774
Address: 6601 Hillsborough St #111, Raleigh, NC 27606, United States
Rating: Google (4.9/5)
Services / Products Offered
Local and Residential moves
Long-distance moves
Loading and unloading only services
Commercial moves
Interior arrangement services
Pros
BBB Accredited business
Specialty moving services
Full-service moves
Cons
They do not offer moving services outside of North Carolina

Also Read: How To Find Good But Cheap Long Distance Moving Companies
How Much Does It Cost To Hire Movers In North Carolina?
The good part about hiring a moving company in North Carolina is that it will not hurt your bank account too much. The average moving cost in North Carlina isn't sky high as compared to other states in the USA. Your final estimate largely depends upon the services you hire and the total time it takes to complete your move. To give you a general average estimate, you must know that the average moving cost in North Carolina is $1,100 but a local move can range anywhere between $600 to $1,650. Keep in mind that local moves will be way cheaper than long-distance moves while cross-country moves will cost you a whole lot more.
See Also: Largest Cities in North Carolina
Conclusion
Getting the help you need is always a good idea especially when the event is as big as moving to a new place. Moving requires a lot of planning and finding the right moving company will certainly be tough but trust us, it will make your move a lot easier. We hope that our list takes care of the crucial aspect of finding the right moving company. These are all licensed and insured companies so you can go ahead and decide which one fits your budget and offers you the services that suit you best.
FAQs On Best Moving Companies In North Carolina
Do Movers Pack For You?
If you hire movers for complete end-to-end moving solutions, they will do everything from packing to loading/unloading and unpacking. Some companies also offer partial and complete packing services separately so you can just hire those and they will do the needful.
How Much Do Movers Cost In Raleigh?
The overall cost of movers in Raleigh depends upon the type of your move and the number of services you need from them. If you hire a company that offers you flat rates, the cost of two movers can approximately cost you $60 to $65 for an hour. A studio apartment can easily be moved with two movers but know that the overall prices can vary massively based upon several factors so get multiple quotes before deciding.
How Much Does It Cost To Move From Maryland To North Carolina?
The distance between Maryland and North Carolina is approximately 369 miles and since it isn't over 400 miles, it doesn't qualify as a long-distance move. This is why your overall moving cost won't be excessively high. For a studio apartment with minimal stuff, the moving cost can be between $970 to $1250 while the rates can be as high as $4000 if you have a big place with heavy furniture items.
Enter your information
Almost done!
Enter your information to view your quote.
Your information is safe with us. By using this service, you agree to receive email communications solely regarding your relocation process