Moving From Florida To Colorado – A Detailed Guide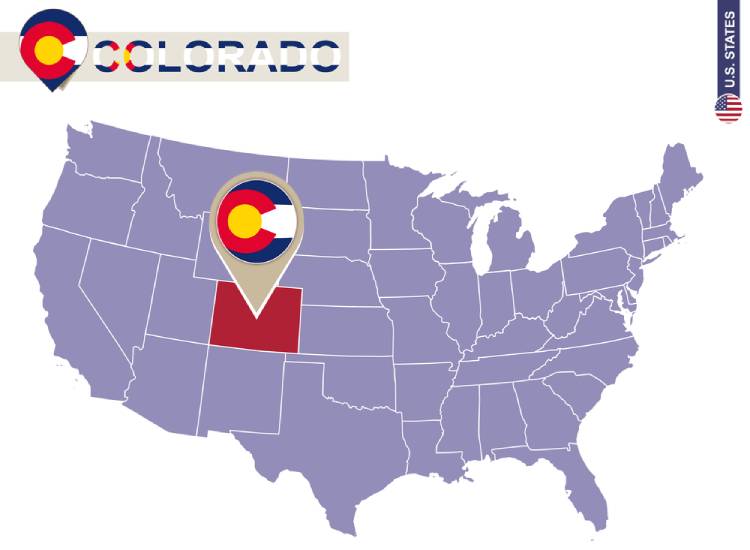 Florida has beaches (really awesome ones, at that), amusement parks, and sunny days. Colorado has lakes, rivers, national parks, mountains, a complete cycle of four seasons, great outdoor life and a mind-bogglingly gorgeous view of the Rocky Mountain backdrop. One of the most gorgeous states and top tourist destinations in the US, who wouldn't want to live here?
No matter what your reason for moving from Florida To Colorado, in this article we'll help you understand what it is you can expect in Colorado compared to the life you experienced in Florida.
Some Crucial Points To Explore Before Moving From Florida To Colorado
Weather
If you love the Florida sunshine and worry that you will miss it, then let us put you at ease. Colorado loves the sun too. The state enjoys 300 days of sunshine a year.
Sure, Colorado does not offer its residents the Florida beach life, or any beach life for that matter, but it makes up for it with scenery and gorgeous mountainous backdrops. Thanks to the higher elevation, the state is nicknamed as the 'Switzerland of the US' does have colder winters compared to Florida, but the climate is nothing short of pleasant and enjoyable. The higher up the mountains you go the more snow you encounter. However, in the lower areas, you really don't have snow.
Cost Of Living
Colorado is a great state to live in, but this does not mean that it has a lower cost of living compared to Florida. MyLifeElsewhere estimates that it is roughly 17% more expensive to live in Colorado than in Florida.
So let's put that into context by comparing different areas for cost for the two states.
When moving to a new state, you need to find a place to live. Your two options are to buy a home or to rent a home. Now in Florida, NeighborhoodScout states that the median home value is $271,171 which is much lower than the median home value of $425,290 in Colorado. It's the same when it comes to the average rent per month. In Florida, the average monthly rent is $1,774 while the average rent in Colorado is $2,021. All in all, when it comes to housing, the difference in cost is so big that you simply can't ignore it.
Taxes
Taxes may not be where Colorado shines, especially if you're comparing it with Florida which has no income tax. Though the Colorado state sales tax of 2.90% is lower than Florida's 6.00%, the combined state and average local tax rate is higher in Florida. This table should help you understand exactly what we mean.
| | | | | |
| --- | --- | --- | --- | --- |
| State | Income Tax | Total State + Local SalesTax | Property Tax | Gas Tax |
| Colorado | 4.63% | 7.65% | 0.56% | 22 cents per gallon |
| Florida | None | 7.05% | 0.94% | 42.29 cents per gallon |
Groceries
There really isn't much of a difference in the cost of groceries across both these states. A loaf of bread would cost you $2.84 in Florida and $2.77 in Colorado. Milk would cost you about $3.59 a gallon ($0.95 per liter) in Florida while in Colorado a gallon of milk would cost you $3.14 ($0.83 per liter). A dozen eggs on the other hand is cheaper in Florida at $2.40 while it costs $2.42 in Colorado. So when you consider all the groceries you would buy every month in both states, the costs average out to be more or less equal.
Utilities
The average total cost of utilities in Colorado is about $315 which is cheaper than in Florida where it comes to around $342. Let's put that into context and compare the cost of a basic need like electricity. In Colorado, electricity costs $83.07. In Florida, it costs $129.65 a month. This could be attributed to the hot summers of Florida.
The Economy
Both states rank in the top when it comes to having the best state economy. However, Colorado ranks in the top 3 while Florida comes in at 9th place. So if you're moving from Florida to Colorado for the sake of a better economic climate then you definitely are making an upgrade.
Even though both states are in a great place economically, Colorado in particular has been enjoying a massive economic boom in recent years. So much so that here too it has grabbed a spot in the top 3 states for the fastest growing economy in the United States.
Even though Colorado is booming, the state only contributes to about 1.9% of the US gross domestic product or GDP, while Florida contributes to 5.1%. But over 2020, Colorado GDP has increased by 7.9% compared to Florida's 7% increase.
The job market in Colorado is very vibrant with various industries having settled in the state. Some of these major industries are mining, hospitality, education, healthcare, and leisure. In more recent years, the state has also become home to a variety of tech startups.
If anything the state seems to be heading to even greater heights, with the way the economy is growing. According to USNews, Colorado is ranked the top state to find a job. The Bureau Of Labor Statistics notes that the unemployment rate in Colorado has dropped from 6.4 in March 2021 to 5.1 in August 2021. The unemployment rate in Florida however, has increased from 4.7 to 5.0 over the same period of time.
Speaking of employment, Indeed.com has listed the following jobs as the top-paying professions in Colorado:
| | |
| --- | --- |
| Profession | Average Salary Per Annum |
| Airline Pilot | $75,481 |
| Information Systems Manager | $76,083 |
| Attorney | $102,664 |
| Industrial Engineer | $84,171 |
| Natural Resource Specialist | $87,867 |
On the topic of the average household income, Colorado has Florida beat. In Colorado, the annual median household income is $72,331 as opposed to the lower $55,660 in Florida.
Also Read: Moving From Buffalo To NYC
Getting Around Colorado
Colorado is a well-connected state. It may not be the best state when it comes to transportation and the ease of getting around, but it isn't at the bottom of the list either.
Buses and trains are the main modes of public transportation in Colorado. One of the more popular bus services in the state are the Greyhound buses that run routes to and from cities within the state as well as to cities in other states.
The RTD is a public transport system that services the larger cities in the region. It's affordable, easy to use, and should get you pretty much anywhere. They run services like Flatiron Flyer, Bustang, FLEX, Roaring Fork Transit Authority and many more that connect various cities. You'll also find that there are private shuttles that might actually suit your travel needs better.
There are train services in Colorado as well, although it isn't as accessible to the entire state. The RTD does train services through about 50 stations and Amtrak also runs a couple of services that run through some of the major cities in the state. Apart from these, there are specialist trains that run scenic routes around the state of Colorado.
See Also: Tips for Moving in Spring
The next mode of transport that has been getting a lot of attention recently are bicycles. No matter where you are in Colorado, you'll find cyclists on their way to the store or to work. You'll also find stands scattered across the states where you can rent your cycle for the day. It's a fun, cheap, environmentally friendly, and healthy way to go about your travels. Take a cycle for a week and you'll realize that that's all you really need to get around. Plus it's a great workout!
The cities in the state, especially the major ones like Denver and Boulder, have public transport so good that you could solely rely on it to get around. But that's where it ends. The smaller towns and more remote locations either don't have a reliable public transport system or don't have one whatsoever. So if you're planning on moving to and settling in one of these places, we strongly suggest that you get your own vehicle to drive around. Or you know, a bicycle.
Also See : Moving from Texas to Colorado – A Detailed Guide
Best Places To Live In Colorado
Colorado is a beautiful place to live in, especially if you're someone that loves having a scenic view. But that's not all that the state has to offer, so let's go over some of the places that we believe are great places to put down your roots:
Denver
The city of Denver, also called the Mile High City, is one of the most popular cities in the state and one of the most populated as well. With it being relatively close to the Rocky Mountains as well as being in the top rankings for the most number of breweries and bars per capita, it's no surprise that the city attracts a lot of new residents and visitors.
But the city's ambition doesn't just end there. It's booming in the tech industry with many companies and professionals flocking over to settle here. Apart from being the home for beer lovers, they also plan to make the city health positive in the near future by encouraging more cyclists to take to the streets on the new cycle lanes that are in the works. The city also plans to rely 100% on renewable energy by the year 2030.
All this and with easy access to amenities and a multitude of recreational activities, it's no surprise that this city is a favourite for young professionals.
See Also: Moving To Colorado Springs
Population: 749,103
Median Home Value: $490,736
Monthly Average Market Rent: $1,972
Annual Median Household Income: $51,800
Also See: Moving From NYC To Denver – A Detailed Guide
Lakewood
The city of Lakewood is a great place for almost any demographic, whether you're a family or a young professional. The close proximity to Denver gives you great access to the booming job market. Also, being close to the Rocky Mountains and the presence of amazing schools in the area are perfect reasons for you and your family to settle here.
It's home to the beautiful national park, Bear Creek Lake Park, that opens you up to a whole assortment of outdoor activities from camping to hiking and even horse riding. The perfect way to spend any weekend with your family.
Maybe you aren't moving with your family and this whole 'outdoors nature walk' thing isn't your idea of spending the weekend. Well, that's where Belmar Downtown Shopping District comes in. You have a plethora of recreational options to choose from, with its many restaurants, bars, and numerous festivals celebrating music and art. It's no surprise that Lakewood is home to a diverse community.
Population: 157,935
Median Home Value: $446,989
Monthly Average Market Rent: $2,068
Annual Median Household Income: $56,134
Fort Collins
Fort Collins is a beautiful college town. So right off the bat, you can expect the lifestyle to mimic college life. Home to many breweries and options for outdoor activities like river rafting, this amazingly scenic town, which accounts for almost 70% of Colorado's craft beer production, isn't all what you might expect from a college town.
Beneath all the fun and games, Fort Collins is a town that is perfect for professionals, young and old. In recent years, Fort Collins has seen a rise in the employment rate and job opportunities. It has become a home for many startups and high tech companies.
Club all of that with great amenities and the low crime rate and it's a no brainer that Fort Collins has made its way onto our list.
Population: 170,243
Median Home Value: $428,730
Monthly Average Market Rent: $1,859
Annual Median Household Income: $53,775
Few Tips To Bear In Mind Before Moving From Florida To Colorado
Plan everything. Do not underestimate how much you need to plan. If you feel you have finished planning, you have not. Try and start packing as early as possible to avoid missing out on something due to last-minute panic packing.
Mark and designate a common bag or location for your important documents. These include passports, licenses, and anything else that would make you curse to high heaven if you lost it. The best way to make sure you have everything is to have a checklist that you refer to right before you move and right after you arrive at your new home.
There are a lot of moving companies available. So make sure that you consult more than one, and get multiple quotes before you decide on the one for you. As for discounts and if you have the luxury to plan the move ahead of time, then schedule your move around the dates that would give you the best price.
We advise that you fly from Florida to Colorado. It would take you at least 29 hours by road. That's not accounting for variables like traffic and weather and your vehicle breaking down. Long trips will tire you out and then settling into your new home would be a hassle. Besides you need the energy to unpack and move everything into the new place.
If you do happen to own a vehicle and plan to have it shipped to Colorado, have a word with your moving company. If they provide auto shipping services, you could be offered a lower price when you combine it with the move itself. If they do not provide the service, they could point you to the companies that would give the best service for the best price.
Read Also: Moving From California To Florida
Summing Up Everything
The move from Florida to Colorado is bound to be an experience. Not just the move across the country, but the general atmosphere of each state is vastly different. From the warm, sunny, and humid climate of Florida beaches to the dry yet pleasant climate of the Colorado mountains.
The cost of living is also considerably higher in Colorado, but so is the median household income. Depending on where you live, you probably would never need to own a personal vehicle or you could rely on good old pedal power and cycle everywhere.
You may come to miss the beaches after moving from Florida to Colorado. But you can enjoy the snow up in the mountains and then take a short trip down the scenic road to lower altitudes and enjoy an afternoon of golf. All on the same day.
Whatever your reason for the move. Your love for the state will be the reason you stay.
Also Read: 11 Best Boulder CO Neighborhoods to Live In
FAQs
Is Colorado Safer Than Florida?
The short answer is, no. To give some context, let's look at the crime rate in both states. The violent crime rate in Colorado is 3.81 (per 1,000 residents) and the property crime rate is 25.91 (per 1,000 residents). This is higher than the rate in Florida which has a violent crime rate of 3.78 (per 1,000 residents) and a property crime rate of 21.46 (per 1,000 residents).
See Also: Moving From Georgia To Florida – A Detailed Guide
How Much Does It Cost To Move From Florida To Colorado?
The cost of moving from Florida to Colorado varies depending on a number of factors. Some of these include the date of the move, the moving company you hire, the size of the move, and also whether you decide to make the move by yourself. If you consider these as well as other possible variables, it could cost you anywhere from $3,500 to $6,500 for you to move.
What Are The Cons Of Living In Colorado?
Off the top of our heads, one of the biggest downsides to living in Colorado is the comparatively higher cost of living. You'd also be living in a drier climate. So prepare yourself for dry skin and cracked lips, especially during the winter.
See Also: Moving to Colorado – Relocation Guide
Enter your information
Almost done!
Enter your information to view your quote.
Your information is safe with us. By using this service, you agree to receive email communications solely regarding your relocation process