Moving from Texas to Colorado – A Detailed Guide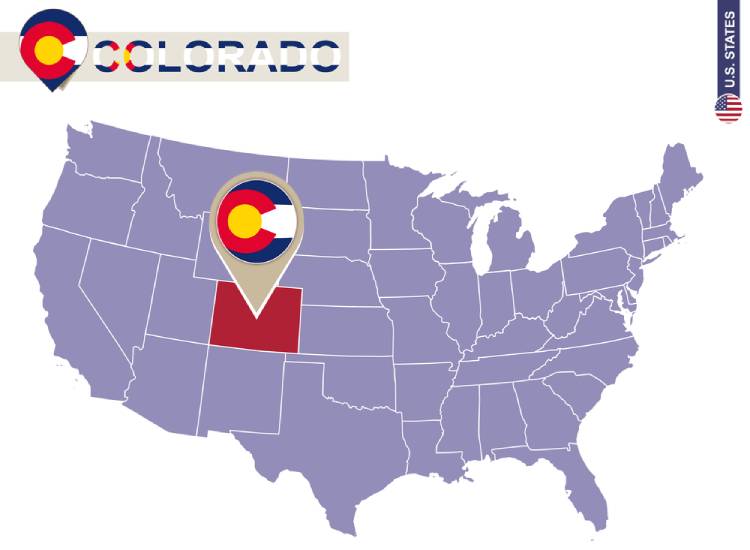 Life can get monotonous and demanding. We need a change of space to gain a fresher perspective on things happening in our life. If you need to move for this very reason, then Colorado should help you in gaining it. Texas is hot; Colorado is cool (sometimes even freezing). An antithesis of sorts, some poets might say.
Comfortable in heading that direction? Here is our article that will weigh the pros and cons and guide you through what makes Colorado special.
Things You Should Know About Before Moving From Texas To Colorado
Weather
You will find an obvious shift in temperature in Colorado. While the summers are pleasant, the winters get bitterly colder than in Texas. You will need an extra pair of socks, jackets, and coats to survive Colorado's chilly temperatures. If you are a snowboarder, head over to Colorado Mountains to enjoy the thick snow and get some air on those slopes.
However, if you are moving from Texas to Colorado, we should let you know that January is the coldest month of the season as it is the peak winter season with temperatures ranging below freezing. The average high temperatures are between 25°F to 49°F whereas the average low temperature can go as low as -8°F. We do not suggest you move during this season, but if you have to, then ensure that your vehicle and especially tires are in good shape as snowfall can get up to 40 inches. Texas, on the other hand, does not receive much snowfall. An annual average of 2 inches is the maximum snow one can expect in Texas.
Summer is better in Colorado; one of the main reasons Texans envy this state. Due to Texas' geographical location, temperatures can hit approximately 100°F making wildfires common in some parts of the state. It may be an understatement to say that summer activities are a bit unpleasant in Texas!
Colorado's maximum temperature in June (the peak summer season) is around 86°F and it can get up to 95°F. However, you are free from the risk of wildfires unlike in Texas. So, a few points go to Colorado.
Consider moving to Colorado in summer as this time is most apt; tourism just begins to kick in during this season. This is the time for biking, hiking, trailing, and fishing in some of Colorado's best national parks – Rocky Mountain, Mesa Verde, Great Sand Dunes, and Black Canyon of the Gunnison. So bring out your best cotton shirts and hats to spend time in Colorado's summer heat.
You would not have to worry about rain, as it scarcely pours in Colorado. With an average of 16 inches of rain per year, you can be sure that Colorado is drier than Texas (27.25 inches).
Colorado's Weather In A Nutshell:
Do not take winters in Colorado lightly! The temperature can go below freezing at some places. Always carry an extra set of fine woolen clothes. You never know when the temperature can drop.
Pleasant summers compensate for the harsh winters in Colorado. Go all out in this season- hike, trail, camp, and make the most of its scenery.
Colorado is a much drier state than Texas. So, you will not have to worry about rainfall. Keep your raincoats and umbrellas on the top shelf.
Cost of Living
Nothing is more important than the cost of living of a state. No matter how delightful or scenic a place might be, it all boils down to affordability. Much can be said about the difference in costs in Colorado. You should know that Colorado is an astounding 26% costlier than Texas. This huge gap points to Colorado's rising property rates:
| | | |
| --- | --- | --- |
| | Median Home Cost | Average Market Rent (per month) |
| Texas | $186,441 | $1,331 |
| Colorado | $410,002 | $1,850 |
Why such inflated prices, you may ask. Colorado's primary concerns are its booming population and reduced availability of land. As a result, the rent increases as well. Hence, it is better to stay in Texas if you are unable to afford Colorado's housing costs.
Taxes
Texians are exempted from paying any state income tax, making it one of America's tax-friendly states. However, the same cannot be said about Texas' sales and property taxes. In this regard, Colorado surpasses Texas. Sure, Colorado has a state income tax of 4.63%, but its sales tax (2.90%) and property tax (0.49%) outshines Texas' sales (6.25%), and property (1.69%) tax rates.
Groceries
Again, you will have to pay 18% more for food in Colorado than in Texas. Items such as a loaf of bread, cheese, a pound of chicken, a pound of apples will cost you $20.64 cumulatively in Texas. The same ingredients could cost you approximately $25 in Colorado. Texas thrives on its agriculture industry, making costs of groceries lesser and convenient than in Colorado.
Utilities
The average monthly utility bill in both Texas and Colorado is lower than the national average of around $370. But if you're moving from Texas to Colorado, there's something to cheer about as Colorado, with its average bill of $315, is even lower than that of Texas ($356). Considering the vast difference in the cost of living in both states, this is good news!
Economy
Without a doubt, Texas adds a large portion to the economy of the U.S. Texas' GDP of $1.7 trillion makes Colorado's $351 billion insignificant. As stated earlier, Texas thrives in the agricultural sector (contributing $100 billion annually). Apart from that, steel, banking, and petroleum have contributed to Texas' economy as well.
But that does not mean Colorado has no economic growth. The state is still a major mining hub and one of America's largest producers of gold. Adding to that, the U.S. Air Force Academy and the North American Aerospace Defense Command (NORAD) in Colorado have created numerous job opportunities for civilians. However, its growth has shifted to tourism; Colorado's primary economic driver. The state managed to revenue $19.7 billion from tourists. This has managed to create a plethora of employment opportunities as well.
When it comes to unemployment rates, Texas and Colorado are at par. There is just a 0.1% difference between them, with Texas at 6.1% and Colorado at 6.1%.
If you are looking for well-paying jobs in Colorado, try to get into:
Tourism
Defense & Homeland Security
Aerospace
Financial Services
Getting a job will be a breeze as Colorado has several employment pathways. The median household income in Colorado is $72,331 and $61,874 in Texas, proving that you will earn more in Colorado.
Getting Around Colorado
The cost of transportation in Colorado is 35% higher than in Texas because of Colorado's expensive monthly transit passes. If you want to get around in Colorado, then your best bet is in Denver (the capital of Colorado). Denver has several bus and rail services that commute within and to neighboring cities. You do not even need a car when you are in Denver as it is a walkable city. And the Regional Transportation District (RTD) provides its best buses and rails, serving the Denver Metropolitan Area.
What Makes Colorado Special?
Colorado's weather is splendid. With numerous amusement parks and outdoor activities, you will not have boredom seep into your routine.
The tax rates are lower than in Texas, especially Colorado's property and income tax rates. They are affordable and will save you a ton of cash.
The tourism and technology economy is booming in Colorado. With a higher median household income, you can be sure that you will earn ten folds than in Texas.
Must Read: Moving to Colorado | Moving From Florida To Colorado
Top Places To Move To In Colorado
Denver
If you are an artist, then you will certainly love Denver's flourishing art scene. Gallery 1261 and the Denver Art Museum attract all sorts of tourists and art enthusiasts in one sphere. The vibrant city atmosphere complements the distinguished food scene in Denver. Some of Denver's delicacies are Rocky Mountain oysters and steakhouse classics. This city is also home to the Colorado Rockies. All baseball fanatics will recognize this MLB team.
Median Home Value: $390,600
Median Rent: $1,311
Boulder
Boulder is pretty small as compared to other cities- shops are just a stone's throw away from where people live. Along with that, Boulder is filled with several parks and bike lanes for fitness fanatics. However, this city has a more upscale lifestyle. Housing and restaurants are considerably expensive in Boulder.
Median Home Value: $700,000
Median Rent: $1,554
Also Read: 11 Best Boulder CO Neighborhoods to Live In
Colorado Springs
Colorado Springs is a huge attraction to new settlers. The breathtaking view offers a new perspective of aesthetics altogether. Colorado Springs actively supports local businesses. People are always contributing to the community may it be in art, food, or service. If you desire adventure, hiking at Pikes Peak will surely satisfy you. On the other hand, if you want to spend the weekend at a luxury resort, visit the Broadmoor.
Median Home Value: $269,800
Median Rent: $1,131
Fort Collins
The weather is mostly sunny in this small city. Even after a heavy snowfall, the snow melts the next day or after a few hours. The community encourages and supports all kinds of small-scale businesses from promoting local shops to music and art workshops. If you are thinking of hiking on the weekend with your friends, try the Foothill Trail, Horsetooth Falls, or Arthur's Rock.
Median Home Value: $367,900
Median Rent: $1,346
Some Points To Remember When Moving From Texas To Colorado
Taking a flight is less strenuous than driving; Texas and Colorado are 12 hrs apart from each other. It also depends now on which flight you take. A non-stop flight from Dallas to Colorado will reach you in 1 hr whereas non-stop flights from Houston and Austin will take 2 hrs.
Moving interstate requires knowledge and thorough research of your mover. Check if the mover has any pending legal issues, and insurance before finalizing any deal. You do not want to face any legal proceedings amid or after your move.
Downsizing your items will reduce the overall cost of the move. Carry less and take items that you genuinely need. Otherwise, have a garage sale and sell your less important or unwanted items away.
Sort your paperwork and important documents beforehand- licenses, passports, etc. You do not want to return to Texas just to collect your forgotten insurance papers. Keep a file or share the responsibility with your spouse to ease the work.
When finalizing a deal, do not accept the first deal that the moving company offers. Consult at least 3 movers, compare prices and services offered by them, and then make a decision. Some companies offer discounts and freebies during certain seasons.
Cost Of Moving From Texas To Colorado
An interstate move is always expensive. Certain moving companies offer cheaper rates than others. That way you save a buck or two. It is advisable to have a thorough discussion with your mover; ask them about dates, timing, hidden costs, discounts, etc. Before moving, ask them for an inventory of the items to be moved. That will ensure accountability and security. You should not feel scammed when an item is damaged or missing.
Traveling to Colorado from Texas is 736 miles. An approximate estimate independent of extra costs such as parking and tolls will be:
| | | | | |
| --- | --- | --- | --- | --- |
| | Moving Company | Moving Container | Freight Company | Truck Rental |
| 1- bedroom | $1,740-$3,000 | $1,520-$2,045 | $1,430-$2,030 | $889-$1,200 |
| 2-3 bedrooms | $2,656-$4,400 | $2,600-$3,050 | $1,855-$2,640 | $1,050-$1,416 |
Also, the size and location of the place affect costs. So carry less and travel light. Hiring a professional moving company is expensive, but they will save you amounts of time and energy by loading and unloading your items. Some companies offer free cleaning services and permit you to store the containers for up to 30 days. In other words, you can take time unpacking at your own pace. If you are facing budgeting constraints, you can rent a truck or use a moving container, but you will have to load and unload the items yourself.
Summing Up Everything
If blistering winters and barbeque parties are your things, then Colorado is your best bet. Coping in Colorado is more competitive than in Texas and you do need a well-paying job to afford the housing prices. But with its economy booming, it is quite likely that you will get something big. Adapting to this lifestyle takes time, but if you are up for it, then choose Colorado.
FAQs
How Much Does It Cost To Move From Texas To Colorado?
Moving from Texas to Colorado will cost approximately $2,600-$4,000, depending on the size and location of your place. Other services such as packing and unloading will cost you extra.
Is Colorado More Dangerous Than Texas?
According to NeighborhoodScout, Texas' violent crime rate is 4.19 per 1,000 people whereas Colorado's rate is 3.81. Hence, the odds of you being attacked are less. But when it comes to property crimes, Colorado has a higher rate (25.91 per 1,000 residents) than Texas (23.91 per 1,000 residents). But generally speaking, Colorado is a bit safer than Texas.
Is It More Expensive To Live In Colorado Than In Texas?
Living in Colorado is expensive when you compare the housing and food prices against Texas standards. To live in Colorado, you will have to cut a few corners to afford the lifestyle. Choose a neighborhood that has a lesser median home value, as most of your income will be spent on housing alone.
See also: Moving from Texas to Tennessee
Enter your information
Almost done!
Enter your information to view your quote.
Your information is safe with us. By using this service, you agree to receive email communications solely regarding your relocation process