Moving To Georgia – Relocation Guide for 2022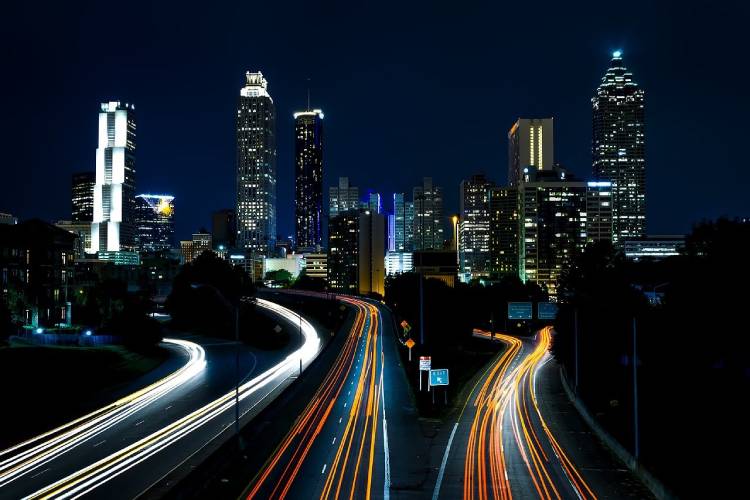 If you have your eyes on Georgia, you must know that it is known as the 'Peach State' and has the reputation for growing the highest quality of fruits in the country. It's also one of the most highly populated states in the country with a population of over 10 million people. Georgia has mesmerizing landscapes, white sand beaches, mountainscapes, flora and fauna, rich heritage and culture, music and more.
Georgia is also home to several sports leagues. Major Beavers and Atlanta Hawks are some of the teams that intrigue sports lovers. Besides, Georgia also has a rich heritage that is displayed in the art and culture museums all over the city. Performing houses, theaters, orchestras are some ways in which Georgia celebrates its culture, music, art and history.
If you really are planning on moving to Georgia, there's a lot more than sports, culture, art and music that you must know of. In this article, we'll look deeper into all the aspects you must look at when thinking of moving to Georgia. Let's have a look.
Pros And Cons Of Living In Georgia
Pros
The cost of living in Georgia is extremely affordable. With low rates on housing, utilities and other necessities, you end up saving a bit. Georgia also ranks 11th as the most affordable state to live in.
The Southern charm with the enthusiasm of sports and celebration of art, music and history is huge in Georgia. It's one of the most attractive aspects that attracts people.
Georgia ranks 11 in terms of economy with a GDP of $564 million dollars in 2020. This shows that the economy is booming and growing consistently.
Georgia is a hub for professionals seeking jobs. It has a number of multinational companies and empires that offer a number of job opportunities.
Georgia is one of the states that is surrounded by both the beaches and the mountains. The white beaches, green mountains, and overall diversity of animals in the state can make moving here worth it.
Cons
Georgia is a state that has humid summers. The intense heat waves and humidity is something you need to be aware of before you move to Georgia.
The traffic in Georgia is extremely congested, making Georgia one of the states with the most horrendous traffic.
Because of the humid temperatures, the state has several bugs, ants, and mosquitoes. If you're moving here, invest in some good repellent creams!
If you're someone who is allergic to pollen, you must be warned. Georgia has so many plants and trees that there is pollen all over the state.
Life in Georgia is laid back and slow. If you like to live in a hustling and bustling state, you may feel like life is moving really slow in Georgia.
Some areas of the state are extremely poor. The poverty in the state is quite high with over 21.4% of people living below the extreme poverty line.
Weather And Natural Calamities In Georgia
Georgia has a hot and humid subtropical climate just like its surrounding states. The summer temperature is mild at the higher elevations and intense in other regions. The average high temperature of Georgia reaches anywhere between 72°F to 90°F during summers.
The winters are mild with very little snowfall in the months of January and February. The lowest temperature reaches an average of 53°F during the mild winters. The winters are enjoyed by the residents as the summer heat usually is extremely harsh from May to September. Besides, Georgia also has an average amount of rainfall averaging upto 50-55 inches per year. The precipitation is higher near the coastal line and gets lower moving towards the mountain ranges.
Additionally, Georgia is a state in the southeastern part of the US with the highest frequency of tornadoes and hurricanes. The state is also often affected by tropical rainstorms, winds, and heavy rains. Keep an eye out for the weather forecasts!
See Also: Moving From Georgia To Florida – A Detailed Guide
Cost Of Living
One of the other important things to consider when moving to a new state is the cost of living. You do not want to be spending more money than you earn. Georgia is one of the more affordable states to reside in the US. It ranks 11th in the nation and its cost of living index is below the national average as well.
The table below will elaborate more on the monthly average expenditure of a family living in Georgia, according to BestPlaces. A score of more than 100 would be considered higher than the national average:
| | | |
| --- | --- | --- |
| Cost Of Living | Georgia | United States |
| Overall | 93.4 | 100 |
| Grocery | 95.5 | 100 |
| Health | 95.5 | 100 |
| Housing | 80.7 | 100 |
| Miscellaneous | 94.8 | 100 |
| Utilities | 103 | 100 |
As seen in the table above, the average expenditure of a family of four in Georgia is lower than the national average expenditure. With a decent job, you'll be able to live a cozy and secure life with your family in Georgia.
See Also: Georgia DMV Change of Address
Housing Rates
Buying a house is one of the biggest purchases you do in your lifetime. Before you choose to buy a home in Georgia, it is important that you understand the housing rates first. The houses in most parts of Georgia are affordable. Most people who move to Georgia prefer renting houses for the initial phase of their stay. If you're moving to Georgia on a long term basis, we recommend you buy a house instead of renting one.
| | | |
| --- | --- | --- |
| | Georgia | United States |
| Median Home Value | $240,400 | $291,700 |
Generally speaking, Georgia is more of a landlord-friendly state. Even so, that shouldn't discourage you from renting an apartment here. Wondering what the average rent is here? Check the table below to find out:
| | | |
| --- | --- | --- |
| Apartment Size | Average Monthly Rent In Georgia | US Average |
| Studio | $907 | $950 |
| 1-bedroom | $936 | $1,050 |
| 2-bedroom | $1,087 | $1,278 |
| 3-bedroom | $1,382 | $1,680 |
| 4-bedroom | $1,663 | $1,950 |
As you can see, the rate of renting a house in Georgia is lower than the national average. This enables you to get a good apartment on rent at affordable rates. You can choose to buy a house if you have a decent job and pay off the mortgage in due time.
Tax Rates In Georgia
One of the major reasons people have been flocking to Georgia is because of the low tax rates in the state. The income tax rate in Georgia is higher than the national average and is the only tax that is high. The sales tax approximately ranges anywhere between 4% to 9%, and is the most inexpensive tax in the state. Apart from that, the property tax in the state is as low as 0.9% and this enables residents to invest in real estate properties across the state.
Crime Rate In Georgia
If you want to move to a city in Georgia that is safe for you and your family, you'll have to look into the crime rates of the cities. Only a few cities like Gordon, Atlanta, Milledgeville have higher crime rates in the suburban areas. Georgia has observed low crime rates in the past few years and is a safe state to live in.
Violent crimes like assault, murder, rape (3.41 per 1,000 residents) are lower than the national median of 4. On the other hand, the rate of property crimes like burglary, theft, larceny, etc. is on the higher side (23.76 against the national median of 21 per 1,000 residents).
When looking for a city to live in, you may want to look at Tignall, Rayle, Woodland, Glenwood, and a few other cities. These are some of the cities with low crime rates and are the safest cities in Georgia to reside in.
Economy And Employment Opportunities In Georgia
The economy of Georgia is developing and ranks 11th in the US. This score is based on the overall economic growth and development, business environment, job market, employment, the GDP and more. The business environment of Georgia ranks 17th, economic growth ranks 12th, and 13th in terms of employment.
The GDP of Georgia was $564 billion in 2020. The following table gives you a better demographic of what the economic growth of Georgia looks like:
| | | |
| --- | --- | --- |
| | Georgia | United States |
| Average Annual Income | $28,015 | $31,177 |
| Average Household Income | $52,977 | $57,655 |
| Future Job Growth | 43.9% | 33.5% |
| Unemployment Rate | 4.0% | 6.0% |
As you can see in the table above, you'll be earning less than the national average but the affordable cost of living makes for a good pairing. Considering you have a well paying job, you can afford to live a comfortable life in Georgia with your family or even by yourself.
The job market in Georgia has seen some evident growth in the past decade. The job growth has improved by 2.5% and the unemployment rate has also decreased over the past year. This shows that the job market in Georgia has been showing steady and positive growth.
Agriculture, real estate, construction, manufacturing, insurance, mining, finance, education are some of the sectors that have ample job opportunities for new and trained professionals. The Coca-Cola Company, The Home Depot, Delta, UPS, etc, are some of the top employers in Georgia.
Education In Georgia
The education in Georgia is top-notch and ranks 30th in the nation. The educational performance of Georgia is above the national average and students from across the country travel to enroll in some of the top universities for higher education.
The schools in Georgia have a holistic approach towards teaching and learning. The extracurricular, academic, and co-curricular programs that the elementary and high schools offer, help in the overall development of students. The technical schools and colleges in Georgia are some of the best in the country. Many of the universities and colleges offer scholarships for students on merit basis and also provide job opportunities through placement programs.
The following is a list of some of the highly acclaimed elementary and high schools, universities, and colleges in Georgia.
Elementary Schools
Daves Creek Elementary School, Cumming
Midway Elementary School, Alpharetta
Morningside Elementary School, Atlanta
Sharon Elementary School, Suwanne
Mary Lin Elementary School, Atlanta
New Georgia Elementary School, Villa Rica
High Schools
Columbus High School, Columbus
Davidson Magnet School, Augusta
Northview High School, Johns Creek
Midtown High School, Atlanta
Alpharetta High School, Alpharetta
Lassiter High School, Marietta
Universities And Colleges
Mercer University, Macon
Georgia State University, Atlanta
Berry College, Mount Berry
Kennesaw State University, Kennesaw
Spelman College, Atlanta
Georgia Institute of Technology, Atlanta
Overall, the education system in Georgia has a lot to offer its students in terms of academics as well as extracurricular and co-curricular programs. If you have children who aspire to get higher education, you can certainly consider moving to Georgia.
See Also: Largest Cities in Georgia
Traffic And Transportation
One of the more important things you might forget to consider when moving to Georgia is the traffic and transportation services. When moving, you need to know the average commute time and the kind of transportation services in the state you can rely on. In Georgia, the average one-way commute takes longer than 28 minutes on an average. In times when the traffic is congested, it takes even longer and you will have to spend some time in your vehicle.
Most people in Georgia prefer buying their own vehicle to avoid any delays caused by public transport services. Only 2.1% of the population uses transit public services within the state, whereas, over 79% of people use their personal vehicles. Having a personal vehicle in Georgia ensures that you do not spend hours waiting in a bus or the underground metro when traveling around the cities.
Things To Do In Georgia
Visit The Rock City: The Rock City is one place that you must visit at least once. The waterfall, mountains, gardens, amusement parks are some of the places that will make you feel closer to nature.
Hike to Brasstown Bald: Brasstown Bald is the highest peak in Georgia that you must hike to with your family. It's a good outdoor activity that you can engage in and as the cherry on the cake, the view from the top is breathtaking.
Visit Helen In October: Helen is a small town in Georgia that is a huge tourist attraction. The town gives you a Southern country feel and you can avail of all the handmade goods created by the local craftsmen in the town.
Silver Comet Trail: Silver Comet Trail is one of the coolest natural trails that you can go for a walk or a run. This space is open to cyclists, athletes, or can be enjoyed by people who love nature in general. The trail is free of cost and open all year long.
The Georgia Aquarium: The Georgia Aquarium is the largest aquarium in the United States and is home to a wide range of aquatic life. The Aquarium has a lot of activities and sites for you to visit that can consume all of your day.
Best Places To Live In Georgia
"Which city should I move to?" is probably the biggest question you must ask yourself before moving to Georgia. There are a number of cities in Georgia that have friendly neighbourhoods, schools, colleges, job opportunities, opportunities to explore outdoor adventures and more. Let us have a look at some of the cities in Georgia that you can consider moving to.
1. Alpharetta
Alpharetta is one of the cities that you can live in with your family. The friendly neighbourhoods and the high quality of education make the city an attraction for people with families. Alpharetta is a family-friendly city with ample things to look out for. The housing in the city is not exactly the cheapest but the quality of life is great.
Population: 65,800
Median Home Value: $388,600
Annual Median Household Income: $50,332
Average Monthly Rent: $1,536
2. Athens
Athens is named as 'The Classic City' and is resided by a large number of retired couples and students. It's considered as one of the best cities to retire in Georgia and also to get quality education. Because of the youthful population that resides in Athens, the environment is jolly, friendly, and energetic at all times. The public schools in Athens are rated above average and the universities offer a number of post-graduation courses for aspiring students.
Population: 127,100
Median Home Value: $180,200
Annual Median Household Income: $61,843
Average Monthly Rent: $1,025
3. Columbus
Columbus is one of the most populated cities in Georgia as it is also the cheapest to live in. The city celebrates music and hosts a number of buzzing social events. The city has high crime rates and is also overpopulated in some parts, but this is compensated with the education, social events, job opportunities, celebration of life, art and music, amazing downtown, and a combination of urban and country life.
Population: 197,500
Median Home Value: $91,400
Annual Median Household Income: $46,408
Average Monthly Rent: $987
4. Savannah
Savannah is celebrated as the romantic city of Georgia. It's also the oldest city and was a port hub during the Civil War and the American Revolution. Savannah has a Southern country vibe that people love and celebrate time and gain with festivals and local fairs. The modern amenities mixed with its Southern charm make it a tourist attraction as well.
Population: 146,400
Median Home Value: $134,600
Annual Median Household Income: $39,386
Average Monthly Rent: $847
To sum it up, moving to a completely new state is an important decision you take at some point in life. Before making the move, you must know everything that the state has to offer you. Hopefully, the above guide will help you understand all that Georgia has to offer you and will enable you to make a final decision.
FAQs
Is Moving To Georgia A Good Idea?
Living in a Southern state like Georgia is one of the best decisions you will make. The job opportunities combined with low cost living, quality education, a growing economy, low housing rates makes Georgia the perfect destination to live in when expanding your professional career and family. Hence, we would say that living in Georgia is a good decision.
What Are Common Jobs In Georgia?
Georgia is a state that offers several job opportunities to skilled professionals. The industries that demand skilled professionals are the healthcare, transportation, and sales and retail industry. Nurses, physical therapists, health aid servers, sales associates, bus and taxi drivers, education directors, teaching professionals etc are some of the most common jobs in Georgia.
Is Georgia A High Tax State?
Georgia is a safe haven for businessmen and entrepreneurs when it comes to tax rates. With the general tax rate being lower than the national rate, Georgia is considered a low tax state. The personal income tax rate and sales tax in Georgia are lower than in six states in the US. Georgia also ranks 39th among all the other states when it comes to taxes. You can use our Moving Calculator to Calculate Cost of Moving to Georgia.
Enter your information
Almost done!
Enter your information to view your quote.
Your information is safe with us. By using this service, you agree to receive email communications solely regarding your relocation process