Reasons to Move to Another City or State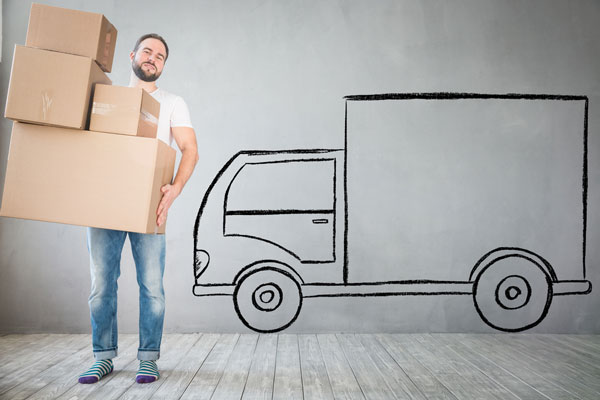 Relocating to another state can be a significant change, and it is! While it's frightening and completely outside of your comfort zone (literally), it's also a fantastic way to revolutionize your life. It is also a chance to try something completely new, in a unique setting, with new people.
Relocation has been ranked as one of the most stressful events in a person's life. One out of every ten people finds moving so stressful that they experience severe anxiety and depression during the transition period. According to research, moving out of state adds pressure to the move because it takes the person completely out of their comfort zone. So, why do so many people relocate to new states? If moving is so stressful, why are over 7 million Americans moving to new states and over a million leaving the country? The top defining factors are family, romance, and career.
People move and live in more than ten homes on average. When you consider removing yourself from your safety matrix; anxiety, doubt, and panic can set in. Psychologists attribute the stress to the fact that most people regard their homes as a haven. Moving forces people to abandon their comfortable repetitive behavior and settle into a life they are unsure of. When you move from one state to another, you lose your familiar surroundings and are forced to adapt to new ones.
The whole world is waiting for you. Whether you move to another nearby city or another country, you can continue your journey in a new setting. Let's look at the few reasons to relocate to another state.
New job
One of the most significant reasons people relocate to a new state is for work. Have you been offered a new job in another state? A new job with better working conditions and a (significantly) higher pay? If you answered yes, then that piece of good news should be more than enough to get you started.
A recently changed job that pays well is not always a compelling reason to begin packing your belongings. You may be open to taking a pay cut and possibly even putting up with more unfavorable working conditions in exchange for pursuing a different career path that is more meaningful to you and, ideally, more appropriate for your professional skills and competencies. Another scenario in which you are about to relocate to a different state is when your employer is relocating its main office and scope of business to another state or is sending you, as an employee, to another company office that is located in another state entirely. Unless you choose to leave your current job, you may not have much choice to accept the job-related move.
See Also: A Job Relocation Package
Higher education
Education has always been known as one of the most significant aspects of life. As a result, many families prioritize their children's education and are willing to relocate to be near a good high school or a prestigious university. Moving to another state for education, on the other hand, is a trademark of higher education when students choose to move out of their parent's homes to get into a good college, which is most often located in a different state.
For example, getting into one Ivy League university is a dream for many students. If that happens, they will leave their current homes in a heartbeat to continue their education. And while studies is one of the best reasons to relocate out of state, it is almost always the students who leave their homes to live on campus or in the city where the university is located, rather than the entire family.
See Also: How to Find a Good School When Moving
Love
There isn't much better than following your heart and being with the person you love when it comes to good reasons to relocate to another state. When you meet that special someone who completes you and they live in a different state, there's no doubt that you'll follow them to that new state so that you two can be together. You'd do anything to follow them to a different country if necessary.
You may decide that it is best to move to a neutral state and try it there – this is often the decision that appears to be fair for everyone. In any case, you should be thinking about how to pack your belongings and relocate out of state soon. Of course, moving to another state for love is the most romantic reason – nothing beats the thrill of knowing you're doing it to be with your significant other. Unfortunately, a broken heart – a breakup or divorce – can be a compelling reason to relocate far away – to a different state.
Retirement
After years of hard work, many retirees want to spend the rest of their lives in a place with a pleasant climate and little stress. And it is specifically for this reason that retirees begin their search for the ideal location with climatic conditions that they know they will enjoy. And in many cases, the retirement location is in a different state entirely.
Moving to a new state for retirement is a common reason for relocating, and it's not just the better climate that influences the final decision. It's often a combination of factors like moving to a more affordable state, a smaller home to save money on living expenses, getting better healthcare, or simply moving to a new place to be closer to family. Moving to another state in retirement is an excellent option for retirees who want to spend their leisure time in a more dynamic environment with a plethora of good opportunities for entertainment and recreation.
Also Read: Indiana DMV Change of Address
Climate
Why would you relocate to another state? The answer is simple: you can't stand the weather in your state anymore! One of the most common reasons for relocating to a different state is to seek a better climate. On the one hand, you may be sick of the cold weather in your area – sub-zero temperatures, long winters, copious amounts of snow, and dangerous ice for months. And if that's the case, you should think about relocating to a southern state with a much warmer and sunnier climate.
Wherein, on the other hand, you might yearn for a long break from the scorching sun and sizzling heat of the state you're currently in. And, given that everyone has a breaking (boiling) point, packing up your belongings and moving to a colder state should sound like a good idea. Aside from climatic whims, you may need to relocate to a different state due to health concerns. People suffering from respiratory illnesses, for example, are advised to relocate to areas with a drier climate.
New friends
It was simple to make new friends as a child because your new BFF could be the person eating lunch next to you. On the other hand, developing new friendships becomes more difficult as we get older. There is no wrong with being happy with our current relationships, but there are always new bonds and connections as we grow older. Relocating to a new location forces you to do so. Whereas you may not have had many reasons to get out there and meet new people in the past, settling in a new city or country necessitates that you branch out and make connections. If you're nervous, start by simply attempting to meet your neighbors. As your confidence grows, you'll be ready to broaden your circle.
New language
Learning a new language is extremely difficult, particularly as we get older. However, there is no doubt that immersion in a new language is the most effective way to become fluent. So what better way to do that? Relocate somewhere where you will be forced to learn to speak and communicate in an entirely new language? It's the best kind of language lesson. It will most likely be difficult at first (learning a new language is always difficult), but you will learn it faster and more proficiently if it is all around you.
Empty Nest
Children are one of the most compelling reasons for relocating to a new city or state. Many parents believe that once their children leave for college or start their own lives, they must downgrade their homes. Whether it's a financial issue or a problem with the size of their home, empty nests are the ideal time to relocate to something more suitable for your new lifestyle.
Fresh start
There may be many compelling reasons to relocate to a new state, but the desire for a fresh start in a new location has always been a powerful motivator to relocate.
You may be running away from something bad – or someone bad – or you may have a strong feeling that the town or city where you live has nothing more to offer you. So, if you're feeling stuck and don't see a way out, moving to a different state can, at times, provide you with the fresh start you need to rediscover yourself and understand what you truly want to do with your life.
See Also: What State Has The Least Natural Disasters
Conclusion
Whatever your reason for wanting to make the big change, you should consider a few things before taking the plunge. First and foremost, you must mentally prepare for the stress and uncertainty. Even if you are not relocating out of state, packing up your home can be a time-consuming and exhausting task. Even if you are well-prepared, the moving day will be full of surprises. Second, before you move, do some research on your new neighborhood and surroundings. You will need some understanding of the area's layout and where to find amenities. Finally, have a reliable partner to assist you with the move. They will not only take the stress out of moving your assets, but they are also trained professionals to deal with any emergencies that may arise.
Frequently Asked Questions
Why should you relocate?
Immersion in something new is the best way to forget the painful memories, if any, and learn something new. And you don't have to relocate across the globe to do so; simply relocating to a new city within your own country can provide you with access to an entirely new way of life.
Why should you relocate to a different state?
Picking up your life and moving it to another state can appear to be a significant change — and it is! It is also a chance to try something completely new, in a unique setting, with new people. While it's frightening and completely outside of your comfort zone, it's also a fantastic way to revolutionize your life.
See Also: Should You Move for a Shorter Work Commute?
What motivates people to relocate from one location to another?
People migrate for a variety of reasons. These are the economic, social, political, and environmental reasons: Moving somewhere for a better quality of life or closer to family or friends is referred to as social migration. Political migration is defined as moving to avoid political persecution or war.
Enter your information
Almost done!
Enter your information to view your quote.
Your information is safe with us. By using this service, you agree to receive email communications solely regarding your relocation process