Moving To Atlanta – Relocation Guide For 2022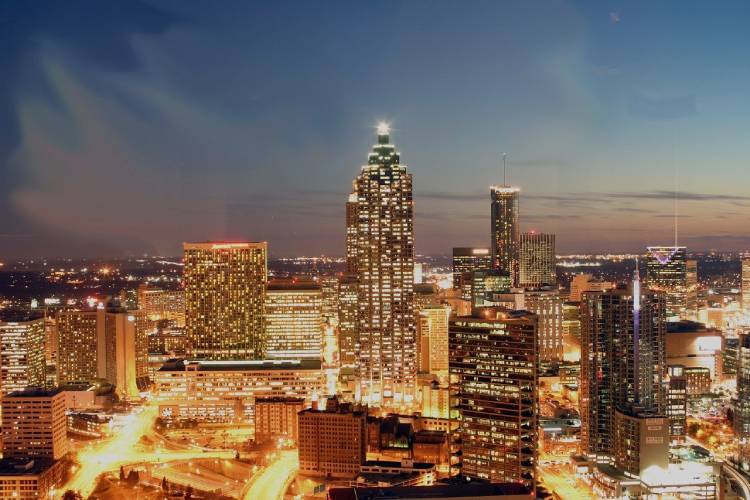 Would you want to live in a city that's bustling, lively, and with an unusual abundance of trees? Then Atlanta would be the best choice for you. The capital city of Georgia, Atlanta is home to about 5.8 million people, making it the ninth-largest metropolitan area in the US and it seems like it is not going to slow down anytime soon. A testament to that statement is the phenomenal significance in terms of economic growth as well as historical milestones this city has seen since its founding in 1837.
The city of Atlanta has a highly laidback culture that has managed to attract and retain multiple Fortune 500 companies with their headquarters flourishing here. This city is also the birthplace of the Civil Rights Movement of the 1950s and Martin Luther King Jr.
All said and done, if you're moving to Atlanta, there are a lot more factors that you'll need to consider. We've got you covered in that regard, so keep on reading so you can make a judgment for yourself!
Pros And Cons Of Living In Atlanta
Pros
Incredible Food Culture
Atlanta is known to have a very diversified food culture that is a mind-blowing fusion of multiple cuisines. So, you'll find something that tickles your taste buds, especially if you're all about fast food.
Mild Winters
The brutal summers of Atlanta will make you sweat your life away unless you have some sort of air conditioning available. However, the generally higher temperatures translate into milder winters where it does get chilly, but not Alaska chilly. The best part? You can stay in the city to enjoy the cold winter breeze, or drive about 3 hours and go skiing in the winters.
Diverse Population
Atlanta is known as a good example of the 'Southern Hospitality', in the broader meaning of the phrase. The city is very welcoming to people from all sorts of backgrounds, regardless of race, gender, and orientation. So, if you're looking for a place that feels like home, Atlanta might just be the answer.
Reasonable Cost Of Housing
While the overall cost of living in Atlanta is lower than the national average to begin with, the biggest contributor to the low cost of living is the housing prices. There's a huge amount of options available in the colorful neighborhoods of this city.
You'll find everything from apartments to proper family homes for relatively low costs. However, you might have to be on your toes when hunting for a house since the real estate market here is competitive.
Stable Job Market
Atlanta is one of the few places where you can take the risk of moving without the guarantee of a job and things might still work in your favor. Even so, we wouldn't recommend it!
That being said, Atlanta is the home to the highest number of headquarters of Fortune 500 companies. The economy of this city is highly supportive of new and business owners, too. Meaning there is a job available for you, whatever it is you are looking for.
Cons
Humid Summers
The summer season in Atlanta is infamous for its high temperatures. The temperature often averages between 88-90°F from June to August. However, the biggest problem isn't the temperature, but the humidity.
Crazy Traffic
While the traffic in Atlanta is not as bad as LA traffic, it just never eases. A good idea for a resident of this city is to live in a neighborhood that is very close to your place of work. If that doesn't work, make sure you give yourself enough time for commuting.
Inefficient Public Transportation
The city of Atlanta is growing and it is very apparent in the number of people and places that have gone up in the last two decades. The problem that arises because of this is that the public transportation system is struggling to catch up. If you plan on depending on the public transportation system, or walking, for your daily traveling, you might end up tiring yourself much sooner than you might imagine.
Heavy Urbanization
Since Atlanta is a land-locked city, it has given the city planners and engineers a lot of space to build the city as they see fit. However, the entire city complex of Atlanta is about 8,000 square miles. It's huge enough that it needs three downtown cores, 50 municipalities, and 14 counties, all under the banner of Atlanta!
What this means is that you'll need to move away from the center of the city in order to find affordable housing, sometimes adding huge amounts of travel time to your daily commute.
Low Variety Of Outdoor Spaces
There's no denying that the city of Atlanta has some mind-blowing places like the Chattahoochee River and the Stone Mountain very close by, a majority of the landscape in this city is flat and can be rather bland.
Weather In Atlanta
Since Atlanta, along with the entire state of Georgia, is on the southern end of the US, it experiences a humid subtropical climate. This means that the summer season is hot, humid, and muggy, while the winters are short, mildly cold, and rather wet. Over the course of the year, the average temperature can swing between 35°F and 89°F.
The summer season in the city of Atlanta begins in the second half of May and ends mid-September, wherein the average daily temperature is 81°F while the average for the entirety of the season is between 71°F and 88°F. The month that sees the highest temperature in Atlanta is in July.
The winters, following a similar theme, are relatively hotter than a lot of areas in the USA. The winters begin in late November and end in late February, with the average daily temperature being around 60°F, and the average temperatures for the duration of the season are between 35°F and 53°F.
The city receives about 4 months of precipitation between May and August, wherein a majority of the precipitation is rain. Snow is a rare occurrence in the area, which means that the temperatures still remain manageable.
Cost Of Living
According to BestPlaces, the overall cost of living in Atlanta is around 115.4, which is slightly higher than the national average of 100. While this is evidently higher, people don't mind paying a little extra to live in one of the most desired places in the country.
The biggest reason for a higher-than-average cost of living is the expense of housing. However, other factors like taxes, utilities, and grocery bills come under the national average, meaning you might be able to live comfortably in this city without breaking your bank.
Buying A House In Atlanta
Atlanta is a huge city that's still growing in terms of the area. Due to this, there are a lot of new housing options popping up. However, the prices of these places are slightly higher than the national average and keep on going up as you go towards the main city. According to Zillow, amongst the many options available, the median price of a typical family home in Atlanta is around $359,314, which is about $46,000 more than the national median of $313,368.
Renting A House In Atlanta
The rent prices in the city of Atlanta are almost in-sync with the national average. According to Rentcafe, the average rent in the city of Atlanta is $1,401 per month, while the average for the country is $1,331, for a typical 974 square feet apartment.
Taxes In Atlanta
When it comes to taxes, the state of Georgia is very appealing as they're quite low, and Atlanta is no exception either.
There are three major taxes levied on the residents of Atlanta. Namely, the sales tax, property tax, and the state income tax. The sales tax is levied by the city of Atlanta at a combined rate of 8.90%. The effective property tax rate is 1.07% in Fulton County, which is the highest in the city. Lastly, the state income tax rate in the state of Georgia is 6%, effective to the city of Atlanta at the same rate.
Utilities And Other Expenses In Atlanta
In the city of Atlanta, you'll see that expenses like utilities, food, and healthcare are relatively manageable. According to Numbeo, the cost of basic utilities like electricity, water, heating, and garbage will cost you about $151. If you add a decent internet connection, you'll add another $62 to the budget, per month.
Other expenses like food will have you spending about $312 per month on groceries. If you want to avoid cooking and head to a restaurant, you might end up spending about $50 in a mid-range restaurant. On the other hand, a typical visit to the doctor will cost you about $119, while the same for your pet would cost $52.50.
Crime Rate In Atlanta
If there's one concern you'll have after moving to Atlanta, it will be the crime rate. Violent crimes in Atlanta have shot up significantly between 2019 to 2021.
According to NeighborhoodScout, the rate of violent crimes in Atlanta is 8.28 per 1,000 residents, which is more than double the national median for violent crimes, which is 4. This brings the chances of becoming a victim of violent crimes to 1 in 121.
On the other hand, the rate of property crimes is 46.11 per 1,000 residents, which is also double the national median, which lands at 21. This number brings the chance of becoming a victim of property crimes to 1 in 22.
Of course, this doesn't mean that the entire city is unsafe. All you need to do is choose a safe neighborhood in Atlanta. Buckhead, Midtown, and Cabbagetown are some neighborhoods that you can consider here!
Economy And Employment Opportunities In Atlanta
As of 2019, the GDP of Atlanta amounted to about $371.83 billion. The biggest contributions to the GDP of Atlanta are the more than dozen Fortune 500 companies that have their headquarters in the city.
The city is also a great place to start a new business since the taxes surrounding the starting of new businesses, as well as the structure to do so, are very easy to understand and execute. This makes it easier for new players to start off at a lower entry cost than a majority of the cities in the US.
That being said, the highest salary earned in Atlanta is around $266,090 and is earned by obstetricians and gynaecologists. These professions are followed by other professionals in the medical field, air traffic controllers, systems managers, and financial managers.
The annual mean wage in the city of Atlanta is around $82,363. However, a yearly salary of anything above $121,753 is considered good in the city of Atlanta, according to Ziprecruiter.
See Also: What Salary Do You Need to Live in Atlanta GA?
Education In Atlanta
The city of Atlanta has a total of 202 public schools. This includes elementary, middle and high schools along with 22 colleges and/or universities. The student-to-teacher ratio of 17:1 is also a testament to a good education structure in the city.
There are, however, a few schools that stand out of the bunch in terms of the overall quality of education. We've compiled a small list of schools that we think are the best for your children:
Elementary Schools
Big Creek Elementary School, Forsyth County Schools
Brookwood Elementary School, Forsyth County Schools
Shiloh Point Elementary School, Forsyth County Schools
Settles Bridge Elementary School, Forsyth County Schools
Middle Schools
Buford Middle School, Buford City Schools
Riverwatch Middle School, Forsyth County Schools
South Forsyth Middle Schools, Forsyth County Schools
International Charter School Of Atlanta, Roswell
High Schools
The Westminster School, Atlanta
Gwinnett School Of Mathematics, Science & Technology, Gwinnett County Public Schools
Pace Academy, Atlanta
Fulton Science Academy Private School, Alpharetta
Colleges And Universities
Georgia Institute Of Technology, Atlanta
Emory University, Atlanta
Agnes Scott College, Decatur
Spelman College, Atlanta
Traffic And Transportation In Atlanta
The city of Atlanta suffers from bad traffic. It may not be as bad as in LA or NYC, where you might just give up and use the public transportation, but bad enough to leave you frustrated when trying to get to your workplace.
Speaking of public transportation, Atlanta is serviced by the Metropolitan Atlanta Rapid Transit Authority (MARTA), which provides multiple bus, train, and streetcar services throughout the city. In most cases, if you have the time and patience, you can get to any part of Atlanta using a combination of these services:
MARTA Bus
The MARTA bus system covers more than 1,000 miles with the help of 90 lines that cover the city. This network is your best bet to get to the places that the MARTA Rail does not cover. Depending upon the line, MARTA buses run daily between 5 am and 12:30 or 1 am.
MARTA Train
The MARTA train is probably the quickest way to get around the city, if you are planning to take a trip from north to south, or east to west. In any other configuration, the rail line can seem to be a little inefficient and time-consuming.
The tickets for both, the MARTA bus and train are a flat $2.50 for a one-way trip. However, you can purchase multi-day passes or a Breeze card for a longer time and trip validity. In some instances, you can also make transfers from the bus to the train, or vice-versa.
Atlanta Streetcar
This is a great public transportation option in Atlanta if you're planning on visiting the major destinations in Atlanta. The Atlanta Streetcar goes between the Martin Luther King Jr. National Historic Site and the Centennial Olympic Park, with 10 stops in between. A one-way trip on the Streetcar costs you just $1.00.
Taxi
You can also choose to hail a cab to stay on the road while avoiding driving. However, taxis are only reasonable in the business district, where they run on a flat fare. Out of that neighborhood, the cabs are metered, and consequently pricier.
See Also: Best Moving Companies In Atlanta
Places To Visit In Atlanta
1. The King Center
The King Center was established in 1968 as a living memorial to Dr. Martin Luther King Jr. and now also acts as a programmatic non-profit as well. You can visit this place to get a comprehensive glimpse into the life of Dr. King and understand his work, principles, and contributions.
2. World Of Coca Cola
Coca-Cola was born in the city of Atlanta in the year 1892. Ever since, Dr. Pemberton's fizzy drink has been the people's favorite. This museum is a great example of the craze that this company has created around its products. The most famous part of the museum is an exhibit that lets you taste more than 100 flavors of the drink!
3. Zoo Atlanta
The Zoo Atlanta is most famous for its gorilla exhibit, which is home to the oldest living male gorilla in the world. Other than that, this zoo is known to give its visitors a chance to see the elephants, giraffes, and lizards closely.
4. Woodruff Arts Center
Home to the Alliance Theatre, Atlanta Symphony Orchestra, and the High Museum Of Art, the Woodruff Arts Center is the epicentre of culture and arts in Atlanta. Keep your eyes peeled for the ASO movie nights!
5. The Atlanta BeltLine
This is a bunch of railroad corridors that went out of order quite a while ago. Now, the 22-mile-long BeltLine is lined with eateries, micro-breweries, and some amazing art pieces; a great place to exercise or just relax.
Best Places To Live In Atlanta
1. Midtown
If you're looking for a neighborhood that gives you the chance to live in peace and quiet, and not have to drive a long distance to get to work, Midtown is the place for you. Midtown, as a neighborhood, is easily explored on foot; there are lots of green spaces and you'll see a lot of culture sprinkled into the daily life of Midtown residents.
Other than the Georgia Institute Of Technology, this neighborhood also has places like Piedmont Park, where you can find multiple trails, music festivals, and a farmer's market. You can also visit the Fox Theatre or the High Museum Of Art. The nightlife here is vibrant and LGBTQIA+ friendly.
Population: 26,009
Median Home Value: $317,147
Monthly Median Rent: $1,214
Annual Median Household Income: $99,662
2. Cabbagetown
About ten minutes away from Downtown, this neighborhood is the best for young professionals wanting to move to this city. You have easy access to a majority of the job opportunities and there are a lot of locally-owned businesses and restaurants as well as a lot of street art installations.
The history nerds can visit the Oakland Cemetery to see the grave of Margaret Mitchell or you can visit the Krog Street Tunnel and witness a concert or take photos of this ever-evolving art installation.
Population: 2,389
Median Home Value: $244,040
Monthly Median Rent: $1,184
Annual Median Household Income: $111,830
4. Old Fourth Ward
Old Fourth Ward is one of the most significant historical districts in Atlanta. After all, Martin Luther King Jr. was born in this district! The young and the single in the city love this neighborhood because of its lively vibe, abundant street art, coffee shops, and food carts.
This relatively walkable neighborhood offers people a lot of converted lofts, craftsman-style single-family homes, and even apartment buildings that are restored to their unique Old Fourth Ward charm.
Population: 19,434
Median Home Value: $211,300
Monthly Median Rent: $1,028
Annual Median Household Income: $62,923
5. Virginia-Highland
Virginia-Highland is one of the more affluent neighborhoods in Atlanta. There are beautiful bungalows and American Foursquare architecture that is very alluring to families and retirees alike. This neighborhood also offers low crime rates, tree-lined streets that are walkable, and a lot of entertainment venues.
Other exciting things that are close to Virginia-Highland are the Atlanta BeltLine, Blind Willie's, Eastside Trail, and John Howell Memorial Park. However, the amazement of this neighborhood comes with an equally amazing price tag.
Population: 12,281
Median Home Value: $486,675
Monthly Median Rent: $1,238
Annual Median Household Income: $122,757
Summing Up
Atlanta is large, in terms of area, population, vibrance, and just the way people perceive life. However, the city is very laid-back and has kept its culture and history very close to its heart. How does a city like that manage to retain multiple billion-dollar corporations, provide jobs to everyone looking, and still manage to hold its reputation of a 'chill' city, is nothing but a mystery.
However it might be, with the endless urban sprawl and the traffic stuck in it, or with the BeltLine and the King Center, we have realized that it is very easy to fall in love with and decide on moving to Atlanta. Do you think you want to give it a shot? If you want to Calculate the cost of your move to Atlanta you can use our Moving Cost Calculator.
FAQs
Is Atlanta Safe?
Generally speaking, Atlanta is a relatively safe as a place to live in. However, there are certain areas that have a rapport for not being the safest, with an increase in violent crimes in recent years. Do your research and figure out what areas you might want to stay out of.
Is Atlanta Expensive To Live In?
No. While the overall cost of living in Atlanta is almost in sync with the national average cost of living, you can cut down on costs in many ways and make the operational costs of life in Atlanta rather affordable.
What Is A Good Job In Atlanta?
There are many good jobs in the medical, entertainment, and managerial fields that pay very well in Atlanta.
Is It Easy To Find A Job In Atlanta?
Yes. There are a lot of big companies that work right alongside smaller, locally-owned businesses. This means that there are plenty of jobs available. However, the job market in this city is quite competitive!
Enter your information
Almost done!
Enter your information to view your quote.
Your information is safe with us. By using this service, you agree to receive email communications solely regarding your relocation process