5 Best Moving Companies In Atlanta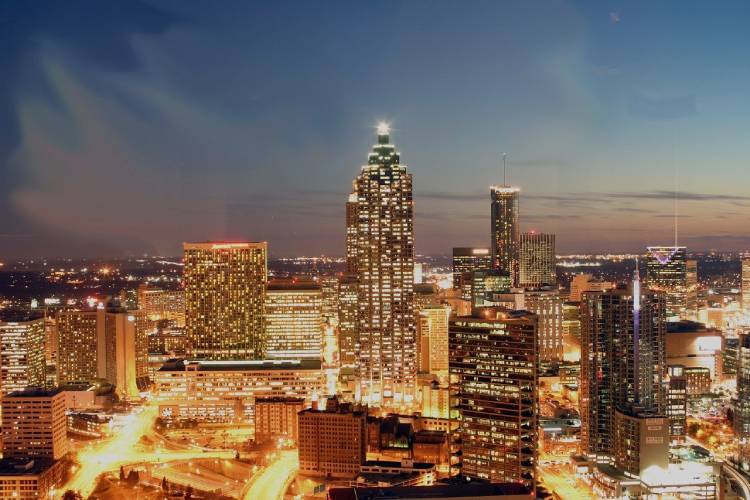 Atlanta, a city that has something to do for everyone, is surely a great place to call home. The fact that it is the capital city of the state of Georgia only adds more appeal to it. With the perfect blend of historic and modern touches that the city possesses, there is no doubt that Atlanta has been on the radar for a large population to move to, over the years.
But why are people eyeing a move away from this city? The major reasons are the increasing traffic and the weather conditions that might be unpleasant for everyone. So, if you're among those looking for a new abode, you will need a good moving company to help you relocate. The list below of the best moving companies in Atlanta should do the trick for you.
5 Best Moving Companies In Atlanta
24/7 Moving
Bellhop Moving
Atlanta Home Movers
Estate Property Movers
Bulldog Movers
24/7 Moving
Probably the biggest name in the moving industry in the Atlanta region, 24/7 Moving started its services in 2005. The company has learned the ropes of the business and is now providing effortless services across the city. Their impressive client referral rate speaks volumes about the quality of services they provide.
The reasonable pricing system only attracts more customers who seek top-tier services within an affordable budget. Their services include local and long distance moving, packing, and loading/unloading services. While you set up your new house, the company can also help you keep your precious belongings in a secure facility should you choose its long-term or short-term storage services depending on your requirements. On the off chance that your belongings are damaged or go missing, the company provides a liability coverage option to compensate for the loss. 24/7 Moving is a BBB Accredited Business which tells you everything you need to know about the company's legitimacy and authenticity.
Services / Products offered
Local moving
Large and heavy items moving
Loading and unloading
Packing services
Storage services
Pros
Polite and well-trained staff who will take care of your belongings like their own.
Its free online moving quote option can help you get a fair idea of what your moving expenses will look like.
Cons
Their average cost is slightly higher than other moving companies in the city.
Reasons To Choose 24/7 Moving
24/7 Moving is certified by the Georgia Movers Association and properly licensed and insured.
The company has an astonishing client referral rate which means the locals trust 24/7 Moving for their relocation needs.
Website: www.247moving.net
Contact Number: (404) 668-0677
Address: 1130 Donald Lee Hollowell Pkwy NW, Atlanta, GA 30318
Google Rating: 4.9/5
Bellhop Moving
Founded in 2011, Bellhop Moving has been instrumental in delivering smiles to individuals and families who choose to get into business with them. The use of advanced technology to make sure that there are no shortcomings in delivering the maximum level of comfort and satisfaction is one of the main reasons Bellhop has been able to expand its business across the nation. The company currently provides its services to 135 cities in the country!
Bellhop certainly embodies its motto 'Moving should be high-tech and low stress.' The numerous positive reviews for this company across various online platforms confirm that much. The services provided by the company include local and long distance moves, office moves, and last-minute moves among others. If yours is a local move and a couple of hours is what will take you to relocate to your new abode, you can opt for the hourly labor service provided by the company. This will save you quite a bit of money as opposed to hiring a full-service company.
Services / Products offered
Local moves
Long distance moves
Packing supplies
Office moves
Self-storage services
Pros
A standard fixed price for the entire move.
The company has partnerships with multiple storage facilities to make sure that your items remain safe and secure.
Cons
No international relocation option is provided by the company yet.
Opting for hourly labor services would mean that you will need to rent a truck on your own.
Reasons To Choose Bellhop Moving
The company is known for its efficiency and punctuality. Isn't that the first thing we look for in a good moving company?
Bellhop provides a tracking facility that helps you keep an eye on the location of your belongings any time you wish to.
Website: www.getbellhops.com
Contact Number: (404) 975-1428
Address: 271 17th St NW UNIT 1520, Atlanta, GA 30363
Google Rating: 4.7/5
Atlanta Home Movers
Taking into consideration the wealth of experience that the industry giants have, Atlanta Home Movers doesn't fare quite well. However, the company makes up for the lack of experience in the quality and efficiency of its services. Founded in 2014, Atlanta Home Movers is fast becoming a household name for all the right reasons.
No matter the size of your move, the company comes in with all the muscle and reinforcements to make it a stress-free one. Apart from the regular moving services which you'll have no problem hiring the services of the company for, Atlanta Home Movers provide extensive packing supplies too. Right from bubble wraps to boxes of different sizes, and even 2 and 4-wheeler dollies, the company has all the resources you need for a hassle-free move.
They go the extra mile when it comes to loading your belongings on the truck by covering delicate and brittle items with an extra layer of quilted cloth blanket. This only shows how much care and attention Atlanta Home Movers put in to maintain that smile on your face throughout the entire moving process.
Services / Products offered
Local moves
Corporate moves
Long distance moves
Packing services
Pros
Locally owned and operated.
Certified professional movers.
Virtual estimates.
Cons
You will need to keep following up with them about the timing and scheduled day for the move.
Reasons To Choose Atlanta Home Movers
The online reviews for the company indicate that there is a very small chance of your items getting even a minor scratch during the transit.
The company serves almost all areas in the city of Atlanta.
Website: www.atlantahomemovers.com
Contact Number: (678) 496-3230
Address: 3020 Canton Rd #216, Marietta, GA 30066
Google Rating: 4.7/5
Estate Property Movers
Moving is not a one-man job and if you have friends that bail on you at times when you require help, you will need a dependable buddy to assist you. One such friend is the Estate Property Movers. The best part? The company is operational 24 hours a day 7 days a week. So it doesn't matter what time you knock on their doors, you'll always find someone ready to assist you and answer your queries.
The company comes with over 17 years of experience in the moving industry and about 2,300+ residential moves to its name. This number continues to grow as loyal customers and new ones find this company to be as reliable and trustworthy as advertised. Right from planning to executing the final task in the moving process, the company will take care of everything while you sip on a cup of hot coffee in your new house. Seeing the movers' vibrant uniforms on the day of the move will only brighten your already exciting moving day.
Services / Products offered
Local moves
Interstate moves
White Glove services
Office moves
Residential moves
Pros
Upfront pricing.
An experienced company that has the know-how of the nitty-gritty, as well as the more intense tasks, that moves entail.
Cons
Low rating on some online forums like Yelp. While this might not necessarily mean that you would have a bad moving experience with them, it could be a red flag as far as public opinion on moving companies is concerned.
Reasons To Choose Estate Property Movers
The company offers a cost-effective, friendly, and professional moving experience.
If you want five-star celebrity treatment while the company does all the work for you, you cannot go wrong with Estate Property Movers.
Website: www.estatepropertymovers.com
Contact Number: (770) 765-1304
Address: 3355 Lenox Rd NE Suite 1000, Atlanta, GA 30326
Google Rating: 4.7/5
Bulldog Movers
Similar to the traits of its namesake animal, Bulldog Movers will be an excellent guardian for your belongings during the entire process. The four decades of experience that the company holds has been one of the major reasons why they've been able to amass such a loyal customer base. The other prominent reason being its fair and honest pricing that removes any doubts or skepticism regarding the expenses from the minds of people.
The company excels at pulling off large moves with absolute ease. Much credit for this goes to the 30 large moving trucks that Bulldog Movers possess. Besides the regular moving services, the company offers some special services too. Its expansive storage facility will let your belongings chill in sheer comfort for as long as it's required. Piano moving and chandelier transportation are a couple more feathers in this company's hat. It has also maintained an A+ rating with BBB for a good few years now.
Services / Products offered
Private household moves
Apartment moves
Office moves
Piano moving
Specialty moves
Pros
The company has about 100,000 square feet of secure storage space.
Background-checked and well-trained professional movers.
Cons
The company isn't operational on Sundays.
Reasons To Choose Bulldog Movers
The movers are flexible and will adjust according to your schedule.
If you're looking for short-term storage facilities at the last minute, the company will cater to your needs comfortably.
Website: www.bulldogmovers.com
Contact Number: (770) 333-8100
Address: 4194 Northeast Expy, Atlanta, GA 30340
Google Rating: 4.3/5
How Much Does It Cost to Hire Movers in Atlanta?
Moving is a taxing job and is best left to the professionals because let's be real, life is so much easier when you're not the one doing the heavy lifting and sweaty work. However, as the saying goes 'If you want something, you lose something.' In this case, for the services of a good moving company, you'll need to spill some moolah. The average cost of a moving company in Atlanta will be around $420. The hourly rates in the city vary between $47-$125 depending on the location, the size of your move, and the cargo space your items occupy.
See Also: Moving From NYC To Atlanta – A Detailed Guide
Conclusion
So, whether you're moving to someplace in Atlanta or eyeing a move outside the city bounds, it's important for you to know which moving companies are capable of aiding you with that. The above list of best moving companies in Atlanta aims at providing you with just that.
FAQs On Best Moving Companies In Atlanta
How Much Does It Cost To Hire Movers In Atlanta?
If we talk about the average cost of a moving company in Atlanta, you'll be spending around $420 which is a nice price range as compared to other cities.
How Do I Find A Reputable Local Mover?
In order to make the right choice of a reputable local mover, you need to keep some things in mind. To name a few, getting at least three different moving quotes from multiple companies, scouring the internet for reviews on the company, making sure the company is properly licensed and insured, and asking for any hidden fees involved.
See Also: What Salary Do You Need to Live in Atlanta GA?
What Should You Not Pack When Moving?
It is advisable to not pack items that have a certain level of risk if they are transported. Some of which include items like ammonia, propane tank, aerosols, car batteries, cleaning supplies, ammunition, etc.
Enter your information
Almost done!
Enter your information to view your quote.
Your information is safe with us. By using this service, you agree to receive email communications solely regarding your relocation process