6 Best Places To Live On The East Coast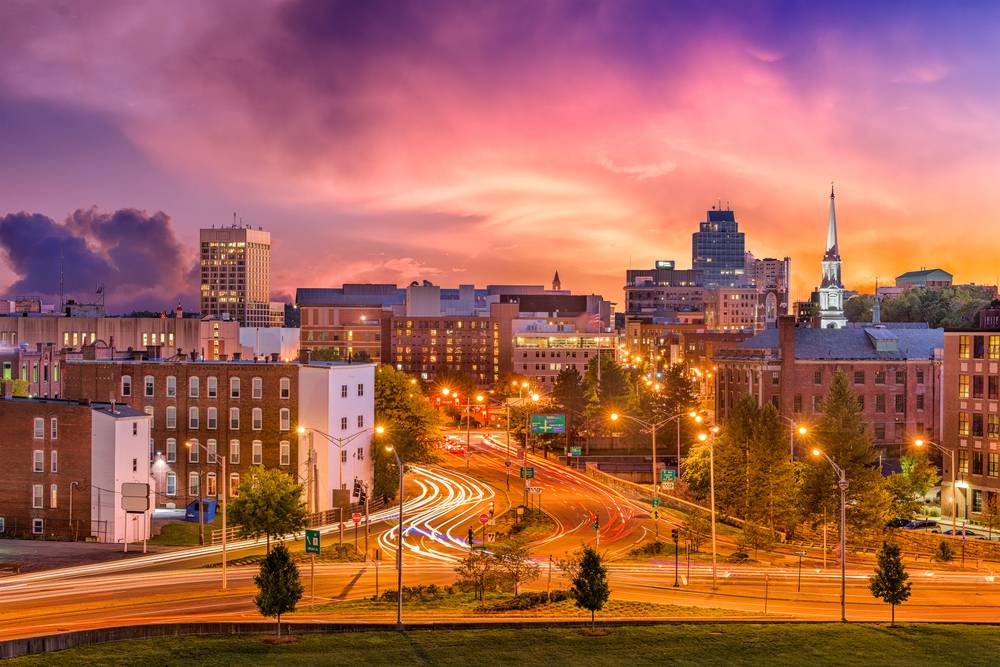 Planning on moving to the East Coast? You're making a good choice. Many people have recognized the offerings of this side of the country either by word-of-mouth or by research and they found out that the East Coast is full of surprises! But what does the East Coast exactly have? For starters, the flights are cheaper because Europe is closer; the climate is diverse, and the culture is fresh and vibrant.
If you have any of these reasons for moving but are confused about finding the best places to live, don't worry. Through our article, we will suggest 6 of the best places on the East Coast based on affordability, diversity, and education.
Let's get right into it!
Here is a glance at some of the best places on the East Coast:
1. Worcester, MA
Population: 185,143
Median Home Value: $227,100
Monthly Median Rent: $1,095
Annual Median Household Income: $48,139
Not many people have heard of Worcester because this place is not as grand as other cities in America. But that doesn't mean this city in New England is less significant. Being a five-time recipient of the All America City Award, you can be sure that Worchester is not void of popularity and recognition. You can say that this place has a small-town feel with the amenities of a thriving metropolis. If you're seeking something like that, then Worcester is the place you.
Also, Worcester's deep historical roots have impacted the cultural and economic domain of this city. You'll meet people with different ethnicities and as they narrate their experiences, you'll learn more about this city's lifestyle; there's so much unexplored knowledge to be grasped about Worcester.
When it comes to education, you can bank on this city's colleges and universities. You have Clark University and Holy Cross, Worcester Polytechnic Institute (WPI) as some of the leading institutions in New England. Pursuing a degree in this city will not be disappointing.
Places To Visit
The Art Museum: If you're an art fanatic, then this place is a must-visit. Home to around 40,000 artworks, you can be sure of learning something new about the culture and period of each painting. Even more, this place hosts a variety of exhibitions to celebrate cultures that are followed around the world.
In addition, the museum has a stunning armor gallery and a gift shop to purchase souvenirs. If all the exploring makes you thirsty, then their cafe will serve you best.
American Antiquarian Society: If the history of places intrigues you, then the American Antiquarian Society will be your one-stop destination. Not everything is on the internet. Here you'll find great content about America's history pre-1876 for research or leisure purposes. Three million books and other forms of print media such as newspapers, manuscripts, periodicals, etc. store the vastness of American history which is kept safe by the American Antiquarian Society.
Do you know that the Bay Psalm Book was the first book to be printed in America? If you want to see how it looked back then, the American Antiquarian Society showcases this piece of literature on display.
2. Charleston, SC
Population: 135,257
Median Home Value: $330,600
Monthly Median Rent: $1,257
Annual Median Household Income: $68,438
Charleston is South Carolina's largest city with a booming tourism and technology industry. If you're looking for a place to hustle while sipping on a cocktail, then Charleston is the place you should be in. Its exotic vibe will make you feel more relaxed and will take some of the work pressure off. The beaches are clean and the scenery is a sight to behold.
Charleston has a pretty interesting culture as it is made up of French, English, and West African fragments. And these elements comprise the music and live theater scene in this city. If you like to socialize, Charleston's annual cultural events and fairs will surely pique your interest. The Spoleto Festival USA, one of America's major arts festivals, features various artists from around the nation. This blend of musical artistry will certainly open your mind to new genres of music and will give you a sense of communal harmony as well.
Places To Visit
The Charleston Museum: Founded in 1773 and regarded as the U.S.'s first museum, this structure holds some of the best historical artifacts from different periods in America and around the globe. Located in the Wraggborough neighborhood, the Pelagornis sandersi – the largest flying bird- is said to have been stored in this museum. So if you're fond of studying extinct animals that are fossils, then you need to visit this place.
South Carolina Aquarium: If you want to learn more about South Carolina's aquatic life, then the South Carolina Aquarium is the best place. The Great Ocean Tank is the main exhibit that holds more than 700 animals and is regarded as the deepest tank in North America.
This aquarium also has a Touch Tank, where you can interact with Atlantic stingrays, horseshoe crabs, and other forms of marine life.
Also Read: Moving to South Carolina | Relocation Guide
3. Providence, RI
Population: 179,494
Median Home Value: $200,300
Monthly Median Rent: $994
Annual Median Household Income: $45,610
Providence is one of America's oldest cities and is the capital of Rhode Island. Founded in 1636, you can imagine the immense historical value this city possesses. When you walk around Providence's East Side, this city's monuments such as the Roger Williams National Memorial, the Rhode Island School of Design Museum, and the Providence Athenæum (America's fourth oldest library) will accentuate this city's sparkling atmosphere. Did you know that Edgar Allan Poe and H.P. Lovecraft were frequent visitors to the Providence Athenæum?
Apart from a rich historical value, the culture and job market in Providence are vibrant. Though its economy predominantly is run by the service industries, the educational and manufacturing industries contribute a fair share to the economy as well. Some of Providence's top educational institutes include Johnson & Wales, Providence College, and Brown University.
Also Read: Moving To Rhode Island
Places To Visit
Roger Williams Park: Providence has a pretty large park system (1,200 acres to be precise). Out of which 436 acres of land is covered by Roger Williams Park. Home to numerous lakes, and gardens, this place easily becomes one of the city's best green spots to hang out. Also, this park is filled with amenities for young children to use such as train rides and playgrounds, so the chances of getting bored here are slim.
If you want to explore other parts of the park, the Museum of Natural History and the Roger Williams Park Zoo are close.
Culinary Arts Museum: If you want to understand how people cooked prehistorically, then this museum should be visited. You'll find around 500,000 cooking-related items such as utensils, cook stoves, and cookbooks, dating back to the 1500s!
4. Virginia Beach, VA
Population: 450,201
Median Home Value: $280,800
Monthly Median Rent: $1,367
Annual Median Household Income: $76,610
If you're looking for a beach city, look no further because Virginia Beach is considered to be one of the best cities in America. There's no better place than Neptune City to experience the East Coast! What makes this beach city so special you may ask? The simple answer is the weather. Unlike other cities, Virginia Beach has more temperate weather year-round. As a result, the locals have christened this type of weather as the 'Goldilocks Climate'— Not too hot and not too cold!
Along the coastline, you'll find a thread of hotels, motels, and restaurants that garner a lot of tourists from far and near who want to spend a day or two in this tropical location. Speaking of which, Virginia Beach's main source of revenue is from tourism followed by advanced manufacturing. This city is home to two of Virginia's private universities as well: Virginia Wesleyan University and Regent University.
A beach where the heat isn't too strong is a blessing; hence Virginia Beach is known to host beach soccer tournaments such as the North American Sand Soccer Championship. Also, the East Coast Surfing Championships are held every year in this city. So surf's up!
Places To Visit
False Cape State Park: Apart from beaches, Virginia Beach has an extensive park system (210 in total) that is recognized as one of the nation's best. The False Cape State Park is a perfect blend of sand and greenery. If you want the best of both worlds, then visit this park. The terrain caters to biking, camping, and hiking escapades: a perfect destination to spend a day relaxing.
Another plus point is that this place is far from the hustle and bustle of the city because of its quiet nature and limited road access. This is all the better if you want to escape the shrill honking traffic noise of the city.
Cape Henry Lighthouse: Now this place has a pretty interesting historical fact: set up in 1792, this lighthouse was the first to be funded by the U.S. government under the authorization of George Washington. The steps are fairly easy to climb; however, senior citizens or physically challenged persons may feel a bit of strain. Nevertheless, the peripheral view of the aesthetic coast is rewarding when you finally make it to the top.
Also See: Moving to Virginia
5. Dover, DE
Population: 37,523
Median Home Value: $175,300
Monthly Median Rent: $1,038
Annual Median Household Income: $47,669
If you're looking for a low-cost living city along the East Coast, then Dover is the place you should try considering. Due to its low affordability factor, many people have been moving to this city which in turn made it Delaware's fastest-growing area. Not only that, the job market thrives on manufacturing, services, government, and healthcare sectors. No doubt: you'll bank a high-paying job in any of these spheres.
As far as entertainment goes, Dover hosts the annual NASCAR races at the Dover International Speedway, which brings thousands of spectators from across the country. Also, this is the time where local businesses earn the most due to the increased traffic into the city. If you want to indulge in a bit of slot machine gambling, then head down to Dover Downs Hotel & Casino and try your luck.
When there is no racing, the Dover International Speedway hosts the Firefly Music Festival every summer.
Places To Visit
Old State House: Delaware is rich in history; the Old State House is a window to that. If intricate archaic infrastructure enamors you, then this place's Middle Georgian architectural vibe will be a treat. This two-story structure, built in the 1700s, is a popular tourist destination and is added to the National List of Historic Places that proves how historically significant the Old State House is.
Delaware State Visitor Center: If you're new to Delaware and have no idea of what it offers, this place will get you all the needed information about activities, events, and local attractions of Delaware based on local and state opinions. Basically, it is your one-stop destination to understand the state!
Air Mobility Command Museum: If you have a penchant for jet planes, fighter jets, and bombers, then you must visit this place. You should know that this place contains the largest collection of the United States of America Military cargo and tankers, and it aims to educate newcomers about Delaware's airlift and refueling history.
In addition, the museum has an onsite flight simulator as well, so if you want to experience being a pilot for a while, this is your opportunity.
6. Boston, MA
Population: 684,380
Median Home Value: $532,704
Monthly Median Rent: $1,622
Annual Median Household Income: $71,117
You might have heard of the American rock band Boston and their hit single More Than a Feeling. Although the song doesn't specifically relate to the city of Boston in MA, with the current opportunities it offers, we can safely agree that: Boston is indeed more than a feeling.
Being the capital and the most populous city of Massachusetts, this place provides a plethora of career growth opportunities. So if you're looking for a change in career or want to explore more opportunities in your current profession, then you should move to Boston. This place is a hub for all scientific research and development. Therefore its economy runs on the backs of finance, business services, biotechnology, government services, and information technology.
If you want to pursue a degree in law, medicine, engineering, or business, Boston is the leading capital of higher education. Having renowned colleges and universities such as the Massachusetts Institute of Technology (MIT), Harvard University, and Tufts University, receiving a quality education in Boston is definite.
Although the cost of living is higher than the other cities mentioned above, the booming economy and vibrant job structure compensate for that.
Places to Visit
Fenway Park: Fenway Park is "America's Most Beloved Ballpark." Being home to the Boston Red Sox, any sports enthusiast will instantly recognize this sports complex. Even if you're not much of a sports fanatic, a tour of the place is just as interesting as watching a game.
The Boston Museum of Fine Arts: Impressionist paintings, ancient Egyptian and Greece artifacts, Asian and Persian works, and whatnot: this place is a gem for art enthusiasts. This is just one part of the museum; the other wing consists of all American works and artifacts. Take our word for it; you need to visit this place to have a broader perspective on ancient culture and American history.
Also See: Moving to Boston
Conclusion
The East Coast has a plethora of opportunities to explore. With relatively low living expenses and close proximity to the beach, we can be certain that you'll find the shift of lifestyle agreeable. Your mind will be made fresher by experiencing this side of American culture.
FAQs
Which East Coast Places Are The Cheapest To Live In?
Based on the median home value, Worcester (MA), Providence (RI), and Dover (DE) are the top places on the East Coast that you can move to.
Where Should I Live On The East Coast?
Each place mentioned in this article has its own unique vibe. You can weigh the pros and cons of each place and then narrow down to at least two places that interest you. From there onwards, you can decide.
What To Know Before Moving To The East Coast?
As compared to the West Coast, the cost of living is much lower and the people are more friendly for some reason. Probably, the ocean air must be magical in some way!
Also See: Cross Country Moving Tips | 9 Best Places To Live On The West Coast
Enter your information
Almost done!
Enter your information to view your quote.
Your information is safe with us. By using this service, you agree to receive email communications solely regarding your relocation process