Moving To Boston – Relocation Guide for 2022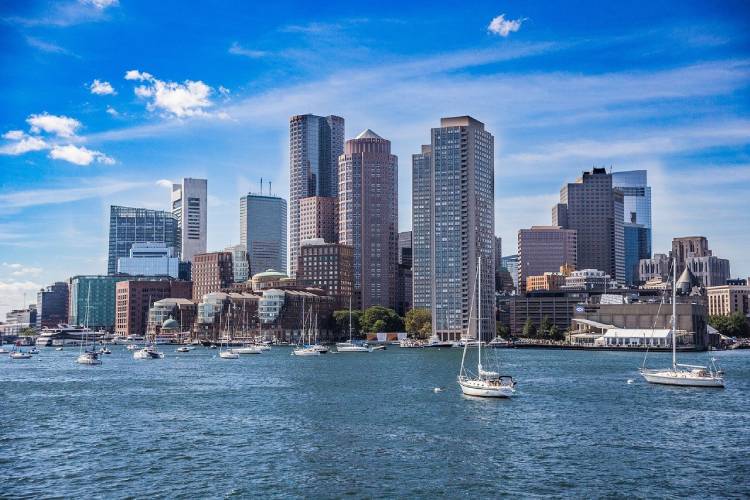 Many pivotal historical events like the Boston Tea Party, the American Revolution, and the Siege of Boston, the capital city of Massachusetts has cemented itself in American history.
It's not just the rich history that Boston is famous for. Today, Boston is an economic, cultural, and educational hub for many people. The city has attracted a lot of attention in the past decade as the economic development, job market, and educational opportunities have overpowered many other cities in the USA. Boston has a population of 675,647 people who come from several ethnicities and speak more than 10 languages.
If you're considering moving out of your hometown to make a living in a new city in the USA, Boston could be the city for you. But before you decide on moving to Boston, let us look at some of the important factors that you must seriously look at.
Pros And Cons Of Living In Boston
Pros
Boston has a very good job market for professionals who are looking to grow their careers in major science sectors.
Boston is a small city where you can easily move around on foot. The commute takes no time and everything is at a walkable distance.
If you have wanted to live in Europe, Boston will give you just that. Boston is the mini-Europe within the US.
Stellar Educational Institutions
The quality of education in Boston is highly demanded by students who are aspiring to make their careers in engineering, business, finance, and other related fields.
The weather in Boston is favourable for everyone. The winters are breezy and chilly while the summers are mild and the autumn and spring are blissful.
Cons
The roadway commute in Boston is not so great and takes a lot of time. The traffic can take hours at times and the congestion can be intolerable.
The cost of living in Boston is high. The monthly bills you pay in Boston are higher than most other cities in the USA. Also, the housing market in Boston is quite messy. So you'll need a real estate agent to help you figure out your living situation.
Weather In Boston
The weather in Boston is actually really good. The winters are extremely cold and you can feel the breeze in your bones. Most people are seen wearing layers and layers of clothes to cover themselves up during winters. The average temperatures during winters reach 19°F. The snowfall during winters in Boston can cause some congestion on the roads as well. The average snowfall in Boston is 48 inches which is almost twice of the national average.
Summers in Boston, on the other hand, are mild and are enjoyed by the residents after the long winters. Boston experiences over 200 summer days a year on an average. The summer temperature reaches a maximum average high 83°F in Boston. Only during the months of August and July the summer heat could be bothersome but otherwise, the summers are mild.
Cost Of Living In Boston
Living in Boston does not come cheap. The city is expensive in all regards and you can not survive here, if you do not have a good job. The cost of living in Boston is 48% higher than the national average according to Payscale. This is so because the mortgage, tax, rent, utility bills, transportation, groceries, and other expenses are higher in Boston.
Let us look at the different areas you will be needing to spend your hard earned money.
See Also: How Much Does It Cost to Move Out of Boston?
Expenses
The monthly expenses in Boston do not come cheap like many other states in the US. These expenses increase during the winters as there are some days when you won't be stepping outside of your house because of heavy snowfalls. Here's a rough breakdown of the basic expenses in Boston:
Utility bills: $189.82 per month
One time doctor's visit: $150
A loaf of bread: $3.54
Monthly transportation pass: $90
These are some of the expenses that you must pay off each month. Make sure you have a well-paying job or have one lined up soon after you move to Boston!
Buying A House
Buying a house in Boston is going to cost you a lot of money as the housing market is hot right now. The first struggle is finding a house that is in close proximity to your college or office. Another struggle is the lack of housing space in Boston. It has become immensely difficult for people to find houses under a budget as the housing market is constantly on the rise. Here's what you can expect to pay when buying a house here:
| | | |
| --- | --- | --- |
| | Boston | United States |
| Median Home Value | $667,000 | $291,700 |
As you can see, the median value of a house in Boston is a lot more expensive than the national average of the US. Add to it your mortgage and loans, it's only going to add up!
Renting A House
Just like buying a property, finding a good rental space in Boston has become almost impossible in today's time. Most people choose to share an apartment with friends or family to split the bill at the end of the month. Renting a space for a single person becomes very expensive otherwise.
| | | |
| --- | --- | --- |
| Apartment Size | Monthly Average Rent | US Average Monthly Rent |
| Studio apartment | $1,652 | $950 |
| 1-Bedroom Home | $1,819 | $1,050 |
| 2-Bedroom Home | $2,197 | $1,278 |
| 3-Bedroom Home | $2,716 | $1,680 |
| 4-Bedroom Home | $3,000 | $1,950 |
As you can see, the rentals in Boston are priced at a high range. Again, before you decide on moving to Boston without a job, you'll have to consider the amount of money to spend on monthly rent.
Taxes
The high taxes in Boston are kind of responsible for the high cost of living. The property tax and income tax amount to a high price range. The property tax amounts to 1.7% and is higher than the national average. Boston is one of the very few cities in the USA to levy such high property taxes. Additionally, the income tax is also 5.1% which is again higher than the national average. Comparatively, the sales tax is lower than the national average. 6.5% of sales tax is imposed on the products sold in the city of Boston.
Crime Rate In Boston
According to NeighborhoodScout, Boston has a crime index of 19%. Which means that Boston is safer than 19% of cities in the US. Boston is one of the cities in Massachusetts with the highest crime rates. Let us dive deeper into the kind of crimes that are committed in Boston and the crime rate for the same.
Violent crime rate in Boston is higher than the national average. As a person living in Boston, you have a 1 in 151 change of being a victim of a violent crime. The crime rate data according to Neighborhoodscout suggest that 6.6 people per 1,000 people are likely to face some kind of violent crime in Boston.
The property crime rate in Boston is lower than the national average. But looking at the city alone, the property crime rates are pretty high. There is 1 in 50 chances for you being a victim of property crime in Boston. These statistics suggest that the property crime rates in Boston are on the rise. It means that Boston is not the safest city to live in when it comes to property crimes.
Economy And Employment Opportunities In Boston
There's a reason why Boston is still a popular city to move to: its thriving economy and ample job opportunities. According to the 2019 statistics, the GDP of Boston was $423.73 billion. The industries that contribute to the economy of Boston are technology, business, medical institutions, finance, education, and more.
According to BestPlaces, the following is a table that lists down a few of the values that determine the growth in Boston's economy.
| | | |
| --- | --- | --- |
| | Boston | US Average |
| Average Household Income | $62,021 | $57,652 |
| Job Growth | -9.1% | -6.2% |
| Median Family Income | $71,115 | $70,850 |
| Unemployment Rate | 6.2% | 6.0% |
The city also has a great job market that enables skilled professionals to excel in their career. According to Bostonplans, some of the major sectors that account for a majority of employment in Boston are higher education, finance, business, and healthcare. All these sectors combined contribute to 74% of Boston's economy creating job opportunities in over 60 companies.
See Also: What Salary Do You Need To Live in Boston
Education In Boston
Today, Boston has made immense progress in scientific research and is a thriving home for students aspiring to higher education in engineering, business, law, medicine, and more. There are more than 125 schools and some of the best universities in Boston that have educational opportunities for students. Let us have a look at some of the best schools, universities and colleges in Boston:
Elementary Schools
Mendell Primary School, 164 School St
The Learning Project Elementary School, Marlborough St
Kingsley Montessori School, Exeter St
Adams Elementary School, Webster St
High Schools
Boston International High School, Maxwell St
Fenway High School, Alleghany St
East Boston High School, East Boston
Colleges And Universities
Cambridge College, Boston
Boston University, Boston
Berklee College of Music, Boston
Northeastern University, Boston
Traffic And Transportation In Boston
The traffic congestion in Boston is frustrating and takes forever. So if you're commuting to work, be prepared to spend a considerable amount of time waiting in traffic. Stock up on your podcasts and playlists!
Speaking of public transportation, you'll quickly learn to take the T. What's that? It's the Massachusetts Bay Transportation Authority, which offers bus, subway, trolley car, and boat services throughout the city. Despite the congestion, Boston is known for its efficient public transportation system.
Many Bostonians ensure that they live in close proximity to their office spaces. This allows them to walk to their workplace and reach in time for their work. It's no wonder that Boston is also known as 'America's Walking City!'
Even buying a personal vehicle is not advisable as the traffic congestion on the roads is never-ending. In recent times, more people have been using bicycles to navigate around the city. It's one of the most comfortable ways to navigate around the city.
Places To Visit In Boston
When you move to Boston, you'll definitely want to do some sightseeing and have a look around the city. For this, we've listed down a few places that you must visit:
1. Fenway Park
Fenway Park is one of the oldest baseball parks in the USA. Fans of the Boston Red Sox, we don't need to tell you about this hallowed ground!
2. Boston Tea Party Ships and Museums
The remains of the Boston Tea Party have been curated and open for display for visitors. It's one of the historical events that changed the course of history for America. You can visit the museum and understand more about the history and events.
3. Boston Opera House
Boston Opera House, also known as the Citizen Bank Opera House, is one of the most mesmerizing places that you'll see. You can book tickets for a ballet or a Broadway show of your liking.
Apart from all these places some of the other places you can visit in Boston are:
Boston Public Garden
Museum of Fine Arts
The New England Museum
Samuel Adams Brewery
USS Constitution
Quincy Market
Also Read: Moving from NYC to Boston – A Complete Guide
Best Places To Live In Boston
Last but not the least, a good neighbourhood to live in is definitely something you need to have on your priority list. You'll need to invest a lot of your time in this. We have listed down a few places in Boston that you can live in:
1. Allston
Allston is a neighborhood in the downtown area of Boston that is a hub for students. Most students choose to live in this area as it is close to Boston University and the cost of living in this area is also affordable for students. The transportation routes in this area are also well maintained.
Population: 29,233
Median Home Value: $605,419
Annual Median Household Income: $57,914
Monthly Median Rent: $1,895
2. Dorchester
Dorchester is one of the largest neighborhoods in Boston that has lively nightlife. The community in this area is close-knitted with families from diverse backgrounds. The drawback of living in this neighborhood is the increasing crime rate in certain parts. Other than that, it's an affordable neighborhood with good educational and job opportunities for all.
Population: 114,289
Median Home Value: $611,921
Annual Median Household Income: $58,105
Monthly Median Rent: $1,595
3. Chelsea
Chelsea is a neighborhood with a small-town feel and is a prime spot for retired couples to settle. The neighborhood has a mid-century modern vibe with small shops all over the streets. The historical buildings add to the look of the town and are closed off from the main city.
Population: 39,852
Median Home Value: $445,411
Annual Median Household Income: $56,802
Monthly Median Rent: $2,264
4. Brighton
Brighton is a neighbourhood most populated with families, businesspersons, and working professionals. The job market in the area is wide and the housing options are also popular among the crowd. Transportation is a hassle in this area but the educational opportunities, job opportunities, and housing has attracted a huge population in recent years.
Population: 45,787
Median Home Value: $592,419
Annual Median Household Income: $57,914
Monthly Median Rent: $1,006
Summing Up
If you're thinking of moving to Boston, this guide will help you get some of the most crucial aspects ticked off right in the beginning. This guide will give you a good idea of all things that you must be mindful of when looking for a move. Only then can you decide if moving to Boston is the right decision for you and your family. We hope we have listed down everything you need to know before making the exciting decision of moving to Boston!
FAQs
Is Moving To Boston A Good Idea?
Apart from the high cost of living and housing market, Boston is a really great place to live in, provided you can afford it on a long-term basis. The job and educational opportunities in Boston are wide and can help you grow in your career. So, make sure you compare the cost of living in Boston with your finances and make a decision for yourself.
Is Boston Cheaper Than Nyc?
The cost of living in Boston and NYC is high but when compared to the holistic living costs of both cities, Boston is relatively cheaper. If you have lived in NYC, you'll definitely find living in Boston more affordable. The housing market in both places is high but Boston has more reasonable rates when compared to NYC.
Is Boston A Safe City?
The property and violent crime rate in Boston are higher than the national average. It is also one of the cities with the highest crime rates. That being said, there are a lot of neighborhoods with low crime rates that you can choose to live in.
Also See: Top Moving Companies to Move to Boston | Moving from Pittsburgh to Boston
Enter your information
Almost done!
Enter your information to view your quote.
Your information is safe with us. By using this service, you agree to receive email communications solely regarding your relocation process