What Salary Do You Need To Live in Boston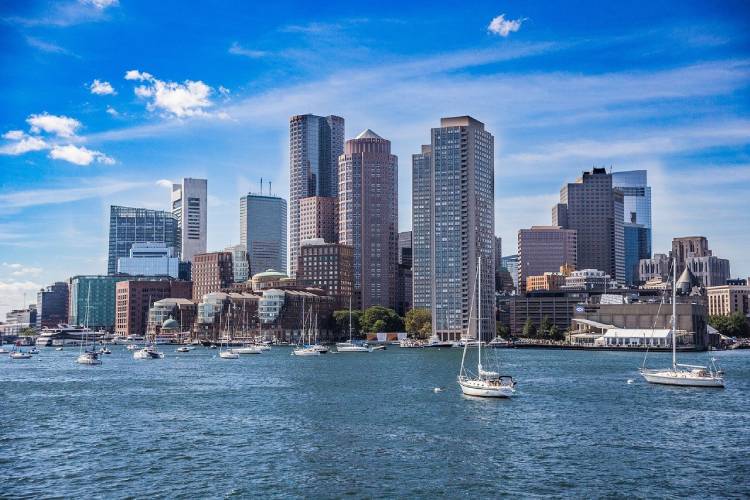 Boston is the capital of Massachusetts and one of the most historic cities in the United States. Founded in 1630, Boston is home to several important landmarks, including the Freedom Trail, Fenway Park, and Beacon Hill. The city is also known for its educational institutions, including Harvard University, MIT, and Boston College. In addition to its historical and cultural significance, Boston is also an important financial center, with a thriving economy and a high cost of living. As a result, Boston is a unique city with something to offer everyone. Boston is a highly desirable city and has some of the highest rents in the US.
Boston is one of the most expensive cities in the United States. If you're thinking of making the move, you'll want to know what salary you need to live comfortably. So, if you're curious about what it takes to make the move to Boston, keep reading!
Where Does Your Salary Go Living In Boston?
If you're considering moving to Boston, you're probably wondering how much it will cost to live there. The answer, of course, depends on your lifestyle and income. However, Boston is generally considered an expensive city, and it is important to budget carefully. Housing is one of the highest costs in Boston, and rents can be high. That leaves little money for other costs, such as food, transportation, and health care. Furthermore, the city's high taxes may take a significant amount of your income. You can stretch your money to cover your living expenses with careful budgeting.
Costs of Real Estate in Boston
The cost of real estate in Boston can vary greatly depending on several factors, including the type and size of the property, its location, and the overall demand for housing in the area. Boston is one of the most expensive real estate markets in the United States. Boston's housing expenses are 107% higher than the national average.
The median home price in Boston is over $728,730, and prices continue to rise. According to Zillow, condos, and apartments are also expensive, with the average rental price exceeding $3,634 per month. Boston is a highly desirable place to live, and many people are willing to pay a premium to live in the city. As a result, competition for housing is fierce, and prices continue to climb.
Property prices tend to be higher in more affluent neighborhoods, where land is in high demand, and there is less development space. Beacon Hill is highly sought after for its beautiful historic homes, vibrant nightlife, excellent restaurants, and public transit access. Other popular neighborhoods include Back Bay, South End, North End, Charlestown, and Cambridge – all well-connected suburbs located just across the Charles River from downtown Boston.
See Also: How Much Does It Cost to Move Out of Boston?
Cost of Transportation in Boston
Transportation expenses like bus fares and gas prices are 11% higher than the national average. In Boston, gasoline costs an average of $2.89 per gallon, substantially more than the national average of $2.58 per gallon.
The Massachusetts Bay Transportation Authority (MBTA) is the agency in charge of the city's public transportation network, but it is familiar to locals as the "T". The MBTA subway system serves every corner of Greater Boston and adjacent areas. It also provides bus, trolley car, and boat services to many locations in the region and beyond. The subway lines are identified by color: Red, Green, Blue, Orange, or Silver. The modest fee is $2.90 without a CharlieTicket or $2.40 if you have a Charlie Card for the subway.
The MBTA provides bus service throughout the Boston metropolitan region, with a daily ridership of approximately 375,000 one-way trips. It is the seventh-largest local bus agency in the United States. The bus fare is $1.70 with a CharlieCard or $2 with a CharlieTicket or cash; monthly commuter passes are available, as are reduced-fare transfers between most bus lines and the subway.
Taxes in Boston
In Boston, taxes are an essential funding source for important city services. Tax revenues help pay for everything from the police force and fire department to street repairs and public transportation. While many citizens might view their taxes as a burden, it is important to recognize that these taxes are necessary for maintaining important public services in our city. Taxes allow us to live in safe and vibrant communities. They play a critical role in ensuring that all residents have access to high-quality education, healthcare, and other essential resources.
Boston has a Combined Sales Tax of 6.25%. The state sales tax is 6.25%, and the local sales tax is 0%. These taxes make Boston one of the more expensive cities to live in.
Utility Bills in Boston
Utility bills are a major expense for many households in Boston. Whether you're heating your home during the cold winter months or powering air conditioning to stay cool in the summer, utilities can add up quickly. The utility prices are 41% higher than the national average.
The average utility bill in Boston is $338 per month, which is higher than the national average of $240. This includes electricity, gas, water, and sewer. The high cost of living in Boston is one of the main reasons utility bills are so high.
Costs of Food in Boston
With its diverse and vibrant culture, Boston is considered a foodie paradise. From hole-in-the-wall Vietnamese restaurants to upscale French bistros, there is no shortage of dining options in this city. However, these delicious cuisines do not come cheap; many restaurants are quite pricey, and costs can quickly add up if you eat out every day. Depending on the eatery, you may anticipate paying anything from $15 to $40 per person for a meal out. Sorellina, Toro, and Saltie Girl are some restaurants you should visit in Boston.
The biggest factor is the cost of ingredients. Due to proximity to farms and other sources of produce and meat, food in Boston tends to be slightly expensive – especially when compared with food from other regions. The average price for a gallon of milk is $2.05, a dozen eggs cost $1.91, and a loaf of bread is $3.52. These prices are slightly higher than the national average, but not by much. In general, the cost of groceries in Boston is about 6% higher than in the rest of the country.
Healthcare Costs in Boston
In Boston, the cost of healthcare is a major concern for residents and businesses alike. The cost of living in Boston is high, which makes it difficult for residents to afford basic necessities like healthcare. Healthcare costs have been rising steadily for years, and this trend is expected to continue. According to a recent study, the average cost of healthcare in Boston is 35% greater than the national average. Seeing a doctor in Boston is $149.68, whereas dental care costs $128.59. Veterinary care for your pet kitten or hamster will be approximately $66.81.
Massachusetts General Hospital, Hospital East Boston, and Lemuel Shattuck Hospital are some of the best hospitals in Boston.
Childcare Costs in Boston
According to a recent report, the average cost of child care in Boston is $21,000 per year for infants and $15,000 per year for four-year-olds. This figure includes both center-based and home-based care, representing a significant increase from the previous year. For many families, child care costs are one of the biggest expenses they face. As a result, childcare costs can profoundly impact a family's budget and their ability to make ends meet. Fortunately, there are programs and resources available to help families offset the cost of child care. For example, the state of Massachusetts offers a subsidy program for low-income families. Child Care Choices of Boston, Buds & Blossoms Child Care & Early Education Center, and Sunshine Bilingual Learning & Childcare I & II are some of the best childcare in Boston.
School costs in Boston are high. The average cost of private schools is $23,630, and the average cost of public schools is $16,394. Families with multiple children may find it difficult to afford the costs of schooling in Boston. British International School of Boston, Commonwealth School, and The Newman School are some of the best schools in Boston.
See Also: Best Moving Companies In Boston
Miscellaneous Costs in Boston
In addition to the costs listed above, there are several other expenses that you may need to consider when moving to Boston. Fitness and entertainment costs in Boston are some of the highest in the country. The average monthly gym membership is over $50, and a movie ticket can easily cost $13. This can lead to many people being unable to afford their interests and activities. If you want to go to a Red Sox game, be prepared to pay top dollar for tickets. Several parks and recreation centers in Boston offer free or discounted access to fitness facilities and recreational activities. Many restaurants and cafes charge a surcharge for using credit cards. And if you're not careful, it's easy to rack up parking tickets.
Understanding the Job Market in Boston
Job seekers looking for new opportunities in Boston will be pleased to know that the job market in the city is very strong. According to recent data, the unemployment rate in Boston is just 3.5%, which is one point lower than the national average of 3.6%. Given these strong job market conditions, it's no surprise that Boston was recently ranked as one of the best cities for job seekers by Forbes magazine.
Boston is home to some of the top employers in the country. From healthcare and education to technology and finance, many industries are represented in the city. Some of the top employers in Boston include Massachusetts General Hospital, Harvard University, Boston Children's Hospital, and Tufts Medical Center. These institutions are leaders in their respective fields and offer competitive salaries and benefits packages. In addition, Boston is home to several high-profile tech companies, such as HubSpot and Akamai Technologies. These companies are constantly innovating and providing their employees with cutting-edge technologies. Finally, Boston is also home to several prestigious financial firms, such as Fidelity Investments and State Street Corporation. These companies offer challenging and rewarding careers for those with the right skills and experience.
How Much Should You Earn To Live Comfortably Well In Boston
It's no secret that the cost of living in Boston is high. A recent study found that the city is the ninth most expensive globally. So how much do you need to earn to live comfortably well in Boston? According to the research, living comfortably well in Boston means earning a salary of at least $120,000 per year. Of course, these are just averages, and your actual costs may be higher or lower depending on your lifestyle and where you live in the city. But one thing is clear: if you want to live comfortably well in Boston, you'll need to earn a significantly higher salary than you would in other parts of the country.
According to the US Department of Labor, the living wage for a single adult without dependents is $22.77 per hour. For two employees with one kid, the required hourly pay is $24.49; for two employees with two children, it's $32.39 per hour.
Conclusion
Boston is a great city, but it can be expensive. However, there are many ways to reduce your cost of living and make it more affordable to live in Boston. There are plenty of well-paying jobs available. If you're looking for a new opportunity, be sure to check out the job market in Boston. With a little planning and budgeting, you can make a comfortable life for yourself in this vibrant and historic city. Thanks for Reading!
Frequently Asked Questions
What factors impact the cost of living in Boston?
Some of the key factors that impact the cost of living in Boston include housing costs, transportation costs, food prices, utility costs, healthcare, and childcare costs. Additionally, jobs and salaries play a big role in determining whether or not it is affordable to live in Boston.
Is Boston a good place to live?
Yes, Boston is a great place to live! The city has a lot to offer, including excellent job opportunities, a vibrant culture, and plenty of things to do. Additionally, Boston is home to some of the best colleges and universities in the country, making it a great place to live for students and young professionals.​
See Also: Moving from NYC to Boston – A Complete Guide
What is the cost of living in Boston compared to other cities?
The cost of living in Boston is about 48% higher than the national average. However, costs can vary depending on your specific needs and lifestyle.
How much does a typical apartment cost in Boston?
The average rent for an apartment in Boston is over $3,500. However, prices can vary depending on the size and location of the apartment.
What is the sales tax in Boston?
The sales tax in Boston is 6.25%.
Enter your information
Almost done!
Enter your information to view your quote.
Your information is safe with us. By using this service, you agree to receive email communications solely regarding your relocation process