Moving from San Diego to Seattle – A Complete Guide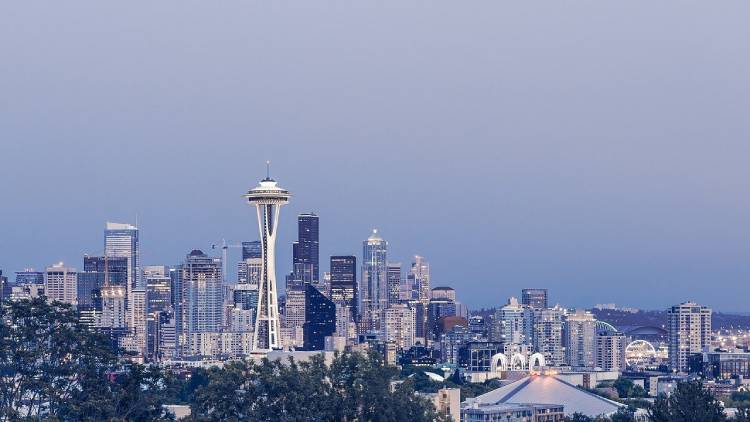 What you need to know when preparing to move
Leaving the Californian sunshine behind can be a pretty difficult task when you think about it. With San Diego's beaches, outdoor recreation, decent work-life balance, and vibrant society, one would wonder what could top this. And the answer would be Seattle. Families and working professionals are migrating from San Diego to Seattle in search of better living standards, higher average incomes, and better opportunities for work, schooling, and quality of life. Here is what you need to know while planning your move to Seattle from San Diego.
Benefits of Seattle
To leave behind that incredible Californian sunshine can be quite a feat. But with the sky-high costs of living in San Diego, the Californian sunshine is worth parting ways with. But Seattle has its charm and will lure you in soon enough. Here are some of the benefits of living in Seattle.
Nature: Seattle is known as the 'Emerald City, ' for a good reason. Thanks to the well-preserved natural environment, there is lush greenery in and around Seattle all year round.
Career prospects: Seattle's strong job market and economy make it one of the top cities in the United States for career growth. With tech giants having offices in Seattle, it has become one of the main hubs for tech professionals to work.
No State Income Tax: Being a part of one of the only nine states without State Income Tax, you get what you earn versus a percentage deducted for taxes. This is why living in Seattle is affordable and sustainable.
Safety: While there are housing crises and homelessness in Seattle, it is one of the safest cities in the United States to live in.
Education: About 47% of Seattle residents hold a Bachelor's Degree, the highest number of degree holders in the United States, and double the national average.
Cost of Moving to Seattle
The best thing to do for a move of this scale is to get help by hiring a moving company. The professional movers can give you a detailed timetable and plan to carry out this operation. They will also estimate how much you will have to spend on this move, which is perfect because then you know how much you need to keep aside for this process. The total will consider your size, the quantity and weight of your belongings, and whether or not they require special handling. They will also factor in the distance you will be traveling (to cover fuel costs and long-distance fees). And finally, they will determine how much manpower you will need to complete the task. On average, you can expect your move to Seattle from San Diego to cost you about $2,500.
Cost of Living in Seattle
The average cost of purchasing a home in Seattle is three times the national average. The housing market in Seattle is very competitive, partially because of the high-income brackets that most residents belong to.
Renting an apartment in Seattle for a:
One-bedroom apartment in the center of the city would be $1,400+ per month
One-bedroom apartment outside the center of the city would be $1,000+ per month
3-bedroom apartment in the center of the city would be $2,700+ per month
3-bedroom apartment outside the center of the city would be $1,650+ per month
Buying a house in Seattle would come to about:
$5,700+ per square meter in the heart of Seattle
$2,900+ per square meter outside the center of Seattle
Also Read: How to Move from House to Apartment
Where to live in Seattle
Seattle has such a wide variety of good neighborhoods that no matter your budget and preferences, it is more than likely that you will find a place where you feel you are at home. A few trips around the neighborhoods will give you an idea of which neighborhood feels most like 'home' to you. Here are the best neighborhoods in Seattle you should look at and get a feel of before you move to Seattle.
The University District: As the name suggests, there are universities in this area, and therefore many students find housing options in the University District. Many students live in communities like University Park, the Brooklyn Addition, Greek Row, and University Heights.
Capitol Hill: This neighborhood is densely populated, busy, and constantly alive with buzzing city life. Ideal for young couples and single working professionals, Capitol Hill offers block parties, boutiques, and restaurants, along with low-income and high-income housing options.
West Seattle: Segregated from Seattle proper by the Duwamish River, West Seattle is a township. While it is far away from the city center, it offers families with children to settle down and grow in a more peaceful atmosphere. There are parks, beach waterfronts, and historical landmarks. What's more, you will get the best public schools and infrastructure in this neighborhood.
Queen Anne: If you are a seeker of the finer things in life, head towards Queen Anne, an ideal escape for retirees to enjoy their time off. With some of the best views of Seattle, stunningly landscaped gardens and parks, theater shows, historical landmarks, farmer's markets, and a thriving social calendar at the Seattle Center, Queen Anne is the ideal place to go if you want to feel pampered in luxury.
Getting Around in Seattle
You are in luck because Seattle has been voted as having the best public transportation system in the United States. While you could own a car and drive around at your pace, the public transport system is robust, accessible, and well-connected. If you buy an ORCA card, you can use it to travel by rail, streetcars, and buses throughout the day. The Link Light Rail runs through downtown Seattle from Angle Lake Station to the University of Washington. King County Metro Transit has bus services running from downtown Seattle to surrounding King County stops. Seattle Streetcars have two lines: Southlake Union and First Hill, which interconnect with other transit systems.
Working in Seattle
While buying a house in Seattle is on the expensive side, the upside is that you can earn a higher than average income and pay for it with Seattle's booming job market! Seattle natives are known to earn 12% more than the average income of Americans in the rest of the country. Both hourly and yearly incomes were found to be higher than the national average, proving to be very favorable for new entrants in the Seattle area. The burgeoning of the technology industry has thrown open, so many job opportunities that Seattle has fast climbed the charts and secured first place in top cities for techie and STEM-related jobs. Companies like Boeing, Amazon, Microsoft, University of Washington, and Joint Base Lewis-McChord are the top employers in this thriving city. Other prominent industries include retail, food, and service, with companies like Nordstrom and Tommy Bahama offering decent jobs.
See also: Job Relocation Guide
Studying in Seattle
Reputed as the most educated big city in the United States, Seattle is home to over 500 public and private educational institutions. There are seven universities and colleges within Seattle proper, and about fourteen more situated 40 miles outside and around the city. The most popular and famous university in Seattle is the University of Washington, in the Seattle metropolitan area. Other prominent universities in Seattle include Seattle Pacific University, Seattle University, and Seattle Central College.
Fun & Recreation in Seattle
Museums: Seattle's museums offer a plethora of knowledge, ranging from the Pacific Science Center, a popular family spot, to The Museum of Flight, Seattle's interactive and space museum. There is also Seattle's Puget Sound for lovers of everything aquatic, as well as the Seattle Aquarium. Music lovers can explore the Museum of Pop Culture.
Sightseeing: Some of the most famous sights of Seattle include the Space Needle, the Seattle Great Wheel, Washington State Ferries, Pike Place Market, the Gum Wall, and Melrose Market.
Dining: The Seattle restaurant scene is remarkable, with everything from sourdough clam chowder to rare coffee tastings, wine collectives, and independent breweries.
Events: The Bumbershoot Music and Art Festival has been a popular event in Seattle since the 1970s. Both celebrate Seattle's art community, eateries, and activism. The Capitol Hill Block Party is the latest attraction to catch everyone's attention, irrespective of age. The Seattle International Film Festivals are also for movie buffs and Refract for seekers of glass artwork.
Conclusion
Moving from San Diego to Seattle is quite a jump when you think about it. But with a good amount of planning, budgeting, and research (perhaps a couple of trips down to Seattle to scout the neighborhood and appear for job interviews), you can rest assured that you will be able to move efficiently to your new home in time for a new prosperous chapter in your life.
Frequently Asked Questions
How much does it cost to move from San Diego to Seattle?
The final cost of moving from San Diego to Seattle depends on the size of the house you are moving, the weight and amount of household and personal items you are moving, whether or not there are any speciality items or specific arrangements required, how many laborers you will need when you plan to move and any additional costs. Also, the long-distance will be added to your final cost, especially if you hire a moving company. But you can expect the average moving cost to be anywhere between $1,000 and $7,000.
See Also: How Much Does It Cost to Move Out Of San Diego?
Does it make sense to move to Seattle?
Seattle has a lot of good reasons to be your next residence. Apart from excellent educational institutions and schooling systems, the up-and-coming job opportunities are many, which make it extremely favorable for you to move here. Add a substantial amount of cultural exposure and outdoor recreational activities, and it makes sense to move to Chicago.
Why are Californians moving to Seattle?
It's been shocking how many Californians have opted to move out of San Diego and Seattle. The high cost of living, the incessant traffic jams, state taxes, and housing prices are driving locals out of the state and onto greener pastures. What's not to love about California, with the wonderful weather, diverse cultural exposure, delicious food, beautiful natural landscape, and unending entertainment and recreation options? Quite a lot.
Also Read: Why People are Moving out of Los Angeles
Is Seattle LGBT-friendly?
The good news is that Seattle is very warm and safe for residents from all kinds of backgrounds, ethnicities, and identities. This includes the LGTBQIA+ community, celebrated in Seattle, especially in the Capitol Hill neighborhood, just east of downtown Seattle. This is the epicenter of the LGBTQIA+ community in Seattle, with crosswalks colored in rainbow stripes.
What salary do you need to live in Seattle?
If you are looking to live comfortably in Seattle, with good amenities in a good neighborhood, with extra money for hobbies and interests, then you would need to earn an annual household income (or individual salary, if you are on your own) of about $72,092. But if you don't mind cutting corners in some areas, and you have no dependents, you could survive in Seattle on an annual income of about $60,000 as well.
What qualifies as low income in Seattle?
According to the United States Department of Housing and Urban Development, low income is calculated as 80% of the median income. The HUD's summation of low income for a single individual living on his or her own is anything below a total annual income of $50,400. It was recently found in Seattle that if you are a family of four living, drawing anything under a household income of $72,000, this would be considered a low income in Seattle.
Enter your information
Almost done!
Enter your information to view your quote.
Your information is safe with us. By using this service, you agree to receive email communications solely regarding your relocation process