Moving from a House to an Apartment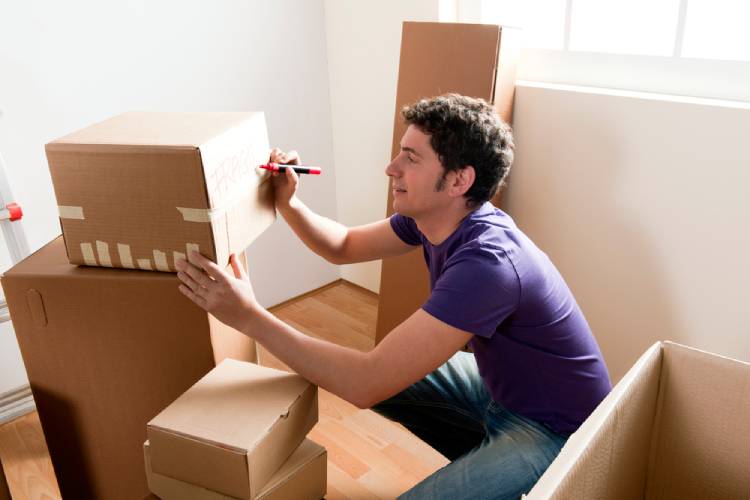 Owning a home is a dream of every American. You can live on your property and do what you please. You pay taxes and handle repairs and renovations too. You will need to look after the home yourself. Maintain the backyard and lawn, shovel ice in the winter months, upkeeping the pool, plants with the landscape, flowers, trees, etc. A house can be much more expensive than an apartment, granted that one has the satisfaction of owning the property.
The decision to move should be a mix of necessities and items you truly love.
Find out about amenities in your new apartment community. If your new apartment offers the service of a gymnasium, you might want to do away with your bulky Gym machines.
There might be a possibility that your apartment doesn't come with a washer and dryer but has a tie-up with washer-and-dryer service. You can choose to carry your washer dryer or take their related service.
Visualize how your life seems in this new setting. Is your new space clean and minimalistic, or is it a smaller version of your home, cozy and luxurious? If your vision doesn't match, make some changes to your budget and choose an apartment that can fit your most loved pieces of furniture and showpieces.
The average size of a new house built in 2016 in the United States was 2,422 square feet, while the median length of an apartment was 1,706 Sq Ft., according to the U.S. Census Bureau.
People move from houses to apartments, mainly to save money or change their lifestyles. But downsizing has other upsides. For example, many apartment dwellers have more time for recreation than living in a house because weekend chores such as yard work and pool cleaning were part of their weekly routines.
Homeowners always have too much stuff. Accumulation of things happens due to the size of the house. Owning a lot of things can be extremely overwhelming too.
It is a chain reaction, big house, too much stuff, too many bills, rising debts. Downsizing is a great option to resolve this issue.
You must learn to adapt and refashion your style of living and the quantity of storage in your smaller apartment. Just be positive and have a realistic approach.
When shifting from your house to an apartment, you need to follow specific steps for a smooth transition. Some of them are:
See Also: How to Pack a TV for Moving
How to move from a house to an apartment?
Finding an apartment has never been more accessible with a click of a few buttons on the internet. It would help if you prepared to say goodbye to the old staff, neighbors, and, most importantly, the house. More than physical, mental fatigue is what you should be careful about.
Say goodbye to countless memories while living in your home with gratitude. You know that part of this won't be easy. So brace yourself.
Budget: You need to draw a budget for your new house to be open to a price range. Make a checklist of non-negotiable and negotiable points and the most important qualities you want in an apartment. Moving into an apartment will save you money. The move will help you pay off your debts faster if any. You will save significantly if your rental costs are less than your mortgage in the long run.
See also: How Much Does it Cost to Move a 2000 Sq Ft House? | Moving to a Bigger House
Apartment Search: The actual apartment search is another part of the process to brace yourself about. Decide the most critical aspects of your next apartment. Decide where you're willing to be flexible and where you are not.
Once you have identified the townships and buildings you want to move in, check them yourself and include your family (If any). Knowing your minimum square footage or bedroom count will be helpful while downsizing your belongings. Viewing new homes will put you in the actual scenario and help you embrace downsizing and shifting to a favorable new location with ease.
How to Downsize Your Home Fast?
While shifting from a house to an apartment, downsizing is the most challenging yet imperative step. Once you've zeroed on the apartment that matched your essential parameters, you should speed up the process of downsizing.
To begin with, get organized. Nothing feels unsurmountable once you've broken the most complex task down into manageable steps. Downsizing is a significant change and can be overwhelming. Planning well will make moving from a larger house to a smaller apartment much more straightforward and hassle-free. Take advantage of this opportunity to get rid of unwanted possessions taking up space for years.
Also Read: Where to Donate Your Furniture
There are many commonly used methods to downsize a house:
Shinn Method: Keep things you want, use, need, or like to look at. Identify items that make your house home. This includes objects that give you pleasure from within.
The KonMari Method: Start your downsizing in a definite chronology. Start purging with clothes, then books, papers, miscellaneous items, and lastly, sentimental items. Using this well-defined method, you retain what speaks to your heart and discard what no longer sparks joy. You show your gratitude to the discarded items for their service before letting them go.
Don't save for the next generation: The Millennials and Generation-Xers believe in collecting experience than stuff.
The result should be a mix of necessities and items you truly love. Find out about amenities in your new apartment community.
Some people invest in storage space for the short-term until they figure out what they will do with the stuff that is not moving with them. There might be are things you may not be able to part with, but you know they won't fit in your apartment. For example, where can you store your paddleboard? will the tiny closet have enough room? These are essential things to consider when downsizing from a house to an apartment.
Also Read: Best Mid-Move Temporary Housing Options
Figure Out What to do with Items NOT Coming With You
Garage sale? Online sale?
Craigslist? Donating to Goodwill? Giving away to friends and family? Self-storage? Trashing it all? Have a plan for the things not coming with you after taking inventory.
Learn To Let Go.
Also Read: Moving From An Apartment To A House
Moving In
Update your new apartment: Upgrading certain aspects of the apartment to make it feel more like your home. For example, a new statement wall in your living room, new faucets, showerheads, fancy lighting, and lamps can create a more personal appeal. Decorating your personal space, meeting your new neighbors, and getting plants can help adjust from a house to an apartment more agreeable.
Measure all your furniture: Take inventory of all the items you have in your house. Make sure to correctly measure all the furniture you plan to take along in your new apartment beforehand. The sofas, side tables, dining table, bed, bedside tables, dresser drawers, and so on. A rookie mistake like this can cost you a lot of time and money,
Also Read: Where to Find Used Furniture When You Move
Identify movers: Ask for quotations from different movers to compare. There can be many possibilities; Full-service move, Partial move. If it is a local move and can happen within the day, it is advisable to sign in a regional agency hourly. You need to check the mover's complete credentials, interstate moving license, and reputation for a long-distance move. Also, carefully determine what you can do yourself and what tasks you want to assign the movers. Do your homework and compare prices!
Also Read: Where to Find AAA Discounts on Moving Services
Mental make-up: It is a fact that you'll now have less space everywhere. This situation can also be turned around as an advantage. You'll need to spend less time on the upkeep of your new home and have lesser bills to pay. You can be a part of the apartment community and enjoy the amenities without worrying about maintaining them.
Handling Pets: When searching for an apartment, keep your pets' needs in mind. Pick a place that suits you as well as your furry pet. Your pets are accustomed to a big lawn or a backyard in your previous home. Nowadays, many apartment complexes have dog parks and big gardens to help them be outdoors. You could also look for a place close to public gardens and nature trails.
You will share walls with your neighbors: When you live in an apartment building, you share a lot of walls with your neighbors. It can be a significant change for tenants coming from a house in a traditional neighborhood. You don't have to deal with noise complaints or parties in a home. Choosing a corner house can help alleviate some of these apartment anxieties for new apartment renters.
Annual rent increase: Mortgages are pretty standard for costs and taxes. You should know what goes out each month. It does not work the same in rental property. The annual rent of your property may increase, depending upon your property management company and the apartment complex you have chosen to live in.
Also Read: Why Is Moving So Stressful?
Frequently Asked Questions
Is it cheaper to live in an apartment or house?
Living in an apartment is more cost-effective than a house regarding bills and rent. Also, it depends upon the apartment you have chosen. You should check your price-to-rent ratio and determine if renting is more cost-effective for you. If your annual rent is one-twentieth or less than the price of your home, renting is a much better deal.
Besides, a house has many hidden costs, like central heating and cooling. Extra costs on maintenance of the whole house. Rent is generally cheaper on apartments when looking at a home or mortgage.
See Also: How To Move A Dishwasher
How to pack your house for moving into a new apartment?
One of the most stressful aspects of moving is packing. Packing can be done in various ways, but the most effective step is gathering all the moving supplies you need. Label each box with the list of contents it carries. Moreover, pack a box labeled 'Essentials,' and pack most required things like screwdrivers, hammers, food items, snacks, drinks, toothbrushes, clothes, etc. All the essentials in one box will save time looking for them in different boxes. This will come in very handy when you arrive at your new house and need them. Avoid filling boxes to the brim. They become too heavy for the handlers and might tear-open during the transport process.
See also: Where to Get Moving Boxes for Free
Make sure all your boxes are well lined with thick padding or liners. Use bubble wraps and thick liners for precarious items, and make sure you stick a 'Fragile item' tag on the box. Using a moving cost calculator, determine your cost of moving from a house to an apartment. It is available on the website of many reputable movers.
What are the disadvantages of living in an apartment?
Apartments are built next to each other. This is one major cause of less privacy in the house. Unlike a house, you will get limited parking spaces, depending on your agreement with the property management company. Noisy neighbors could be an annoyance.
There might be little to no yard space, pet restrictions, and other rules and regulations to follow. 
See Also: Moving into an Apartment Building with no Elevator
What is the difference between an apartment complex and a house?
Owning a house is a dream for most people. When you buy a home, you are the sole owner of the property, house, and the land attached. It sounds great, but with this amazing asset comes liability too. You become responsible for the property, taxes, utility bills, maintenance, and so on. You spend weekends cleaning the backyard and mowing your front lawn.
Apartments are units made, either above or below one another or side by side to save space. Ownerships remain with the landlords. You can live in the unit as long as you want. Ownership remains with the landlord. You cannot make changes to the apartment structure and can make very few modifications after the owner's permission. However, you are free to use amenities in the complex. You don't need to pay utility bills and property tax.
Also Read: Average Cost to Move a 4 Bedroom House
How will I adjust to living in an apartment?
Adjusting to living in a new place is all about positivity and practicality. Once that is set in, a few months in your new home will soon start feeling the emotional connection.
Plan your space and organize everything for layout purposes. Moving is much easier and more convenient when carrying fewer belongings. Decorate the space as per your style and needs. Get plans for your balcony/ patios and in-house planters for the rooms to make you feel at home. After downsizing, you must've realized that you have enough space in your new home. Begin to build relations with your neighbors and start enjoying the perks of amenities in the complex.
Also Read: How to Throw a Housewarming Party
What are the tips to help downsize from a house to an apartment?
Reduce your possessions
Decide what to keep, sell, or giveaway
Find storage solutions
Invest in compact furnishings
Learn to decorate small spaces
Also Read: How to Get Your House Ready to Sell
Conclusion
The most important thing is you decided to move. There can be several advantages as well as disadvantages of moving from a house to an apartment. So, own up to your well-calculated decision and start enjoying what you signed in for.
It might take a little while to get used to. Whether you're adapting to leaving behind a grassy backyard or to living in a nest without your baby birds, it's nothing you can't manage.
Looking forward to your future with a positive attitude is all you need!
See Also: What is a Mother-in-Law Apartment? | Pros and Cons of Moving to an HOA Community
Enter your information
Almost done!
Enter your information to view your quote.
Your information is safe with us. By using this service, you agree to receive email communications solely regarding your relocation process