How to Move a Mattress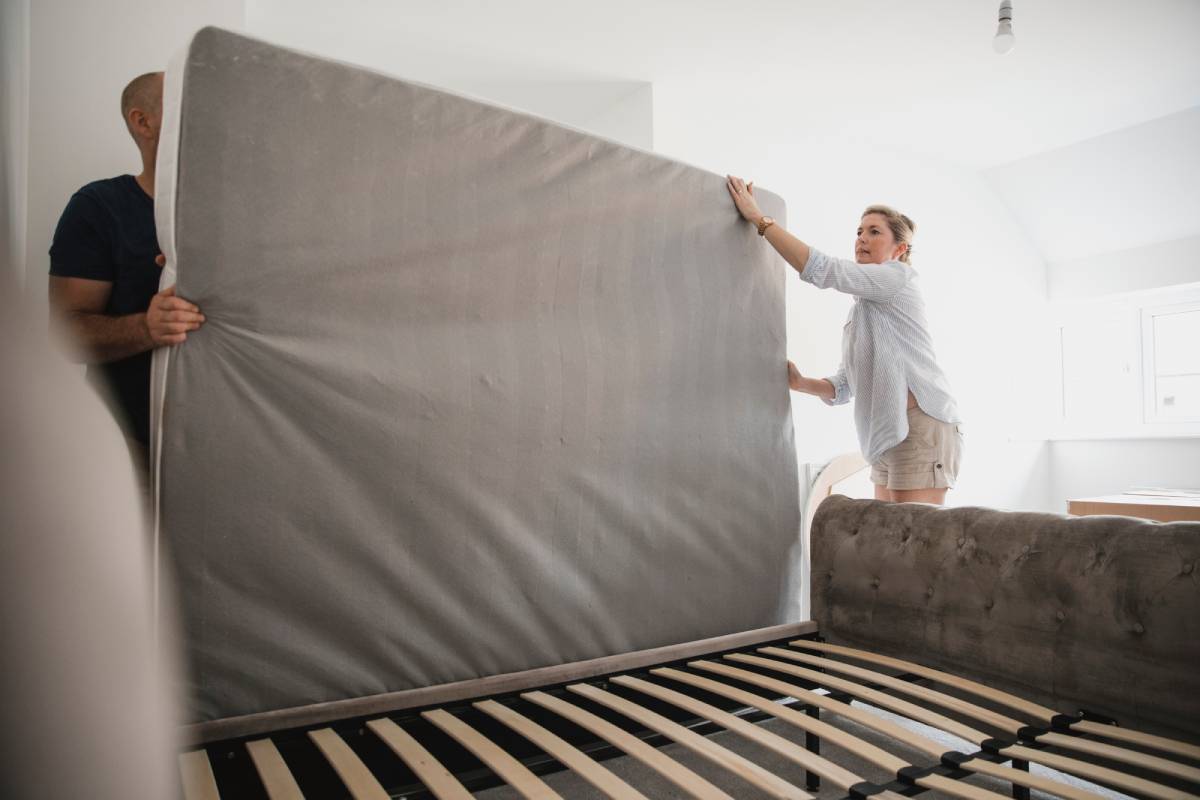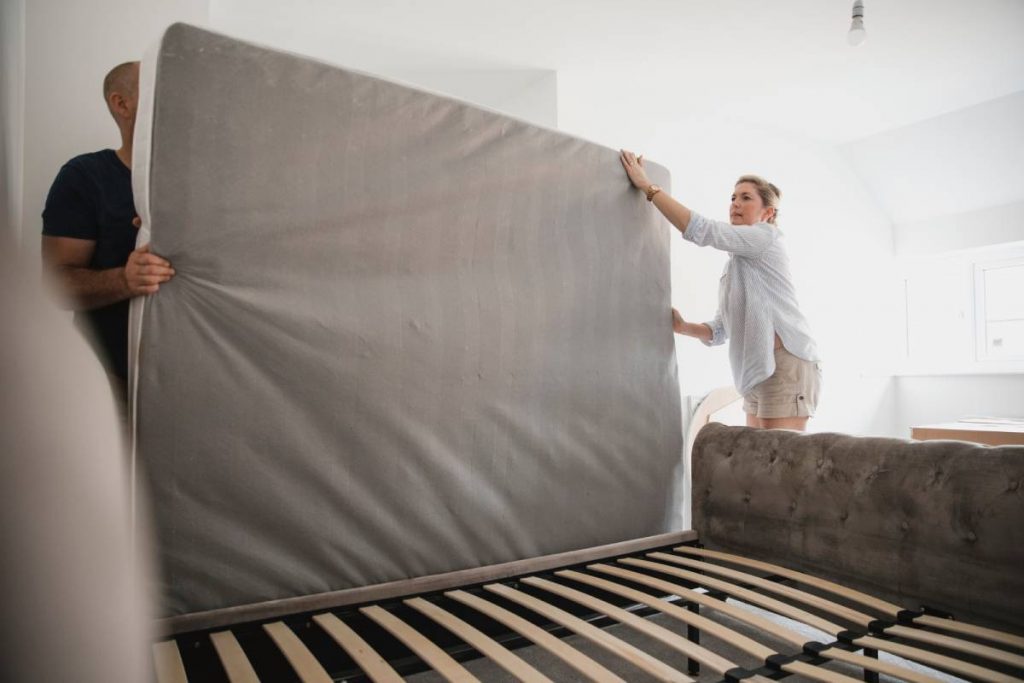 You might think that moving a mattress is a pretty easy task – after all, it's just one piece of furniture. But if you've ever tried to move one on your own, you know that it can be quite challenging. First of all, a standard mattress is quite heavy and bulky, so it isn't easy to lift. Second, you need some specialized tools to get the job done efficiently.
Equipment Needed for Moving a Mattress
Mattress Bag
Dolly or Hand Truck
Ratchet Strap
Cardboard
Nylon Rope
Tape
Retractable Knife
Tool Set
Sandwich Bags
Follow these Steps to Move Your Mattress Smoothly
1. Put Your Mattress into the Mattress Bag
Place the mattress on the ground or against a wall with one end lifted. Your partner should slide the mattress bag over the bed as you lift one corner.
Ensure that the bag is completely over the mattress before trying to zip it up.
Also Read: Do I Need a Mattress Bag or Cover for My Move
2. Clear a Path
Establish a path to the moving vehicle and clear any objects or trash that may obstruct it.
When rolled or carried on a dolly/hand truck, make sure all doors are wide enough for the mattress to pass through.
3. Secure the Mattress to the Dolly
Attach a ratchet strap around the rolled-up mattress and tighten it so that it stays in place when being pushed or pulled. Attach another ratchet strap to the opposite end of the mattress and tighten it onto the dolly.
The next thing you need to do is use two nylon ropes – one on each side of the mattress, tight enough so that they cross in the center once tied. Tie them securely to keep them in place yet loose enough that you can
4. Load Your Mattress into the Truck
Chances are, you will need to use a ramp or a liftgate to get the mattress up and into the moving vehicle.
When loading a large item like a mattress, make sure there is a clear path from the back of the truck down to the ground level where you can push or pull it from.
Also Read: How to Transport a Mattress in a Car
5. Carefully Push or Pull the Mattress
When loading or unloading the mattress, make sure to walk slowly and use your body weight. Take small steps with your feet hip-width apart – it will be more stable this way. If you feel like you are losing control of the situation, take a break and regroup before continuing.
6. Ensure a Smooth Ride for Your Mattress
You want your mattress to remain safe and secure during transport! Make sure they are evenly distributed so there is even weight on all sides of the mattress. Once the mattress is inside, you can use sandbags to block it from rolling around.
7. Cover with Moving Blankets or Shrink Wrap
You should use some form of moving blanket and shrink wrap to keep the mattress from getting irty, scratched, or otherwise damaged.
8. Unload Your Mattress at Your New Home
Make sure to choose a hard surface like concrete or asphalt to unload your mattress onto. If you can get your hands on them (usually from a storage facility), there are special unloading ramps that will help you get the mattress up and out of the truck.
You can do this yourself, but it will be much easier with another person to help you! The best method is to have one partner slide plastic moving blankets under the outside edge while the other pushes on top of the sliding blanket, so the mattress rolls over it and onto the new location.
Conclusion
Moving a mattress is similar to moving any other bulky household item. But to do so safely and efficiently, you need the right equipment to get the job done.
Of course, don't forget that if it all seems like too much trouble, you can always hire professional movers!
Also Read: How to Pack a Pod
Frequently Asked Questions about Moving a Mattress
Can you bend a mattress to move it?
Folding or bending a mattress is not recommended. It can damage the bed's structure, so it won't retain air properly or hold up over time. The best way to move a mattress is to roll up or lean it against the wall and slide the cover over.
See Also: How to Pack Bedding and Linens for Moving
How many mattresses can fit in a moving truck?
The size of your mattress will determine how many you can fit into one trip. If you have multiple beds, try dividing them up between trips. This ensures that they won't get damaged.
How do you move a king-size mattress?
King-sized mattresses are very heavy, so it's best to enlist the help of another person if you can. Make sure you have plenty of moving blankets, shrink wrap, and straps on hand before starting your journey. You can roll up or lean the bed against a wall and slide the cover over it. This is much easier when you have a ramp or liftgate to place it on.
Can you move a foam mattress?
Foam mattresses are easy to transport. You can roll them up or lean against the wall and slide the cover over it (just like with any other mattress). If your foam mattress is inflatable, it's best to have another person there to help you get it into all of the necessary spots.
How do you move a water bed mattress?
Water beds are similar to foam mattresses but can be even more difficult to transport because they often have many parts that all need to fit together well in order for it to work properly. You'll also want to make sure the water is out of the mattress before transporting it; this will help with weight and ease of movement.
How do you transport a mattress on a truck?
Transporting your mattress can be as easy as calling up a moving company and making an appointment to drop the bed off, or you could load it yourself into the back of your pick-up truck (with no tailgate). If you want to move it yourself and have a truck with a tailgate, you can use ramps to load and unload the mattress. If you don't have a tailgate or ramps, you can lean the bed against your open truck door and slide it off that way.
Where do you put the mattresses when moving into an apartment?
When moving into an apartment, you should plan and get in touch with your storage facility or moving company to discuss any details that might affect the logistics of how to move a mattress. Most movers will be able to supply you with special ramps so they can unload one side at a time. This is much safer than trying to lift the whole thing out in one go.
What do you do if a mattress gets wet or dirty?
If your mattress gets wet or dirty on the way to your new home, you should dry it off and let it air out for a few hours before using it again. Be sure to clean and disinfect it if necessary; this will help keep down the risk of spreading germs throughout your new home.
What do you do if a bed gets stuck in the door frame on the way to your new home?
If your mattress or bed doesn't fit through the door, you have two options. The first is to take it apart so it will fit through whatever space you have available. This can be time-consuming and frustrating, but with a few power tools and a lot of patience, you should be able to get it done. The second option is to call a moving company for help. This is a less expensive option if you don't have the time or energy to take your bed apart yourself.
Can I use my old mattress for anything?
You can always donate your old mattress to someone who is in need. This will help cut down on waste and make sure your old mattress has a little more life left in it before you replace it with a new one.
Does the bed frame matter for moving?
The bed frame only matters if there are pieces of furniture attached to your bed, such as headboards or box springs. These pieces should be disassembled before moving to avoid injuries or delays during the trip. If they are too large to take apart, you can lean them against a wall so they won't get in your way as much.
See also: Moving from a House to an Apartment
Enter your information
Almost done!
Enter your information to view your quote.
Your information is safe with us. By using this service, you agree to receive email communications solely regarding your relocation process