Moving To Iowa – A Relocation Guide for 2022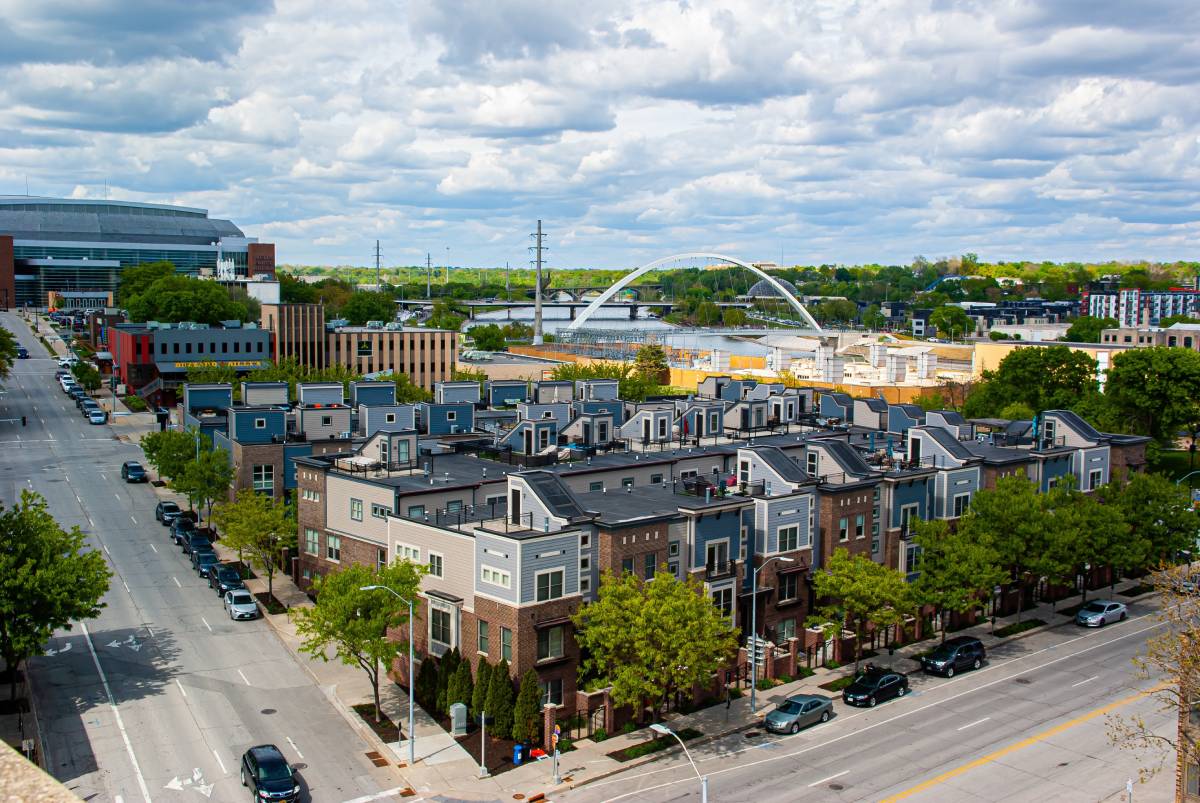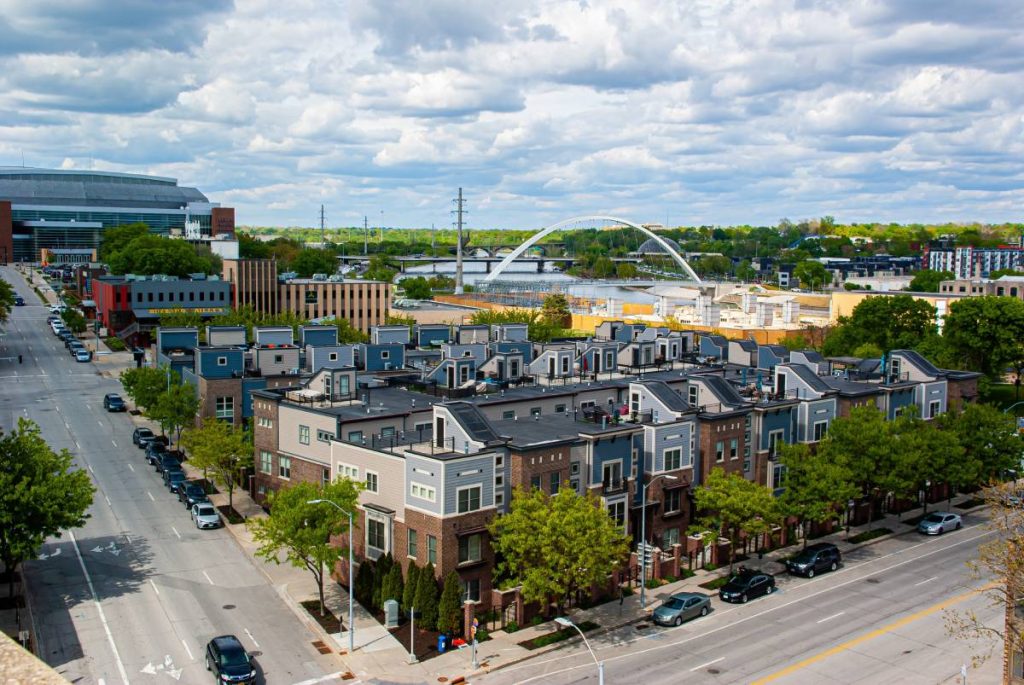 Regardless of whether you want to move for your education, for your job, or for your retirement, Iowa is one of the most coveted states in the USA for people to move into. This state is the place where the small-town lifestyle meets the big-city life. Moreover, you get to live in a friendly community, in affordable homes, amidst beautiful landscapes and low crime rates.
Sounds interesting? Keep on reading our guide for moving to Iowa to find out what to expect when in the Hawkeye state (a nickname from the late 1880s after a Native American chief called Black Hawk).
Pros And Cons
Pros
Low Cost Of Living
The state of Iowa is often referred to as one of the most affordable states in the US. In fact, most places in the Hawkeye State have a cost of living that are approximately 10% lower than the rest of the county. However, this benefit might shrink a little if you move to places like Des Moines, Iowa City, or Cedar Rapids.
Top-Notch Quality Of Education
Iowa is home to multiple educational institutions that perform very well. The numbers that this state records are evidence of the quality of education. According to Vittana, the literacy rate in the state of Iowa has consistently been at 99%, while the high school graduation rate is 90%, making it the highest in the country on both fronts.
Low Crime Rates
Compared to the rest of the country, the Hawkeye State records about 20 percent lower crime rates. Of course, this does not imply that the state is free of all things wrong, but, you can live in Iowa with far less stress of your home getting broken into than you could in a majority of other states.
Cons
Flat Terrain
If you're a mountain person, Iowa is going to take a little more adjustment on your end. Most of the state is flat, with the highest points being along the Mississippi River. The highest natural point is the Hawkeye Point, rising to a mere 509 meters. You can visit the beaches for a change in scenery. But, you have limited options on that front, too.
Harsh Winters
One of the things that every native Iowan boasts about is the lack of mosquitoes in the state. While that sounds awesome, the only reason this state does not have mosquitoes is because nothing can survive the winters here. The temperature in winters goes down to as low as -50°F some years, including windchill. The typical winter temperature is 10°F, but that isn't very comfortable either.
Weird Laws
Iowa is home to more than a few weird laws. The ones that take the cake in our opinion are as follows:
In Iowa State, it is illegal to kiss for more than five minutes.
Horses are legally barred from eating fire hydrants.
One-armed piano players must play for free within the state limits.
Weather In Iowa
Iowa is a state that experiences all four seasons. However, because of its location in the heart of the continent and the flat terrain, it is prone to experience extremes in every season. The Hawkeye State has also seen its fair share of natural disasters. So, when deciding on a place to live in, you need to take that into account as well.
The summers in Iowa are typically hot, humid, and mostly the rainiest time of the year. Day temperatures in this season often go up to between 90°F and 100°F. On the other hand, winters are harsh and the day temperatures often go down to -20°F. Spring is probably the most pleasant season in this state, but even that tends to see a lot of rainfall. The season of fall starts off at a good, pleasant temperature, but turns very cold towards the end.
Iowa sees an unusual distribution of rainfall throughout the year, with June being the wettest month and January being the driest one. Lastly, due to the rapid melting of snow in the summer, along with rains, this state often gets flooded.
Cost Of Living In Iowa
Buying A House In Iowa
First things first, you need to remember that Iowa is a seller's market, meaning the seller has more say in the terms and conditions of a sale. We Are Iowa has given the credit for this to the lack of inventory in properties. However, this trend of the state-wide market seems to be calming down and things are becoming easier for buyers trying to move into the state.
The table below shows data from Zillow comparing the median home value of Iowa to that of the US. It gives you a good enough idea of the price differences between the two.
| | | |
| --- | --- | --- |
| | Iowa | United States |
| Median Home Value | $180,840 | $325,667 |
Renting A House In Iowa
Since this state is home to three top-notch universities, parts of it see a large influx of students. In fact, about 40% of the residents in Iowa are staying in rental units. It is safe to say that the rental market in the Hawkeye State is consistently hot. However, you might have a little breathing room because of the low overall cost of living and the consequent low rent across the state.
| | | |
| --- | --- | --- |
| Apartment Size | Iowa Average Monthly Rent | US Average Monthly Rent |
| Studio apartment | $600 | $949 |
| 1-Bedroom Home | $675 | $1,050 |
| 2-Bedroom Home | $850 | $1,280 |
| 3-Bedroom Home | $1,140 | $1,680 |
| 4-Bedroom Home | $1,281 | $1,951 |
Taxes In Iowa
Iowa is a moderately tax-friendly state. It exempts social security incomes from the state income taxes and offers deductions over retirement incomes. However, all residents are still bound to pay sales, income, and property taxes, some of which are levied at a higher rate than the national average.
Speaking of the income taxes, Iowa charges its residents on a progressive scale. This scale begins at 0.33% of an individual's annual income and goes up to 8.53%, climbing through nine different income brackets. There are individual surtaxes as well, levied by around 300 school districts.
Property taxes in the area are higher than the national average of 1.07%. The statewide effective property tax rate in Iowa is around 1.53%, making it the state with the 11th highest property tax rate in all of America.
Lastly, sales tax is levied on all businesses dealing with all the usual payers, as well as businesses engaging in retail sales and/or dealing with tangible personal properties. That being said, the statewide effective sales tax rate in Iowa is 6%. However, depending on local municipalities, it can go up to 8%.
Expenses In Iowa
SpaceSimply puts the average cost of living in Iowa in the 'moderately affordable' bracket. The cost of utilities like electricity, water, heating, and garbage disposal in the Hawkeye State average at around $215. Throw in a good internet connection, and you will be paying around $70 more per month.
When it comes to expenses, the cost of food in any state is one of the most important recurring expenses. Thankfully, in the state of Iowa, the average cost of food is lower than the national average. According to 24/7wallst., a single resident of Iowa spends $2,940 on groceries per month, while the national average for the same is $3,240. On the other hand, a family of four might end up spending around $8,500 on groceries per month, while the national average is $9,354.
The cost of healthcare in Iowa is relatively higher than the national average. On an average, a single individual in this state would spend $4,530 on healthcare every year. This includes yearly check-ups, health insurance, and any other recurring expense related to healthcare. To give you a scale, the national average expenditure on healthcare by an individual is $4,265.
Also Read: Average Living Expenses of a Single Person
Crime Rate In Iowa
The total crime rate of any location is decided by analyzing the total number of crimes committed per thousand residents. The obtained number is then put on a scale that tells you the violent crime rate, property crime rate, and the total crime rate. That being said, the total crime rate in Iowa is 19.85.
Speaking of the violent crime rate, the state of Iowa ranks significantly lower than the national average. The violent crime rate in Iowa is 3, while the national average is 4. This brings the chances of becoming a victim of violent cries in Iowa to 1 in 332.
Property crimes follow a similar trend, but are closer to the national average. According to NeighborhoodScout, the property crime rate in Iowa is 16.80, while the national average is 19. This translates to a 1 in 59 chance of becoming a victim of property crimes.
Economy And Employment Opportunities In Iowa
Iowa is known to have a very strong and diversified economy. It is driven by multiple industries like agriculture, manufacturing, and finance. However, industries like biotech, insurance services, and government services contribute significantly. Moreover, Iowa is also known to be business-friendly, owing to the low taxes as well as overall business costs.
All of these factors brought the GDP of this state to 225,144 million dollars in 2021. According to Ziprecruiter, the average salary in the Hawkeye State is around $55,000, while anything above $66,990 is considered to be a 'good' salary. This can be credited to the biggest employers in the area. Here is a list of the same.
Hy-Vee
United Coop Hampton
Whitney Corporation
Transamerica Service Company
Education In Iowa
The quality of education in Iowa is high on all fronts. The high schools across the state have a high graduation rate, and students consistently score well on their ACTs and SATs. When it comes to higher education, Iowa is home to some of the most revered universities and colleges in the nation.
It is safe to say that you will easily find an educational institution of your liking that will provide you with all the opportunities you'd be looking for. To help you have a clearer idea of the educational scenery in the state, here is a list of the best schools and colleges in Iowa.
Schools
North Polk West Elementary School
Westwood Elementary School
Denver Middle School
Mount Vernon Middle School
Paton-Churdan Jr-Sr High School
Van Meter High School
Colleges And Universities
The University of Iowa
Drake University
Grinnell College
Coe College
Traffic And Transportation In Iowa
Much like the entirety of the Midwest, the roads in Iowa are roughly laid out in a grid. Even the state highways that lead in and out of Iowa are laid in similar grids. However, as you move towards the interiors, the roads do switch between gravel roads and tarmac often.
That being said, if you want to travel through the state, driving yourself is the best bet. The second best would be to get on a bus run by Burlington Trailways, Jefferson Lines, and Megabus. Just remember that Megabus only goes between Iowa City, Des Moines, and Chicago.
The cherry on top of the cake, in this case, is the fact that Iowa is a state that has next to no traffic woes. Of course, you will slow down a bit if you're traveling through Des Moines or Iowa City, but you can accelerate as soon as you get out of the city limits. However, it will take a while for you to get where you are going as the distances between places in this state are longer than most other places on the East Coast.
Another mode of transport to get into the state, and a few places in it, is the Amtrak. You will find a few stations like Mt. Pleasant, Burlington, Ottumwa, and Creston. However, that is the extent of the railway network in this state. You'll have to look for other modes of transport once you get off of a train, mostly road-based ones.
If you are planning on flying into the Hawkeye State, you will have to choose one of the eight passenger airports present within the state borders. Out of these, three airports see heavy traffic and only one is international. Cedar Rapids – Eastern Iowa Airport, Des Moines International Airport, and Fort Dodge Regional Airport are the names of the airports you might find are best-connected to the rest of the country.
Best Places To Live In Iowa
Des Moines
Ranking among the wealthiest cities in America, Des Moines makes a great home for professionals in industries like insurance, financial services, and publishing. It also offers you great education options like Drake University and Grand View University, all wrapped with more than 70 parks and three golf courses. Des Moines is welcoming to anyone who is looking for a place to live. However, young professionals have some sort of affinity towards this city.
Population: 215,630
Median Home Value: $133,201
Monthly Median Rent: $890
Annual Median Household Income: $53,530
Ames
The city of Ames is an educational and economical hub. It is home to more than 15,000 employers, 35,000 students, and Iowa State University. Moreover, it is the headquarters for the Iowa Department Of Transportation and Mary Greeley Medical Center.
A neighborhood called Campustown is arguably the most famous place in Ames as it offers easy access to nightlife, shopping venues, and student apartments. It is no wonder that Ames is preferred by students moving to Iowa.
Population: 66,025
Median Home Value: $205,901
Monthly Median Rent: $935
Annual Median Household Income: $48,110
Marion
Marion is a tight-knit community that has experienced exponential residential growth in recent years. The availability of a lot of free space, more than 40 parks, two of the best school districts in the state, and a bunch of festivals make this area the best for a family to move into.
If you decide on moving to Marion, you will find yourself looking at numerous historic homes with beautiful architecture. So, you could just move into a beautiful home right in the center of one of the most family-friendly places in Iowa.
Population: 39,330
Median Home Value: $168,701
Monthly Median Rent: $730
Annual Median Household Income: $72,151
Cedar Falls
Cedar Falls is a city that is named after its most famous attraction: the Cedar Falls. It is home to these waterfalls, 41 parks that share about 29 miles of trekking and hiking trails, and one championship 18-hole golf course.
This city also boasts of the University of Northern Iowa and Cedar Falls Industrial and Technology Park, making it one of the best places for families and retirees to settle down into.
Population: 40,985
Median Home Value: $189,101
Monthly Median Rent: $875
Annual Median Household Income: $61,425
Summing Up
Iowa is relatively small in size. But, it has made huge waves when it comes to things like history, economy, and education. Honestly, we see nothing but progress for this beautiful state. It gives its residents huge opportunities with small-town charm, and wraps it all up in the glory of nature. With its cost of living and job opportunities, it makes the perfect place for an individual to settle down in and even retire.
FAQs On Moving To Iowa
Is Iowa A Good State To Live In?
Iowa offers its residents a slow-paced life with amazing educational and occupational opportunities, low crime rates, all four seasons, and not a lot of traffic. These factors make Iowa a very good state to live in.
What Is The Most Interesting Fact About Iowa?
In our opinion, the most interesting fact about the Hawkeye State is that it is the only state in America that is bordered by two navigable rivers: the Mississippi River to the east and the Missouri River to the west.
Is Iowa Cold In The Winter?
Yes. While Iowa is a state that sees all four seasons, all four seasons tend to see the extremes. In the same spirit, the winters in Iowa tend to get very cold. In fact, the average temperature in Iowa winters is 14°F in the northern part of the state and low 20s in the southeast.
Also Read: Best Tips for Moving During the Winters
Does Iowa Have Tornadoes?
The state of Iowa receives tornadoes rather frequently. Based on the data collected between 1980 and 2019, the average number of tornadoes in Iowa was found to be 48. It was also found that the month of December sees the least number of tornadoes.
Also Read: Moving to New England – A Relocation Guide for 2022
Enter your information
Almost done!
Enter your information to view your quote.
Your information is safe with us. By using this service, you agree to receive email communications solely regarding your relocation process