Moving From Virginia To Florida – A Detailed Guide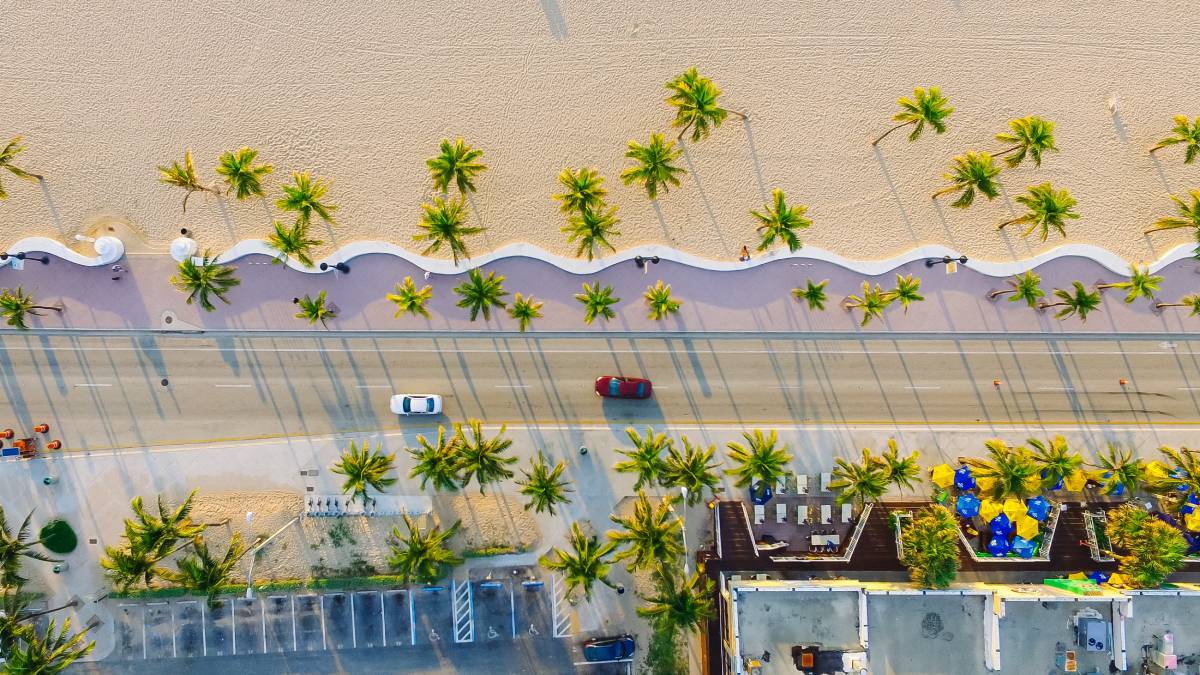 If you're looking for a state where you can relax on the beach, look at palm-tree views, soak in the sun and swim with the dolphins, Florida might just be the state to move to. It has some exciting cities, a vibrant lifestyle, ample attractions, a diverse community, and plenty of wildlife, along with many outdoor activities and adventures to indulge in. With so much that Florida offers you, you can see why people are moving here.
So, if you're planning to move from Virginia to Florida, we have a guide that will help you know how life in both states is similar and different. Have a look at it to make an informed decision for yourself.
Weather
The weather in Florida is one of the reasons why people tend to move across the country. Virginia has harsh winters, hot summers, and a pleasant autumn and spring which is very unlikely in Florida. Florida has the typical southern weather with hot and humid summers and no snow for winters. It's the ideal state for people who want more sun, given that its nickname is literally 'The Sunny State'.
The average summer temperature in Virginia is around 70°F-85°F while that in Florida is between 80°F and 95°F. This can go as high as 100°F during July. It's hot and humid almost all year long in Florida and to survive the summer heat, you probably need popsicles and a dip in the pool.
When it comes to the snow, Virginia has harsh winters with average temperatures being anywhere between 25°F and 36°F. The winters in Florida are barely even winters; with humid weather and moderate temperatures, the winters here are pretty mild. Florida has winter temperatures between 49°F and 60°F.
Virginia experiences about 14 inches of snow while Florida has none. While your friends will be bundling up under blankets in Virginia, you'll be wearing shorts to enjoy a sunny day on a beach in Florida!
So when you move from the snowy and harsh winters of Virginia to the humid and hot summers of Florida, make sure you keep your mocktail and popsicle recipes ready!
Cost Of Living
The cost of living is probably one of the most determining factors when choosing to move to a new city or a state. According to data from the Bureau of Economic Analysis, goods and services in Florida cost just 0.6% above the national average, a proper bargain! The same figure in Virginia is 2.0% above the national average according to 24/7WallSt. You'll be happy that moving to Florida would be a tad bit more affordable compared to your cost of living in Virginia!
Buying A House
When it comes to buying a house in either state, both of them have an almost similar rate. So, if you plan on buying a house in Florida, it won't be cheaper or more expensive to a larger extent. Both states have median home values which are just a little bit over the median home value of the US average of $331,543.
To give you a clearer picture, we have listed a table below with the help of Zillow.
| | | |
| --- | --- | --- |
| | Florida | Virginia |
| Median Home Value | $356,348 | $357,297 |
Renting A House
The rental market in Florida and Virginia is not the same as the buying market. The prices on rental properties in Florida are a bit more expensive than that in Virginia. Depending on which cities and neighborhoods you choose to live in, the rental prices will change accordingly.
The following is a breakdown and comparison of the monthly median rent of different apartments in both Florida and Virginia.
| | | | |
| --- | --- | --- | --- |
| | 1 Bedroom | 2 Bedroom | 3 Bedroom |
| Florida | $1,112 | $1,297 | $1,698 |
| Virginia | $1,107 | $1,347 | $1,793 |
Taxes
Just like buying and renting a house, tax rates in the city play a big role in determining the overall cost of living. You'd be glad to know that Florida has no income tax which automatically eliminates the need for you to pay this tax! You can thank all the tourism for this!
Virginia has a sales tax rate of 5.3% and Florida has a tax rate of 6%. This makes the sales tax in Florida just 0.7% higher than in Virginia. But it is seemingly a very minor difference anyway so you wouldn't have to worry about shedding too much of your income in this department either.
0.83% is the property tax of Florida which is just 0.03% higher than the property tax rate of Virginia (0.80%). This again is a very minor change that will only lead to an almost negligible difference in your property taxes when you move from Virginia to Florida.
Expenses
After housing expenses, your household expenses are the second large amount that contributes to your cost of living. Your expenses in Florida are going to be on par with the national average in some aspects while a bit higher in others. For example, your food expenses will be higher, while healthcare would be lower.
Your expenses on food in Florida will amount up to an annual average of $3,413 for an individual while that for a family of four would be $9,856. This amount is higher than the national average and the cost of food expenses in Virginia as well.
On the other hand, your healthcare expenses in Florida will be a total of $4,213, which is just a bit lower than the national average. Though of course, you can always turn to the sun and sand to cure yourself of the blues.
Crime Rate
For many, a high crime rate in a state is a deal-breaker and you'd be glad to know that Florida has a crime rate that is a bit lower than the national average. It's a relatively safe state to live in where crime is only prevalent in some cities at a higher rate while in most other cities, it's not too bad.
The violent crime rate in Florida (calculated per 1,000 residents) is 3.87, which is just a little below the national average of 4. The violent crime rate in Virginia is 2.08 according to Neighborhoodscout. Living in Florida, you have a 1 in 258 chance of being a victim of violent crimes while the same in Virginia is 1 in 482.
The property crime rate in Florida is 17.85 according to Neighborhoodscout. The same crime rate in Virginia is 14.50, which means that the property crime rate in Florida is higher than that in Virginia but lower than the national average (19). You have a 1 in 56 chance of being the victim of theft or burglary in Florida, but in Virginia, you have a 1 in 69 chance of the same.
This goes to show that even though the crime rate in Florida might be lower than the national average, it is still higher than that in Virginia. If this worries you, remember that the state is still safer than several others in the country and that the rates are only higher relative to Virginia. Niceville, Hurlburt Field, Horseshoe Beach, Captiva, Boca Grande, Myakka City are some of the safest cities in Florida that you could consider moving to.
Economy And Employment
According to US News, Florida ranks 8th and Virginia ranks 7th in the country for their economies respectively. $1,106,035.5 million was the GDP of Florida in 2020 according to Fred.stlouisfed, which has grown really well over the past decade. Tourism, agriculture, healthcare, education, aviation and aerospace, life sciences, international trade, financial services, construction, and retail are the industries that have played a vital role in the economic stability that the state has seen over the past few decades.
These are the same industries that contribute to Florida's overall economic growth and employment opportunities as well. Speaking of employment, the unemployment rate in Florida was 3.5% in December 2021. This rate has also gone lower over the past decade as there are ample jobs available for skilled and budding professionals across various industries in Florida.
Some of the top employers in Florida are the Naval Air Station (Pensacola), Adventhealth (Orlando), Orlando Health, University of South Florida, University of Central Florida, Center for Disease Prevention, Gimbel International Inc., Epcot, Jackson Health System, and Johnson & Johnson Co. If you're looking for a job, these are the companies you need to look out for as they have job opportunities for young and skilled professionals.
Education
When it comes to education, Virginia is known to have the second-best school system in the south while Florida is known for its colleges and universities. Both the states have their fair share of great schooling systems that provide excellent quality education to their students. Luckily for you, the universities and colleges in Florida are known for their academic excellence and value. The pre-K schools have also shown some great improvements in the past decade and provide an overall great education.
The following are some of the best school districts, colleges, and universities in Florida.
School Districts
Sarasota County Schools, Sarasota
Seminole County Public Schools, Sanford
St. Johns County School District, St. Augustine
Okaloosa County School District, Fort Walton Beach
Clay County School District, Green Cove Springs
Universities
Florida State University
University of Miami
University of Central Florida
University of South Florida
University of Florida
Traffic And Transportation
If you're moving from Virginia to Florida, you'll want to know about the different transportation options available in the Sunshine State. Florida being a big state, it has a good public transportation system in the works in most cities. Each city has its own transit system that oversees its operations. Most of the metropolitan areas and cities are well connected within themselves.
All of the cities in Florida are also interconnected with railways and airways, which makes traveling from one city to another very convenient. Florida doesn't have a lot of passenger rail service, but what is available is high-quality and efficient. Amtrak operates the Silver Meteor and Silver Star trains between New York City and Miami, making stops in cities like Atlanta, Charleston, and Tampa.
Florida has several major airports, including Miami International Airport (MIA), Orlando International Airport (MCO), Tampa International Airport (TPA), and Fort Lauderdale-Hollywood International Airport (FLL). There are also plenty of regional and international airports, making it easy to get to just about anywhere in the country.
While it does have a few interstate highways, most of the state's transportation is based on its extensive network of roads and bridges. But, when it comes to commute time, it's one of the worst states as the traffic is a bit too much during and after peak hours too. Jacksonville, Tallahassee, and Clearwater are the cities with the worst commute and transportation systems in the state of Florida.
Plus, there are a few things you'll want to keep in mind when driving in Florida. First, the state has a lot of retirees who drive slowly and cautiously. Second, Florida is known for its severe summer storms, which can often cause flash flooding on the roads. So, if you're moving to Florida, be sure to research the different transportation options available in your new city, and be prepared for the occasional summer storm.
See Also: 13 Largest Cities in Florida | Moving From Connecticut To Florida – A Detailed Guide
Best Places To Live In Florida
Fort Lauderdale
Fort Lauderdale is a city that gives you a great combination of suburban living and an outdoorsy adventurous life as well. It's also the largest city in the Miami metro area, well known among the youth for the job opportunities available here. If you're looking for a lively city with an affordable cost of living, great job opportunities, and an adventurous lifestyle, Fort Lauderdale is the place for you.
Population: 183,449
Median Home Value: $460,719
Monthly Median Rent: $2,326
Annual Median Household Income: $64,316
Tallahassee
Tallahassee is the capital city of Florida and is probably the only city that doesn't feel like a typical Florida city. There isn't much going on in the city and it maintains a pretty low-key lifestyle. The city has low tax rates, an affordable cost of living, and reasonable housing which makes it a very appealing place to live in. Tally, as it is locally called, is ideal for retired couples as it's southern heaven with splendid views and plenty of nature to admire.
Population: 199,714
Median Home Value: $247,587
Monthly Median Rent: $1,399
Annual Median Household Income: $52,727
Orlando
Orleans is known among families for being diverse and having a plethora of opportunities for children's education as well as job opportunities. It is located in central Florida which makes traveling to other cities very convenient for its residents. It has a diverse community of people who are warm and welcoming.
Orlando is home to Mickey Mouse and Hogwarts, thanks to the several theme parks here, which makes it a popular vacation destination for families. This means that you'll need to share the city with tourists during the peak season, but its many other perks can make the crowds bearable.
Population: 292,060
Median Home Value: $345,548
Monthly Median Rent: $1,739
Annual Median Household Income: $61,877
Tampa
Tampa gives you the best of both worlds, the first one being Disney World which is a big tourist destination, and the second one being the lowkey and laidback lifestyle in the city. The bay area, amusement parks, and Busch Gardens are all very popular spots in the city. The city is a hub for sports lovers and the metro area is home to a large number of sports teams. Good employment opportunities, low cost of living, outdoor recreation activities, entertainment opportunities, great schools, and colleges, all combine to make Tampa a very good city to reside in.
Population: 407,106
Median Home Value: $374,700
Monthly Median Rent: $1,768
Annual Median Household Income: $55,634
Cost Of Moving From Virginia To Florida
Moving from one state to another can be costly and you may need to hire a moving company to help you with the long and tiring process. On average, moving from Virginia to Florida costs between $2,800 and $4,200. This price may vary depending on the kind of services you avail of and the kind of company you hire also. If you go the DIY route, it will be a much lower cost (but a lot more tiring) while if you hire a full-service moving company, the charges could go much higher.
Summing Up
Once you've read all the things mentioned in the blog, you have a clear picture of what both the states have to offer you. They are both quite similar in terms of crime rates, home values, rental market, and cost of living too. In some ways, Virginia takes an upper hand and shines out while in some others, Florida jumps on top. The education, job opportunities, affordable cost of living, transportation, and sunny weather stand out to be the best in Florida. And if these are the same things that you wanted, Florida could be the perfect state for you to move to.
FAQs On Moving From Virginia To Florida
Is It Cheaper To Live In Virginia Or Florida?
The cost of living in both cities is very affordable. But of the two, Florida's costs are ever so slightly lower than those of Virginia's. So, moving from Virginia to Florida could mean a slight dip in your overall cost of living expenses.
How Much Does It Cost To Move From Virginia To Florida?
Moving from Virginia to Florida costs between $2,800 and $4,200. This cost could change depending on whether you hire professional movers and what services you hire. If you choose to do it all by yourself, then the expenses would be a bit lower.
What Are The Pros And Cons Of Living In Florida?
Living in Florida comes with its fair share of pros and cons. Here are some pros and cons of living in Florida that you'd need to know.
Pros
No state income tax
Affordable real estate market
Ample outdoors to engage in
Cons
There are a lot of bugs, alligators, and snakes here
Hot and humid all year long, and no snow
Prone to hurricanes and tornadoes, wildfires and drought
See Also: Pros and Cons of moving to a Small-Town
Enter your information
Almost done!
Enter your information to view your quote.
Your information is safe with us. By using this service, you agree to receive email communications solely regarding your relocation process