Moving To Portland – Relocation Guide for 2022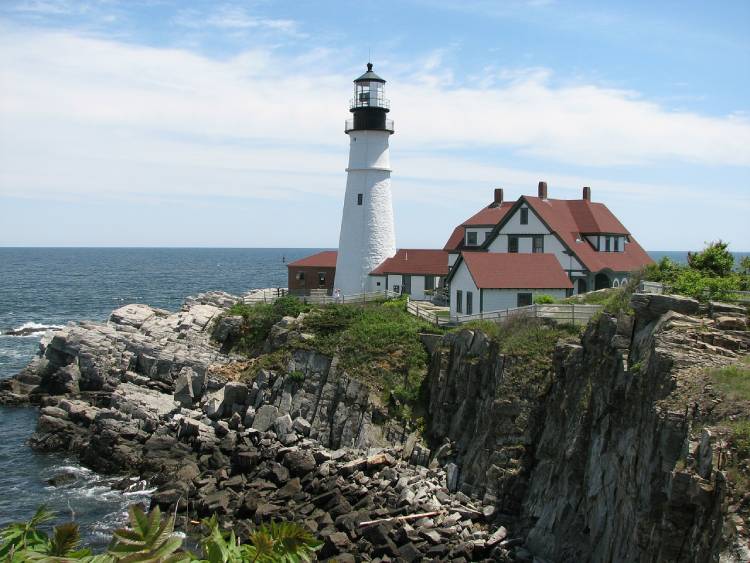 Sitting by the Columbia and Willamette rivers, Portland is a bustling city full of activities, businesses, and people. Let us stress more on the 'people' part of it because Portland is one of the most populous cities on the West Coast. Spread over an area of 145 sq mi, it's also the largest city in the US state of Oregon. This city in Oregon is brimming with opportunities in the technology, health, and sports sector and has seen an influx of people in the past few years.
Though Portland is home to working professionals, families, and retirees, the city has a very millennial vibe to it. From a thriving art community to a dedicated bicycling culture, Portland has a hip aura. Nestled by the white-capped Mount Hood, it offers acres of green spaces to its citizens. But you need to know tons of other things before you loading your life onto a truck and moving to Portland, and that's exactly what we're here for!
Pros And Cons of Living In Portland
Pros
Greenery Abound!
Portland is the 3rd greenest city in America and has more than 279 city parks. The people here are environmentally conscious and actively recycle and compost. The city also passed a green tax on large corporations.
Ample Job Opportunities
There are many large employers in Portland like Nike, Adidas, Keen, Intel, and Daimler. There are many jobs in the tech industry which have earned Portland the name 'Silicon Forest.'
Easy To Get Around On Foot
Portland's size is manageable which makes it very walkable. 7% of locals commute on bikes and there are alternative modes of transportation so it's okay to not own a car in Portland!
No Sales Tax!
Oregon has no sales tax and Portland has no county sale tax, city sales tax, or special rate which means literally everything you buy in Portland will be tax-free. Imagine the savings!
Awesome Food Scene
The restaurants in Portland are very unique and serve cuisines from over the world. Locals prefer eating from food carts rather than chain stores and you can always find farm-to-table meals.
Best For Beverage Lovers
There are 70 breweries in Portland and people here take their craft beer very seriously. Also, according to WalletHub, Portland is the best coffee city in America!
Cons
Very Cloudy
Portland has the best summers, beautiful and warm. But it rains like crazy during the months of January to March. In fact, Portland has on average over 222 gloomy days; the pale gray skies can dampen spirits.
Can Be Expensive!
Real estate rates have skyrocketed in Portland in the last 10 years. Buying a house is unaffordable which makes things difficult for working professionals just starting out.
High Income Taxes
Portland has high personal income taxes that are higher than the rate of taxes in San Francisco or New York.
Poverty And Homelessness
There's a rise in the unsheltered population and homelessness is a major concern. Many shelter beds and homeless camps are spread across Portland to help deal with this.
Terrible Traffic
Portland's traffic is a nightmare; the city's highways and streets are jam-packed during rush hours and there's more traffic than ever due to the massive influx of people.
Hard To Bond With The Locals
There's a sense of community here. But while Portlanders are friendly and supportive, they can be reserved while forming new relationships.
Weather In Portland
There's the Pacific Ocean on Portland's west and the Cascade Mountain Ranges towards the east-southeast of Portland. This gives Portland its Mediterranean climate which results in mild wet winters and warm to hot, dry summers. There are 144 sunny days in Portland on average and the summer temperatures range between 60°F to 80°F.
The hottest month in Portland is August with temperatures soaring to 83°F or more. This is a good time for outdoor festivals, hiking, and boating. Winters in Portland are wet with more chances of rain than snowfall. Winter temperatures range between 40°F to 50°F, night temperatures can drop to 30°F. Snowfall is mild and can be experienced only twice or thrice in winter.
Rain falls throughout the year in Portland except in the drier months of July and August. Most rainfall can be experienced in November with an average rainfall of 8.8 inches. Hints of spring can be seen between May and October. During these months, the parks and forests of Portland bloom with rhododendrons, azaleas, cherry trees, and roses.
Cost Of Living In Portland
Portland's cost of living is 130.8, which is 17.7% higher than the national average of 100. But the higher salary range and the zero sales tax compensates for the high cost of living. Yes, Portland is expensive to live in but is still much affordable than Seattle.
Buying A House In Portland
Portland's real estate market is on a constant rise. The rates have shot up in the past 30 years which is highly profitable for those who bought homes three decades ago. The median price of homes in Portland has risen by 19.4% over the past year alone. One look at Portland's real estate and you'll know that it's a seller's market, but the mortgage rates are low for first-time buyers.
| | | |
| --- | --- | --- |
| | Portland | United States |
| Median Home Value | $557,948 | $312,728 |
This shouldn't demotivate you from buying a house in Portland as statistics show that Portland's real estate market will grow in the long run, it's a fabulous investment! The value of your home is sure to increase over time and you can leverage your home equity to use it in future investments. Plus, buying a home in Portland makes you eligible for tax deductions! Renting is unrewarding over a longer period and directing those funds towards homeownership is much secure and beneficial. If you got the moolah, go buy a house in Portland!
Renting A House In Portland
If you're new to Portland, it makes more sense to rent a house for a year rather than buy one. Leasing a house in Portland is an easy process; you need a decent credit or a letter from a new employer. Rent rates in Portland have risen by 9.2% over 2020-2021 and the average rent is currently $1,633. It's better to rent a house if you're planning to stay in Portland for one or two years as most of the house repair expenses are borne by landlords.
| | | |
| --- | --- | --- |
| Apartment Size | Monthly Average Rent in Portland | US Average Monthly Rent |
| Studio apartment | $1,474 | $1,691 |
| 1 Bedroom Home | $1,866 | $1,621 |
| 2 Bedroom Home | $2,561 | $1,878 |
| 3 Bedroom Home | $2,719 | $2,017 |
If you've made up your mind to rent a house in Portland then it's better to know that a real estate agent isn't the best person to approach. Most rental homes in Portland are listed on Craigslist, rent.com, apartment.com, etc and you can get a good deal rather than going through a real estate agent. If you're fairly new to Portland, short-term rentals are a good option. Experience living in Portland, build your savings, and study the real estate market for a year or two and then buy a home.
Taxes In Portland
Though there's no sales tax in Portland, the personal income tax is fairly high. While the Oregon State Government depends on personal income and corporate excise taxes, local governments and schools depend on property taxes. The average effective tax rate is 1.04% and you can expect an annual property tax bill of about $3,768.
The income tax rate in Portland is progressive. If you're earning $125,000 then you'll be taxed at 1.5% and if your earnings cross $250,000 then you'll be taxed at 3%. The income tax in Portland is expected to increase by 0.8% in 2026. There's a lower corporate tax despite the strong corporate profits in Portland. In the last budget, corporations paid about 7% so it's a sunny time if you're a large business owner, make hay!
Utilities And Other Expenses In Portland
While housing in Portland is 84.3% higher than the national average and rent rates are also on the rise, the only thing cheaper in Portland is the utilities. Utilities in Portland are 12.8% cheaper than the national average, thus balancing out the high cost of living. You can expect to pay $195 monthly for utilities like electricity, heating, cooling, and water.
You also need to budget your day-to-day expenses while living in Portland. If you're new to Portland, it's better to use public transportation or buy a bike rather than investing in a car because retail gas prices are on an all-time rise. Apart from this, you also need to budget for healthcare and insurances for maximum security while living in Portland. Here's a list of the average expenses you'll have to incur here:
Annual food expenses: $4,464
Annual healthcare expenses: $5,604
Annual public transportation expenses: $1,100
The cost of utilities in Portland is higher than what San Franciscans or New Yorkers pay but is much lower than what residents pay in Seattle. To be able to afford a comfortable living in Portland, it's best if you find a high-paying job in the city. But if you have a house in Portland, you can set aside $36,000 to $56,000 for yearly expenses since you may not have to worry about rent or mortgage.
Crime Rate In Portland
Though Oregon is one of the safer states in the US, Portland is counted as one of the more dangerous cities of Oregon. There are crimes and gun fires in some of the worst neighborhoods and alleys of Portland but you don't have to worry since the law enforcement is strict. Most neighborhoods are perfectly secure and communing is very safe during the day.
According to NeighbourhoodScout, the violent crime rate in Portland is 5.52 per 1,000 residents. There's rising concern about safety since homicides in Portland increased by nearly 30% from 2019 to 2020 according to FBI data. Portland is also in the middle of a gang violence issue.
On the other hand, the property crime rate in Portland is 53.48 per 1,000 residents, meaning the chances of you becoming victim to a property crime rate is 1 in 19. Portland ranks 41st amongst the safest cities in Oregon according to Safewise.com. But worry not, you can move to Eastmoreland, Hosford-Abernethy, King, or Northwest District which are the safest neighborhoods of Portland.
Homelessness can be concerning since there's room for theft and petty crimes, so you can reconsider if you're moving to Portland with your family. There's been a rise in drug and alcohol addiction rates since the past year so if you're moving with children, choose a safer neighborhood.
Economy And Employment Opportunities In Portland
As of 2017, GDP per capita for Portland Metro Area was $52,270. A major contributor to the GDP was the manufacturing industry as Portland is a leader in the production of high-tech electronics and specialty metal fabrication. Portland's location is beneficial to the city's economy; there's relatively low energy cost, accessible resources, and large marine shipping facilities that bring business to the city.
There are 1,200 technology companies in Portland amongst which Intel is the biggest employer providing employment to more than 15,000 people. Apart from the tech space, Portland is also home to the headquarters of athletic gear and footwear giants. Other big employers in Portland are NIKE, US Bank, Wells Fargo, Adidas, Fisher Investments, and Daimler Trucks.
Here's an overview of of the salaries you'll earn when in Portland, according to BestPlaces:
| | | |
| --- | --- | --- |
| | Portland | US Average |
| Average Annual Income | $32,438 | $28,555 |
| Median Household Income | $53,230 | $53,482 |
| Unemployment Rate | 6.9% | 6.0% |
You need an annual income of at least $60,000 to lead a relaxed and comfortable life in Portland. The highest paying jobs in Portland are that of surgeons who earn $285,020. The minimum work wages in Portland are $14.00 per hour. Local breweries, coffee roasters, and food businesses too earn well in Portland. You always have options and the community is supportive!
Education In Portland
Portland has many great public and private schools; there are also vocational courses your children can choose to study after their primary education. The education in Portland State University is top-notch and it gets the second-highest number of enrollments out of all universities of Oregon. The university alone has pushed a well-trained workforce into Portland's economy. Also, did you know that Portland State University is among the top 25 LGBTQ-friendly colleges and universities in the US?
If you're moving to Portland with your family, you must be looking for the best schools and universities for your children to attend. Let us tell you that Portland has no lack of them:
Elementary Schools
Buckman Elementary School
Abernethy Elementary School
Alameda Elementary School
Cedar Mill Elementary School
Chapman Elementary School
High Schools
Franklin High School
Lincoln High School
Roosevelt High School
Grover Cleveland High School
Grant High School
Universities And Colleges
University of Portland
Portland State University
Lewis & Clark College
Reed College
Multnomah University
Traffic And Transportation In Portland
Portland is brilliant in its public transportation and is a very transit-friendly city. There's frequent bus service to commute to work or there are the options of MAX light rail or streetcars. You can even rent a bike or an electric scooter rather than take your car because you don't want to add to the terrible traffic situation Portland is facing.
Portland's main airport is the Portland International Airport which is a 20-minute drive northeast of downtown. Portland's airport is one of the best airports in the US with frequent flights, staff professionalism, and management! You can also find the Portland Downtown Heliport which is Oregon state's only public use heliport.
If you want to travel to Seattle or Eugene by train, there's the Amtrak Cascades passenger train. If you want to travel to Chicago, you can hop on the Amtrak Empire Builder train.
See Also: What Salary Do You Need to Live in Portland, OR?
Places To Visit In Portland
There's much to see in this City of Roses which treats you with expansive parks, exotic gardens, and interesting museums. Here are some places you must check out:
Forest Park
This 5,000-acre park on the northwest of Portland is one of the largest urban parks of Portland. Located on the eastern slopes of the Tualatin Mountains, Forest Park is the best place to go hiking in Portland.
Portland Japanese Garden
The 12 acres wide Portland Japanese Garden is picturesque with its serene streams and intimate walkways. You should check out the Japanese Tea House and stop to awe at the view of Mount Hood from this garden.
Portland Art Museum
This is the oldest museum in the Pacific Northwest and has more than 50,000 items! You can see Native American artifacts, graphic arts, English silver, and Asian art in the museum. Don't forget to visit the Crumpacker Family Library here.
Best Places To Live In Portland
Moving to a new place can be intimidating, but not when you find yourself in between a warm community and a safe neighborhood. These are the best neighborhoods in Portland where you'll feel at home!
Lake Oswego
Lake Oswego is a beautiful city and neighborhood down south of Portland. If you're a lover of arts and want the best lifestyle, move to this neighborhood. There are some luxurious lakefront properties along the 415-acre lake which greets you with gorgeous views every morning. You can also expect to find some top-rated schools in Lake Oswego. You can brush shoulders with the Portland's wealthiest and one of your neighbors is sure to be a surgeon or a research scientist!
Population: 39,127
Median Home Value: $824,279
Monthly Median Rent: $1,595
Annual Median Household Income: $108,927
West Linn
If you're planning to retire in Portland, the West Linn neighborhood can be your perfect getaway. The place has a very suburban feel and the residents are conservative. There are many coffee shops, parks, and restaurants to spend your leisurely days in Portland. West Linn is also becoming popular among retirees because of its quiet life, closeness to nature, and its urban comforts.
Population: 25,109
Median Home Value: $713,538
Monthly Median Rent: $1,400
Annual Median Household Income: $83,933
Arlington Heights
With its magnificent vintage houses, renowned parks, and top schools, this is the perfect neighborhood in Portland to raise a family. You can take your children to the rose garden, the parks, or the Portland Children Museum. There are 300 single-family homes and more than 20 public and private schools in the Arlington Heights area. You'll love the Victorian cottages, English Tudors, and ranch homes in this neighborhood.
Population: 691
Median Home Value: $650,000
Monthly Median Rent: $1,633
Annual Median Household Income: $94,903
Pearl District
If you appreciate good food and a glass of good beer, this neighborhood is for you. Pearl District has many brilliant restaurants, bakeries, art galleries, and bookstores. The presence of casual joints, lounges, and nightclubs in this neighborhood makes it a hit amongst young working professionals. Commuting to work is easier since the neighborhood is walkable or you can take a bike to work!
Population: 5,997
Median Home Value: $563,323
Monthly Median Rent: $1,935
Annual Median Household Income: $89,148
Summing Up
Portland is overall a welcoming city with many job opportunities. Portlanders fiercely support local businesses and you can see them hanging out at the local breweries, coffee roasters, and clothing boutiques. Portland is quite vocal about its quirky upbeat culture which always reminds you to 'Keep Portland Weird. You're sure to love your stay in Portland and who knows, you'll end up making it your forever home!
See Also: Best Moving Companies In Portland OR
FAQs
Is It a Good Idea To Move To Portland?
Yes! Portland, with its many parks and amenities, is one of the greenest and the best places to move to in the US. It has the perfect balance between urban jungles and parks. Living in Portland means that you can drive one-hour westwards to see the sea and one hour eastwards to see the mountains. The housing market is high but it's worth it for the kind of diversity Portland provides.
Is Portland Dangerous?
Some parts of Portland like Powellhurst, Lents, Bridgeton, and Mills Park should be avoided as they are dangerous. The property crime rate in Portland is very high and the increasing homelessness makes the city unsafe. But overall you'll be just alright if you choose the right neighborhood.
Is Portland Expensive?
Yes, Portland is now expensive than ever, both the real estate market and the rental market are high. Newcomers without a decent paying job can struggle to pay even a 6-12 months rent in Portland. At the same time, it's an ideal time to invest in Portland's real estate market as the prices are expected to rise over the next few years.
Enter your information
Almost done!
Enter your information to view your quote.
Your information is safe with us. By using this service, you agree to receive email communications solely regarding your relocation process