Moving From NYC To Miami – A Detailed Guide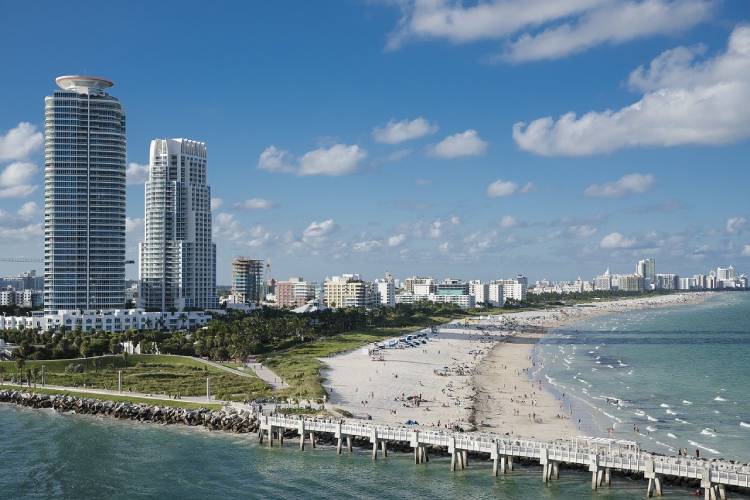 If you are yearning for a place that has sandy beaches, a diverse culture, and a plethora of job opportunities, then Miami is the city you're looking for. Many people have been leaving NYC solely to escape its shrill winters, high cost of living, and high traffic rate. Both the cities are indeed America's largest metropolises, but life in Miami is much different as compared to NYC. Many New Yorkers find life in the Magic City more relaxing, more affordable, and more delightful. If you're planning to move from NYC to Miami, keep reading our article to find out how to do so.
Some Points To Consider Before Moving From NYC To Miami
Weather
Miami is blessed with a pleasant climate. And that's why many New Yorkers have been moving to this city. The summers are warm but can get pretty hot especially during the peak summer season. But you don't have to worry about getting scorched by the sun since summers in Miami are in the comfortable range of 78°F to 87°F. Just carry some sunscreen and wear light-colored clothing to combat the heat.
Winters in Miami are warm as well with temperatures ranging between 63°F to 74°F. They're much milder than the summer but you'll still need an air conditioner to keep yourself comfortable. This is probably the reason why utility bills are much towards the higher end in Miami.
There's no need to invest in shoveling equipment while you're living in Miami because this city doesn't see any snowfall. We must say that this is a huge contrast to New York City's blistering snowy winters where New Yorkers shovel heaps of snow after a whiteout. Miami calls for more sunny days and no snowy evenings.
Cost Of Living
If you compare Miami's cost of living to the national average, it's definitely not cheap. But living in Miami is a lot cheaper than living in NYC. On the cost of living index, Miami scores 122.4 while NYC scores 168.6, which means that Miami is 37% cheaper than NYC.
Miami's affordability extends to the prices of real estate, groceries, utilities, and transportation. Adding to that, Florida has no state income tax, which means you'll see more money in your savings account!
But here's a major concern that everyone faces when moving: the price of buying a home. Well, if you're moving from NYC to Miami, you're sorted in that regard as the median home value in Miami is a stupendous 64% less than that in NYC! Here are the digits:
See Also: How Much Does it Cost to Move Out Of Miami?
| | |
| --- | --- |
| City | Median Home Value |
| New York City, NY | $654,300 |
| Miami, FL | $398,100 |
If you're not looking to buy a house but would rather rent a house in Miami, it won't be such a bad decision either. The reason? It's cheaper here than in NYC as well. Below is a table comparing the monthly rent between Miami and NYC:
| | | | |
| --- | --- | --- | --- |
| City | 1-bedroom | 2-bedroom | 3-bedroom |
| New York City, NY | $1,750 | $1,995 | $2,525 |
| Miami, FL | $1,345 | $1,689 | $2,240 |
Lifestyle
You'll find people living in NYC are always in a hurry. The overwhelming crowds in New York City's metropolitan areas are a testament to that. According to a survey by BusinessInsider, the Big Apple is ranked as the rudest city in America, proving that the stress of everyday life has a toll on New Yorkers.
On the contrary, Miami's lifestyle is very much unlike NYC's. Since Miami is closer to the East Coast, its residents are known to ease their minds off from hectic schedules by taking a 10-minute drive along the beach. Hence the locals in Miami are much more jovial and welcoming than in NYC.
Job Market
If you're moving to Miami for better prospects, then you're making the right choice. Being one of Florida's biggest cities, its economy thrives on many industries. The finance and commerce industries in this city have contributed lots of revenue to the state GDP. Following that, you have the tourism sector also garnering billions of dollars of tourist revenue from hotels, casinos, and cruise lines.
Here are some of the top employers of the city. Landing a job in any of these will guarantee better financial stability since these companies require an advanced skill set.
Akerman LLP
Alienware
Arquitectonica
Brightstar Corporation
Celebrity Cruises
Carnival Corporation
Duany Plater-Zyberk
Greenberg Traurig
Inktel Direct
You'll earn slightly less in Miami than what you used to earn in NYC. But you shouldn't be worried about that because the cost of living in Miami is much more affordable than in NYC.
| | | |
| --- | --- | --- |
| City | Annual Median Household Income | Average Income Per Year |
| New York City, NY | $52,737 | $32,459 |
| Miami, FL | $30,858 | $21,724 |
Transportation
NYC has an extensive system of subways, buses, commuter rails, and even ferries to get you across or within the city. Although they may be a bit crowded, people still choose NYC's public transit over driving mainly because of its efficiency. Miami may not have the same efficient public transit system like NYC, but it's still reliable in every way. You can get to nearly all commercial areas within Miami without even driving!
MetroBus: This bus system is primarily used by many to get within the Miami-Dade County, which then extends to Broward County and the Greater Fort Lauderdale area. However, due to traffic congestion, the buses may fall behind in their schedules. But those are just short delays.
Metrorail: This dual line (Green and Orange Line) train system carries passengers on its 24.9 mi track across 23 stations. The Green Line commutes to Dadeland South from Palmetto Station and the Orange Line travels to Dadeland South from Miami International Airport.
Miami Culture
Miami has a good blend of cultures spanning from its diverse population. However, the Spanish influence is pretty prominent in this city and hence it has been nicknamed the 'Capital of Latin America.' You might be already familiar with Miami's exuberant lifestyle through films such as Scarface, The Bird Cage, and Ace Ventura: Pet Detective.
Do you know that Miami has its own cuisine that goes by the name "Floribbean"? Preparing a Floribbean dish is pretty simple. All you need to do is blend some elements of the Caribbean and Latin American cuisine along with American cuisine. And voila! You have your own Floribbean dish.
Apart from beaches, Miami is surrounded by museums, art galleries, and state parks. Here are some of the most visited places in this city:
Art Deco District
Bayside Marketplace
Jungle Island
Little Havana
The Miami Science Museum
Everglades National Park
Also Read: Moving From NYC To Atlanta – A Detailed Guide
Best Places To Live In Miami
Brickell
Brickell is a closely-knit neighborhood with beautiful skyscrapers accompanying the seafront. People have been recognizing Brickwell for its proximity to shops, malls, and supermarkets. Even the nightlife is close by and has attracted a majority of the young population to settle in this area. And the best part? You're closer to the beach as well. So say goodbye to long commutes to the beach if you choose to stay in Brickwell.
Population: 35,591
Median Home Value: $452,059
Monthly Median Rent: $2,103
Annual Median Household Income: $79,174
Edgewater
Edgewater is voted as one of Miami's best neighborhoods to live in. The community here has a more progressive mindset towards life. Therefore, you'll not feel like an outcast if you support a different culture. Also, Downtown Miami and Wynwood are just a short distance from Edgewater so if you have friends living in those areas, just drop by and say a quick hello. What makes this neighborhood so special is that it is pretty much walkable. You don't need a car to get from place to place. And if you don't own a car, you can always use the Miami Trolley to get between cities or neighborhoods efficiently.
Population: 11,570
Median Home Value: $312,093
Monthly Median Rent: $1,825
Annual Median Household Income: $75,188
Coconut Grove
The name itself has a tropical tinge to it. As you might have guessed, life here is more laid back and relaxing since many houses overlook the seafront. What makes Coconut Grove appealing to newcomers is the fact its amenities are all within a walking distance. It's so walkable that some people who move in don't even bring their cars. Since many have been moving to this neighborhood, Coconut Grove has invested in constructing many luxury shopping malls and fine dining restaurants. So apart from the beach, you have these other places to spend time with family or friends.
Population: 21,493
Median Home Value: $737,714
Monthly Median Rent: $1,624
Annual Median Household Income: $106,834
The Cost Of Moving From NYC To Miami
Moving from NYC to Miami won't exactly be a cakewalk; after all, it's a long distance move covering a distance of nearly 1,300 miles!
Moving is an expensive affair, so you might want to do some budgeting beforehand. Many factors influence the cost of the move such as the location of the place, the time you're moving in, and the items being transported. Also, additional services such as packing and unpacking increase the overall cost as well. Therefore, we advise you to carry items that are only necessary. Any item not used within a year is considered unimportant; set that as your benchmark.
Here's the approximate price range of moving from NYC to Miami. As you can see the price range varies depending on the size and type of the move:
| | | | | |
| --- | --- | --- | --- | --- |
| Size Of The Move | Professional Moving Company | Moving Container Company | Freight Trailer Company | Truck Rental Company |
| 1-bedroom | $1,882 – $3,121 | $1,800 – $2,274 | $1,805 – $2,280 | $1,081 – $1,460 |
| 2-bedroom | $2,201 – $3,551 | $2,287 – $2,888 | $2,185 – $2,760 | $1,107 – $1,495 |
| 3-bedroom | $2,974 – $4,635 | $2,701 – $3,411 | $2,518 – $3,180 | $1,264 – $1,707 |
There are two ways you can go about your move: you can hire a professional moving company or you can rent a truck. A professional moving company will do all the work for you. They will load, unload, pack, unpack, and may even offer junk removal as a service. However, these services will come at a price and can be expensive. The latter option would be the cheaper alternative, but all the heavy work will have to be done by you. If you have family or friends to help you with that, then go for the latter option.
See Also: Moving To Miami
Conclusion
Miami may be comparatively expensive when you compare the cost of living to the rest of the country. But since you're moving from NYC, you'll find the cost of living much cheaper in Miami. The best part about living in Miami is that you're much closer to the east coast. To relax, you can breathe in more of that sea breeze from any of Miami's beaches if you ever feel burnt out. All of these sound good to you? Then it's time to move from NYC to Miami!
Also Read: Moving from NYC to Hawaii
FAQs
How Much Is A Move From NYC To Miami?
On average, you would pay around $3,000 to move from NYC to Miami. But check different moving companies for the best deals and avail yourself of discounts if possible.
Is It Cheaper To Live In Miami Or NYC?
Miami is way more affordable than NYC. If you look at the cost of real estate, utilities, and groceries in Miami, you'll see that stark difference in rates from the ones in NYC. You'll save more by living in Miami than in NYC.
Is Moving From NYC To Miami A Good Idea?
If your primary reason for moving is to reduce expenses, then yes! Miami is much more affordable than NYC. The weather in Miami is much agreeable (though it can get a bit too humid thanks to its proximity to the sea). If you're someone who'd like a more relaxed lifestyle near a beach, then moving from NYC to Miami would work for you!
Also See: Moving To New York City | Moving From NYC To Denver – A Detailed Guide
Enter your information
Almost done!
Enter your information to view your quote.
Your information is safe with us. By using this service, you agree to receive email communications solely regarding your relocation process