Is Hiring Movers Worth It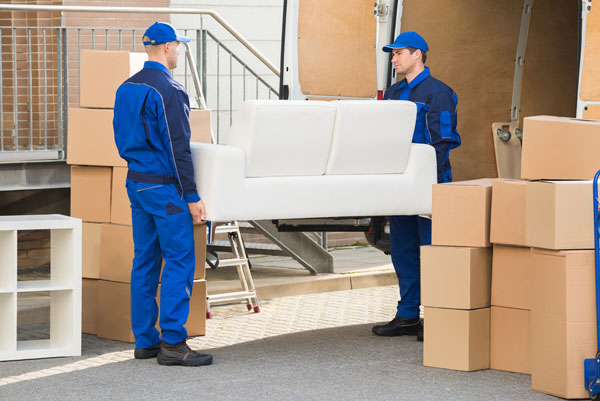 You have finally found the right place to relocate, ticking all the desired checkboxes on your list. Now is the time to begin with some planning and organization. It would help if you made practical decisions based on your needs and budget during the planning process. It would be best if you understood the magnitude of your move and its cost before thinking of hiring a mover.
There are plenty of options when choosing movers. You can opt for white glove services, which means everything will be packed and moved by the movers and unpacked again at the new house. The only moving services offer only moving options, like loading the truck, whereas you need to do the packing yourself. Besides these two services, you can hire only movers and loaders, who can move your boxes (packed by you and your family/ friends). You can also DIY the entire move yourself with the help of family and friends.
Before taking this crucial decision, you should ask a few questions to yourself and seek a proper and noteworthy answer. The answers will make you reach the right decision.
Why Hire a Moving Company?
Typically, moving is a very complicated and structurally complex affair. Many things need to be accomplished simultaneously. It would help if you were focused and very organized to handle such tasks. Most of the time, people hire moving companies because they are very overwhelmed with the thought of moving, winding up their homes, and re-opening the boxes again at the new house. All this sounds like a task!
Besides, it is essential to pack well and load appropriately in the loading truck; otherwise, it can be dangerous for your belongings and mental and physical health. A wrong pick-up of a heavy box can leave you immobile for a few months.
Professional movers are well acquainted with the intricacies of moving. They know the right way to pack to avoid breakage and systematically load the truck. The boxes are arranged to not move when on the move. They are loaded, keeping in mind the unloading procedure too. They keep the heavy and dangerous items at the bottom and lock them so that they do not move. The professionals also have moving equipment like the moving dolly and tow truck. Hiring a professional can make your move extremely comfortable and make the moving process much more manageable.
To determine if you want to hire a moving company or not? You should answer the following questions:
• Are you comfortable lifting heavyweight?
• Are you good at packing small to oversized items?
• Are you confident at stacking the loading truck?
• Would your family, friends, or neighbors come to help you while shifting?
See Also: How to Find Same Day Movers Near You | What to do When Movers Are Working Too Slowly on Purpose
Is it cheap to Recruiting a Moving Company?
It is way more expensive to hire a moving company than DIYing the move yourself. But it might be more costly to cure an ailing back, repair broken furniture, discard an antique piece or overcome a mental trauma. You should think well before making the decision. The DIY method for moving works very effectively if you are very well planned and organized at delegating tasks to people around you. The list of tasks should be pre-assigned to all the helping members. Such diligence and organization calls for self-packing and moving. You can pack all small and big boxes, articles, and furniture, and on a moving day, you can hire the loaders and a moving truck to shift. Packing and unpacking is one thing, but mental and physical stress isn't worth the deal. You should only try the moving process yourself if you are under financial pressure.
Check your timeline
Organizing, sorting, packing, boxing, loading, moving, unloading is a huge task. Generally, people who are moving get very little time to leave their old house and occupy the new one. It is due to the rentals which people want to save on. If you are moving across states for a new job, you still have a strict timeline to join your new office at the earliest. It also could be that you have already sold your current home and have just a month to leave your house. Many a time, you need to keep in mind your children's school schedule. When you have time restraints, hiring professional help is advisable.
Calculate the Costs
Unlike hiring moving professionals, a DIY move doesn't come with a hefty fee. However, you should check upon all the costs involved to make your move successful. You will need to buy moving boxes, tapes, staple guns, box liners, and packing paper to pack yourself. You might also need to rent moving equipment like dollies and furniture pads for loading your boxes smoothly.
Finally, the most significant expense will be the moving truck and fuel cost.
If you are lucky to get help from your friends and family, you are required to thank them in some way or another. You can pay for their accommodation (If they have traveled from another town to help) and buy them meals. This is the least you should do. If you add all the small expenses, you might find that hiring help could not have been as expensive as you initially thought.
See Also: How to Calculate Moving Costs
Physical Ability to make a move
Most of us usually lift a heavy box or a table without a second thought. But moving many boxes and a lot of furniture on the same day is not easy. Think about carrying heavy furniture, a big bed, sofas, dining and study table, big electrical gadgets like a refrigerator, washing machine and many other things one after the other. If this sounds like a back-breaking task and an ordeal to you, hire the professionals.
Moving heavy items can take a toll on you physically and, eventually, your health. It can jeopardize your safety also if you are not trained to handle heavy items up and down the stairs. Shifting will become a traumatic task if any accident takes place. Hiring professional movers will be worth it!
When to hire professional movers
How quickly do you need to make a move? You can make plans and contact your near and dear ones to help you with packing and loading if you have enough time. But, if you are pressed for time, it is advisable to hire help for your move. It will reduce stress and help you focus on the more important things like handling documents, changing utility bill addresses, taking care of the finances, and, most importantly, saying your goodbyes to friends, family, and neighbors.
If planning to hire packers and movers, keep in mind that the spring and summer seasons are the busiest hence the most expensive for moving. You can save money if you can shift during any other months besides these. You should book their services much in advance to secure your desired dates.
If your budget doesn't allow you to hire help for the entire movie, you can hire services for particular tasks. For example, you can pack all your house's small and medium-sized things, including the kitchen, and recruit helpers to pack and move the furniture and big appliances. You can help load the truck on a moving day. It is essential to pack electronics well, since a little scratch or fall might destroy your expensive TV, Fridge, exquisite chinaware, or picture frames.
It will be wise to let your boxes travel with the movers for a long-distance move instead of driving the big truck yourself. If you meet your stuff at the new place, you might have the energy to quickly unpack and sort your things. Also, if you are moving cross-country, you might be passing through extreme weather. In this scenario, driving the truck yourself with your boxes doesn't sound wise.
When should you DIY the move?
DIYing is a lot of work but saves you a lot of money. So, if you are on a shoestring budget, it is the ideal option. It is easy to DIY if you are moving just a few blocks away or have significantly less stuff to move to your new home.
Pack all your small and big things yourself in due course of time. Plan your packing, buy your supplies and organize them well. Make a handy box with tapes, markers, labels, staple guns, etc. It is easy to source anything you want and be ready. When packing, the most important thing is to put all the things required for one room or section of the room in the same box. Pack your bedroom closet in one box and mark it as "Closet of the bedroom." It will save you a lot of trouble when you unbox it in your new house.
Declutter your belongings before beginning to pack to give you more clarity and fewer things to pack.
Also Read: Hiring Movers Vs. DIY Move: Which is Best For You?
Conclusion
If you are a hustler and like to do things on your own and have a group of helpful friends, go ahead and accomplish the move yourself, but if you are not so proficient with packing and handling heavy objects, opt for professional help. The question oft-asked is, is hiring a mover worth it? Yes, it is worth it because they take away a lot of stress from you and help you navigate the moving process smoothly and happily.
FAQs
Is it worth hiring a moving company?
Hiring movers may not be as expensive as you might think. Besides, you can also use the help of professional movers for a small part of your moving and loading. When you receive a quotation from your mover, weigh it against the amount of work, time, and energy required by you to accomplish it. You might decide to hire the mover.
Is it cheaper to move without professional movers?
You will save a significant amount of money when you DIY your move, but that doesn't mean it will be cost-effective. It might be more costly to cure an ailing back, repair broken furniture, discard an antique piece or overcome a mental trauma. Remember to consider these costs when deciding whether to move with or without professional movers. You should think well before making the decision.
Enter your information
Almost done!
Enter your information to view your quote.
Your information is safe with us. By using this service, you agree to receive email communications solely regarding your relocation process