Moving to Vermont | Relocation Guide for 2022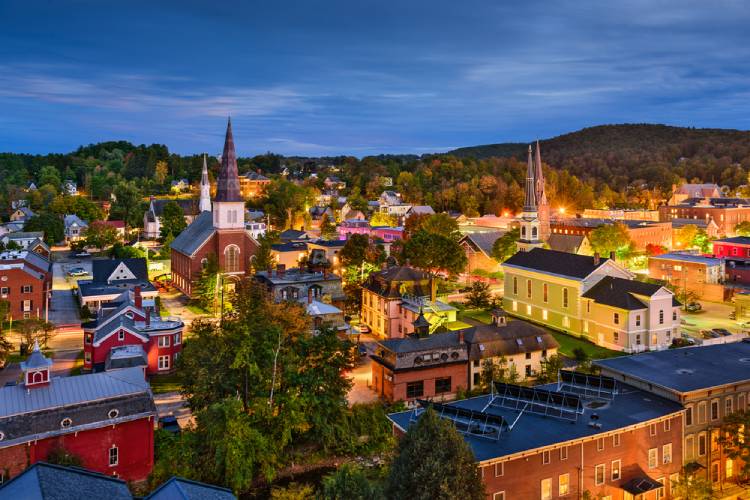 When people hear of Vermont, they instantly think of maple syrup. In all likelihood, you're guilty of that too, right? But apart from this liquid gold, the state is also known for its low population, rolling mountains and harsh winters. So it's clear that Vermont has a way of alluring nature lovers, all thanks to how rich a landscape and culture it boasts of.
If you're wondering about the nickname of the state, you can be rest assured because it does have one. Vermont is fondly called the Great Mountain State, a name that was given by Samuel de Champlain. This French explorer called the mountains of Vermont "Verd Mont", on his map in 1647, which unsurprisingly means "green mountain".
If you are planning on moving to Vermont, we have compiled a list of things you might want to glance through to make your moving experience simpler.
Living In Vermont: What To Know Before Moving To VT
Vermont is the second least populated state in the United States, with a population of 600,412. Consequently, if you're moving from a densely populated state, Vermont will be nothing but bliss. You can be sure to avail of the benefits that come with living in a state that's not excessively crowded. We give you a short list that might give you an overview of the state.
Pros And Cons Of Living In VT
Below we give you a short list of the pros and cons of living in the Maple State.
Pros
1. Education
Vermont ranks fourth for its public education system and has the lowest student to teacher ratio. This means that our kids will receive a higher quality of education in Vermont's schools than they might in any other U.S state.
2. A Quiet Life
You can be sure to have a peaceful time while you live in Vermont. Even the state's cities do not have a large population, and the state is filled with family friendly towns and suburbs.
Cons
1. Cost Of Living
The cost of living in Vermont can turn out to be higher than expected, since the state's average costs of groceries, energy and taxes are higher than some U.S states.
2. Job Opportunities
Vermont's economy falls among the smallest in the United States. Even though the state has a very small unemployment rate, finding jobs that fall in niche fields can be tough.
Tax Rates
It is crucial that you look into the tax rates of a state before you decide to live there, instead of just going by the standard of living costs. Vermont is one such place that's affordable, but the tax rates are some of the highest in the United States. The Maple state has an income tax rate that will fall anywhere between 3.35% to 8.75%, depending on which income bracket you fall under.
Moreover, Vermont also has both state and local sales taxes, the total of which falls anywhere between 6% to 7%. Some of the commodities that are exempt from sales tax include clothing, prescriptions, over the counter drugs, newspapers and food purchased for off-site consumption. When it comes to property taxes, residents of Vermont pay an average effective rate of 1.83%, which falls among the highest property taxed states in the country. However, note that these rates might differ based on where you choose to live in the state.
In conclusion, Vermont levies high taxes on its residents, which you might have to budget for once you move here.
VT Housing Market
Don't you wish sometimes that things like housing were taken care of by someone for you? We so wish that too, but as tedious as the job is, you have to look into it carefully yourself. We would say that housing in Vermont is moderately affordable, but it depends on where you want to live in the state and what your housing preferences are.
The median home price in the Maple State is over the national average at $245,000, which keeps fluctuating from time to time. Note that this average steadily keeps increasing making the state more expensive as the months pass. Furthermore, the median rent cost in Vermont ranges from $762 for a studio to $2,100 for a house/four bedroom apartment. Consequently, rent here is the 17th highest among all U.S states. Reminder to also calculate your property tax if you plan to buy a house here, since as mentioned above, it stands at an average effective rate of 1.83%.
In conclusion, the housing market in Vermont isn't the most expensive if you compare it to other eastern states like Massachusetts or Florida.
Cost Of Living in Vermont
The cost of living in Vermont is lower than the national average. However, it was also on CNBSs 2017 list of "10 Most Expensive States to Stay In". This is because groceries, utilities, taxes and energy bills combined can turn out to be quite heavy on your wallet.
When it comes to energy prices, residents of Vermont currently pay 19.17 cents/kWh which is extremely high when you compare it to the national average of 13.31 cents/kWh. The long and cold winters in the state add to the energy bills, making them higher as the heaters run all day long. Average utilities, groceries and healthcare costs are also way above the national average. We suggest you be mindful of such costs while you budget.
Weather And Natural Disasters
The climate in Vermont is like you'd find in the other eastern states, warm in the summer and freezing cold in the winters. Subsequently, the climate is categorized as humid and continental. July is the hottest month and temperatures can range from 75°F (23.9°C) to 82°F (27.8°C). On the other hand, January is the coldest month of the year with temperatures ranging from 2°F (-16.7°C) to 12°F (-11.1°C). Additionally, Vermont experiences precipitation throughout the year. However, it rains the most in spring and the beginning of summer.
As compared to states like Florida, Vermont isn't extremely disaster prone. On the contrary, the Maple State does have its fair share of natural disasters. The months of spring and early summer also experience tornadoes that can turn violent in hilly areas. Snowstorms as well as blizzards are common in the winter months, which sometimes highly reduce visibility, forcing residents to stay indoors. Additionally, they also result in creating huge deposits of snow, shutting schools and stalling work.
The Economy
Fun fact: Vermont has one of the smallest economies in the United States. Consequently, it also has a very low unemployment rate. The state's economy benefits from agriculture, manufacturing and technology. Moreover, real estate and finance are also growing industries that contribute greatly to the state's economy. In 2019, the state was given the 45th rank on the Forbes Best States for Business list, which sure is underwhelming. You might want to note that Vermont is the largest producer and exporter of maple syrup in the country, which you might have already guessed from the state's nickname.
Tourism is a thriving industry in Vermont, generating a large amount of revenue for the state. In 2018, around 13 million tourists visited the Maple state, spending approximately $2.8 billion on touristic activities. Visitors flock the state for its beautiful and picturesque fall scenery, and the winter months allows them to visit several ski resorts.
Traffic And Transportation
Vermont's transportation system isn't as extensive as the ones its neighbouring states boast of. The Maple State, however, does boast of rail, air, ferry and interstate bus services. What can be a bit of a surprise is how these services fail to connect every part of the state adequately. If anything, they only succeed in providing sufficient transit between the more densely populated areas. A fascinating thing that the state does offer to make commuting convenient and more eco-friendly is their park and ride facilities across the state. Currently, these facilities are operational in 27 locations and are open 24/7 throughout the week.
Things To Do In VT
Tourism is one of the biggest industries in Vermont, owing to its beautiful winter ski resorts and its maple farms and mesmerizing fall. So if you're wondering what are some of the best sights to experience and places to visit in Vermont, here's a list for you to get started on your explorations.
Hildene – The Lincoln Family Home
Hildene is the family home of President Lincoln's descendants and was fully occupied by them until 1975. Robert Tood, the only son of President Lincoln, was the first owner of the estate. After 1975, the home was opened for visitors to enjoy self-guided or docent-led tours of the exceptional 400-acre grounds, which include the mansion and 13 historic buildings. The main attractions here are the formal garden, a 1903 Pullman car, an observatory, a solar-powered goat cheese and dairy-making facility, and a historic carriage barn.
The Church Street Marketplace
Church Street Marketplace is located in downtown Burlington taking up around four blocks with exceptional shopping space and dining. Additionally, the marketplace has an outdoor mall which features more than 100 dine and shop places. You will also find numerous festivals and ample local musicians and entertainers here all year round round.
Morse Farm Maple Sugarworks, Montpelier
If you are in Vermont, then you have to visit Morse Farm Maple Sugarworks in Montpelier, which manufactures the world's best maple syrup. You can find a multitude of maple-infused products, tour the farm and factory, and learn how the syrup-making process works. If you are lucky enough to visit this place in the month of March, you should definitely try sugar on snow, a Vermont delicacy.
Shelburne Museum
If you're a lover of art and history, you must visit the Shelburne Museum, which is a testament to Vermont's natural beauty and cultural history. Located on 45 acres of land near Lake Champlain, it is a complex rather than a single Museum.
There are more than 150,000 works displayed in 39 buildings at the museum, which are from the 19th and 20th century. Some of the country's most diverse examples of folk arts, paintings, decorative arts, textiles and quilts are on display here.
Killington Ski Resort
If you failed to visit a ski resort in Vermont, you might as well regret it. The Killington Ski Area in Vermont is spread across 1,500 acres of skiable terrain and 73 miles of trails. The trails offer different options like free skiing, snowboarding, quad riding and snow-mobiling. Killington also offers a variety of additional mountain adventures such as scenic gondola rides, sleigh rides, snowmobile and snowshoe tours, and a tubing park.
If you are adventurous and love high-flying, during summers you can experience high-flying fun with attractions such as the Sky Ride – a 600-foot-long, 100-foot high, 30-mile-per-hour glider offering unbeatable views. Another highlight is the Beast Mountain Coaster, a 4,800-foot-long alpine coaster that twists and turns through the woods, giving riders a 360-degree breath-taking view.
Schools And Universities
If you're worried about the quality of education in Vermont, you can rest easy. The Maple state ranks fifth best for public education out of all other American states. Additionally, Vermont spends more per child than any other state in the US. It also ranks eighth for quality of education, having the lowest pupil to teacher ratio in the country, which helps the teachers to be involved totally with each student. The schools are also safer, ranking fourth for safety.
The best public schools in Vermont include the Franklin Central School, Marion W. Cross School, Canan School and Craftsbury School, which mainly help students from lower income groups. Despite being the second smallest state in population, Vermont has many colleges and universities. The University of Vermont is the only research university in the state with an in-state tuition fee of $19,062. Another notable college is the Middlebury College, which is ranked ninth in the list of National Liberal Arts Colleges in the United States. Since Middlebury is a private institution, its tuition fee is an approximate of $58,316.
How To Become A Resident Of VT
Vermont required residents to live in the state for 183 days before applying for residency.
Vermont DMV
Applying for vehicle registration in the state has to be done within 60 days of establishing residency. Similarly, the state gives a period of only 60 days once residency is established to transfer your out of state license. If your out of state license expires before 60 days, it is mandatory that you obtain a new license before that period.
Getting the license is a straightforward process. The first step is visiting the nearest Vermont DMV office with the following forms:
Information about your Social Security number
Identity Proof and date of birth
Lawful status in the United States (only for those who have a Real ID and EDL)
Vermont residency proof and current address
We suggest you find the list of acceptable documents for the above on the state website. Your out-of-state license has to be handed to the office once you obtain your new Vermont license.
If your out-of-state driver's license has been expired for not more than three years, you can still apply for a Vermont license at the DMV office. All you will be required to do additionally is give an eye test.
If you have an international driver's license, the state allows you to drive in the state for a year's time. However, you must carry your international driver's permit with you at all times. Additionally, there are certain conditions that you must adhere to like having the sign EST on your car etc. Please refer to the state DMV website for details about such conditions.
Also note that the state provides a list of countries whose permits and licenses it considers valid. Check the state DMV website to see if you fall in this list.
Five Best Places To Live In Vermont
1. Morrisville
Morrisville is a village with a population of 2,400, located nine miles north from the town of Stowe. Furthermore, the town has great amenities with several high rated microbreweries, restaurants and the well-equipped Copley Hospital. Surprisingly, the little town also has numerous recreational facilities like the Lamoille Valley Rail Trail.
The median home price in Morrisville is $170,700 and the median home rent is $784, which is much lower compared to other towns in the state. No wonder it falls in multiple lists of Most Affordable Places to Live in Vermont. Consequently, the town is great for retirees and families who are just starting out.
If you're wondering about the availability of good schools in such a small town, you have nothing to worry about. Morrisville has good public schools with an extraordinary low student to teacher ratio of 11:1. Some top public schools include the Morrisville Elementary School, Peoples Academy, and Peoples Academy Middle School. Moreover, colleges in close proximity include the Keller Graduate School of Management and Wake Technical Community College.
2. Burlington
Burlington is the largest city in Vermont, with a population of 42,570. In fact, it ranks high among the other best places to live in Vermont. Irrespective of the large population, the community is closely knit. The highlight of the city is the annual food and drink festival held every September on the Lake Champlain Waterfront with music and cultural activities.
Fun fact: in 2015, Burlington became the first city in the country to run completely on renewable energy. Burlington's small size helps you to walk or bicycle everywhere, further helping in cutting down the transportation cost while contributing towards an eco-friendly environment. The median home price here is $363,334, which is certainly a bit steep. Similarly, the median home rent is $1,177. With respect to employability, tech companies like Burton and Dealer.com attract employees with well-paying jobs.
The city is also known for its great quality of education, as the public schools spend over $21,000 per student each year. Subsequently, schools here offer many extra curricular activities which enrich the students' learning experience. Some of the top public schools include South Burlington High School, Frederick H. Tuttle Middle School and Orchard School. Burlington is known as a college town with University of Vermont and the Private Champlain College for the young.
3. Montpelier
Montpelier is the capital city of Vermont and known to be the country's smallest capital with a population of around 7,547. The people here lead a healthy lifestyle with more people walking or cycling to their workplaces. Montpelier is also filled with opportunities for recreational activities such as hiking, a picnic in Hubbard Park or watching movies at the theatre. The Lost Nation Theater is a notable spot in the city that the locals really love.
The city ranks third in real estate website Niche's Best Place to Live and Retire in Vermont. When speaking of housing, the median home price is $247,600, whereas the median home rent is $992. When we talk of schooling, public schools in Montpelier are highly rated with some top rated schools being the Montpelier High School and Main Street School. Colleges within reach include the New England Culinary Institute, Goddard College and Norwich University.
4. Brattleboro
Brattleboro is a town with a population of 11,608 very close to major urban areas – New Hampshire and western Massachusetts. Residents love the weather here, as it is slightly sunnier and warmer as compared to the northern cities and towns of Vermont. Nearly 58% of the people here own their own houses and the average commuting time is 15 to 20 minutes, which means more time to spend at home and live a healthier life. Outdoor activities are in full swing for all the four seasons and there are many art galleries and restaurants lined up on the streets.
The median home price in Brattleboro is $202,000 and median home rent is $874. The town was ranked 9th in Niche's Best Places to Retire in Vermont list out of 71 other options. Some of the top public schools in Brattleboro are Oak Grove School, Chesterfield Central School, and Brattleboro Union High School. There are around eight good colleges within the proximity of 20 miles, the most popular ones are Franklin University, Landmark College and Marlboro College.
---
Conclusion
Vermont is a great place to move to if you want a peaceful life with good education for your kids. Moreover, it can be an ideal place to plan your retirement. If you plan on moving to Vermont, we suggest you read the necessities and don't stress!
See also: Moving Companies in Vermont
Enter your information
Almost done!
Enter your information to view your quote.
Your information is safe with us. By using this service, you agree to receive email communications solely regarding your relocation process