Moving To New Hampshire – Relocation Guide for 2022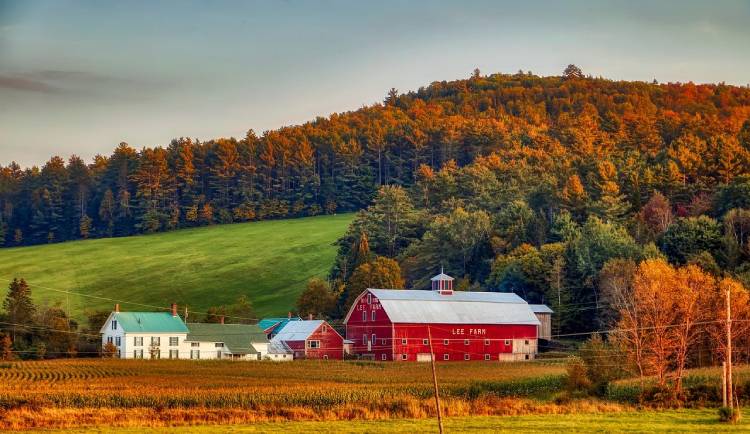 New Hampshire is a state filled with indefinite history. Its motto 'Live Free or Die', has played a grave role in motivating the soldiers fighting during the American War of Independence. Also, it is nicknamed the Granite State because of the many quarries and granite formations it maintains.
Since New Hampshire is situated in the north-eastern region, you'll find the state's most famous mountain range: The White Mountains Range. The range includes Mount Washington, Mount Adams, and Mount Jefferson. Interesting, right? But it shouldn't just be the state's natural beauty that determines if you should move here. Here's everything you need to know before moving to New Hampshire, which will help you make a better decision and determine if this move works for you.
Living In New Hampshire: What To Know Before Moving To New Hampshire
New Hampshire is the 10th least populous state of America having a population of roughly 1.3 million residents. The state capital is Concord and the largest city is Manchester. Here are a couple of facts about the Granite State you should think about:
Pros And Cons Of Living In New Hampshire
Pros
It's Beautiful!: New Hampshire is a feast for your eyes. Although it's smaller than most states, you'll not believe the aesthetics New Hampshire has. There's a certain charm its lakes, mountains, and forests possess that you can't ignore. Lake Winnipesaukee has a vast area providing countless recreational activities year-round. If you're fond of skiing, head over to Mount Washington.
Here, you won't get the hustle and bustle like other states; a refreshing environment with clean roads, fresh air, and fewer people.
Low Crime Rate: Everybody dislikes criminal-driven neighborhoods. Raising a family in fear where safety is questionable is unpleasant. However, you'll be pleased to know that New Hampshire has some of the lowest crime rates in the country. According to SafeWise, the state had 1.5 incidents per 1000 people; the national average is around 4.49 incidents per 1000 people. Similarly, property crime has dwindled.
Quality Education: One thing is for sure: New Hampshire does not compromise on the standard of education. The amenities provided by public and private schools in this state are similar in many ways, but where the cost of living is concerned, private schools are a bit pricier.
If you're searching for a less populous state with a good level of education for you or your children, then New Hampshire is the place to be in.
Booming Economy: According to US News' Economy Rankings, New Hampshire ranked 13th among other states, which proves that New Hampshire is a small state with big economic value.
Cons
The Winter: If you're not fond of snow, living in New Hampshire will be less of a pleasurable experience. Due to its north-eastern domain, you can expect to see winters that last for four months accompanied by heavy snowfall. Also, the terrain can be mushy after the sun melts part of the snow. This makes commuting a bit tedious.
Public Transportation: Intercity travel is a task if you don't have acar. There are no trains for daily use, and the bus system from Manchester and Concord touches some parts of the state. You'll have to commute to Boston to access the remainder of New England. If buying a vehicle is not within your means right now, then it's not the best idea to move to New Hampshire.
Pests: From flies to black spiders, New Hampshire has all the possible pests you can think of. Keep a couple of insect-killer sprays in your cabinet because you'll need them a lot.
Low Internet Bandwidth: Due to its geographical region, getting a decent bandwidth is strenuous. Also, cellular range tends to drop too.
Tax Rates
This is the part you'll like the most: New Hampshire has no income and sales tax. Yes, you heard that right. A tax-friendly state means more savings. Although the state and income tax are zero, property taxes are pretty steep in this state. So you might want to remember this factor before buying a house. The average effective property tax rate is a whopping 2.05% as compared to the national average of 1.1% which makes it the fourth-highest property tax rate in the country. On average, you will be spending approximately $5,575 per annum on property taxes.
Housing Rates
Housing rates are another punch in the gut in New Hampshire. The median home value in this state is around $357,000; this is 22% higher than the national average. Why such a huge gap, you may ask. The only reasonable explanation could be that many homeowners were hesitant to put their properties on the market due to the COVID-19 scenario. Hence, fewer homes were on the market and the number of buyers increased to take advantage of the low interest rates.
Also, rent is higher than the national average in this state. The average rent per month for a 2-bedroom apartment is $1,310 while a 3-bedroom apartment will cost you $1,679.
Cost Of Living
According to the stats produced by BestPlaces, New Hampshire scores 105.4 on the cost of living index, which means living in New Hampshire is a bit more expensive than the national average of 100. This is all attributed to the rising costs of utilities, real estate, and groceries.
Per month, a Granite Stater spends an average of $477 on utility bills. This is 19% higher than the national average. A rough breakdown of an average utility bill would be:
Electricity: $170
Internet (60 Mbps): $61
Cable: $103
Water: $42
Weather
Summers are pleasant, but winters are frigid in New Hampshire. During the peak summer season, the average temperature in the Granite State is between 70°F to 85°F. New Hampshire is known for its serene beaches, so make the best use of them during this period. Also, consider moving during this season if you haven't yet.
Now we come to the other side of New Hampshire's weather: its winter. The average high temperature during the peak winter season in this state is between 14°F to 34°F. At times, the temperatures can go below freezing, so you might want to pack a couple of extra jackets and coats in your luggage. Expect to see an average of 20″ to 22″ of snow during this season. Some places like Mount Washington receive tremendous snowfall hitting 44″ on some days.
Economy
Despite being a small state, New Hampshire's economy is booming. As it is ranked 13th in the US economy, you can be sure of finding well-paying jobs in this state. Its GDP is $73.6 billion and here are the top contributing industries to the state's economy:
Healthcare services
Business services
Engineering and management
Educational services
Travel and tourism
New Hampshire has an unemployment rate (3.2%) below the national average (6%). Along with that, the median household income in this state is $65,986 a year, higher than the US average of $53,482.
Traffic And Transportation
Nothing much can be said about New Hampshire's public transport except for the fact that it's lacking in many ways. Dartmouth Coach and Concord Coach Lines serve part of the state, but it's better to have your own vehicle to get around quicker. Also, the remote areas of New Hampshire don't see any form of public transportation, leaving you with fewer options to travel.
Schools And Universities
New Hampshire has some of the finest schools and colleges in the country. According to the U.S. News & World Report's latest survey, the White Mountain State ranks second in the country in Pre-K12 education. Here are some of the top colleges in New Hampshire:
Dartmouth College
University of New Hampshire
The University of New Hampshire at Manchester
St. Anselm College
Keene State College
Plymouth State University
Southern New Hampshire University
Colby-Sawyer College
Rivier College
Granite State College
How To Become a New Hampshire Resident
To become a New Hampshire resident, you need to establish residency. You need to live in New Hampshire for at least 12 months. After doing that, you can apply for a driver's license.
New Hampshire DMV
After establishing residency in New Hampshire, you need to apply for a driver's license within 60 days: head down to your DMV with proof of residency (utility bills, paychecks), proof of citizenship (passport), and your Social Security Number.
Vehicle Registration
The next step after obtaining your driver's license: getting your vehicles registered. You need to go to your town or city clerk's office and submit the following documents:
The out-of-state registration.
Lease agreement, if applicable.
Lienholder's name and address.
Proof of residency
Register to Vote
You can register to vote after you have fulfilled the following clauses:
Citizen of the United States of America
A resident of New Hampshire
18 years or older
However, New Hampshire does not have online registration for a voter ID. You'll have to visit your town or city clerk's office or register by mail. If for some reason you're unable with those two methods, you can register on the day of the election as well.
Places To Visit
1. Morningside Flight Park
If paragliding and hang gliding are your lifelong dreams, then Morningside Flight Park is the place. This flight park caters to all ages, so you don't have to worry about being left out. Along with that, this place offers kayaking, outdoor laser tag, and zip-line canopy tours. Morningside Flight Park is your one-stop adventure destination in New Hampshire.
2. White Mountains
There is a lot you can do in the White Mountains: you can bike, hike, golf trek; the list just carries on. If you need to spend a family day weekend, do visit the White Mountains.
3. The Beaches
New Hampshire is blessed with abundant sunshine; make good use of it by spending the weekend at the beach. Though it has a short coastline, New Hampshire's beaches have substantial crowds pouring into them. Hampton beach, which is one of the state's recognizable beaches, has a lot of fun activities to do.
Best Places To Live in New Hampshire
Hanover
If you're looking for a quiet town that's less populous, then Hanover is the place. The streets are lined with eateries, book stores, boutiques, and coffee shops which are within walking range from where you live. The Green (Dartmouth College) is one of New Hampshire's well-recognized colleges where students from far and wide come to pursue degrees in social sciences, engineering, or psychology. The community is well-knit and the scenery is a delight. You'll never feel distant in Hanover.
Population: 11,555
Median Home Value: $724,300
Monthly Median Rent: $1,458
Annual Median Household Income: $94,063
Portsmouth
Looking out for a place closer to the beach? Then Portsmouth should be the right fit for you. Traffic is relatively low and Boston is much closer to Portsmouth. The community encourages local businesses, so you'll always get this warm feeling of being home here in Portsmouth. Also, if you're planning on moving here with your family, Portsmouth would be your wisest choice.
Population: 21,557
Median Home Value: $564,000
Monthly Median Rent: $1,792
Annual Household Median Income: $67,679
Bedford
Bedford is more of an education hub in New Hampshire. With top public schools like Riddle Brook School, Bedford High School, McKelvie Intermediate School, and Ross A. Lurgio Middle School, you can be certain that top-notch education will be administered to your child. Also, Manchester is just a 12-minute drive away from Bedford. Reaching a major city within a few minutes is such a luxury.
Population: 22,957
Median Home Value: $560,200
Monthly Median Rent: $1,750
Annual Median Household Income: $123,423
Conclusion
In conclusion, New Hampshire is a pretty good state to move to. You have the quality infrastructure, good schools, and even ample job opportunities. Only the winters are a bit harsh, so you'll have to watch out for those below-freezing temperatures. And the public transportation system is underdeveloped. If you can cope with some of these cons, then New Hampshire will serve you well.
FAQs
Is New Hampshire A Good State To Move To?
Several reasons make New Hampshire a good state to move to: no income and state taxes, booming economy, friendly people, quality education, and beautiful beaches.
Are A Lot Of People Moving To New Hampshire?
According to the New Hampshire Business Review, around 61% of relocations were into this state in 2020. The pandemic was the main reason why people chose New Hampshire.
Why Do People Retire To New Hampshire?
The retirement tax rates in New Hampshire are some of the lowest in the country. Apart from that, the lifestyle is not fast-paced and the traffic is less as well. The neighborhoods are serene as well, hence people choose New Hampshire over some other states.
See Also: List of Affordable Movers to Move to New Hampshire
Enter your information
Almost done!
Enter your information to view your quote.
Your information is safe with us. By using this service, you agree to receive email communications solely regarding your relocation process