Moving To Arkansas – Relocation Guide for 2022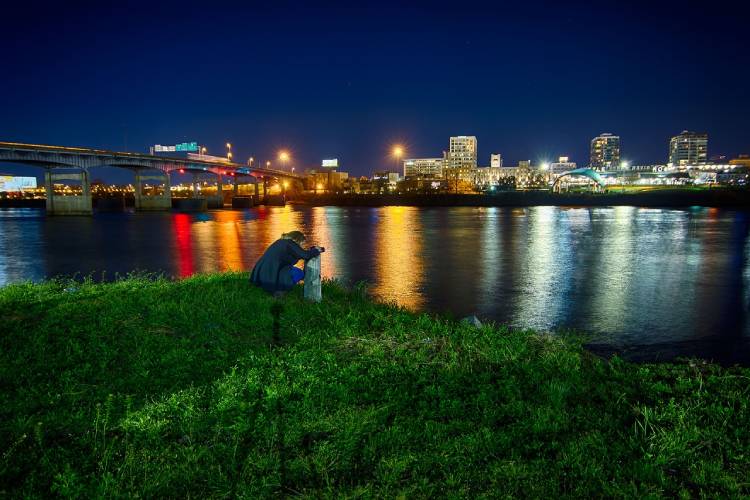 What can be said about Arkansas? Tucked in between the borders of Louisiana, Texas, Oklahoma, Missouri, Tennessee, and Mississippi and graced by the Ouachita Mountains and Ozark's mountainous regions, Arkansas is a model of immense beauty, history, and culture.
We don't want to give away much of what this state has in the introduction itself. And if you're planning on moving to Arkansas, there are a lot more factors to consider. Here's everything you need to know about just that!
Living In Arkansas: What To Know Before Moving To Arkansas
Arkansas is the 34th most populous state in America with Little Rock being its capital and most populous city.
Pros And Cons Of Living In Arkansas
Let's dive into the positive and negative aspects of The Natural State.
Pros
Low Cost Of Living: You'll be saving a lot of your hard-earned money living in Arkansas. Due to its affordable cost of living, you can easily buy or rent a house. Even the groceries and utilities are cheap. Compared to other states, you will feel an 11% to 14% decrease in costs.
The Outdoors: It has been tagged The Natural State because of the mesmerizing beauty it holds. You'll never run out of parks, mountains, lakes, or forests to explore. We have mentioned a couple of places you should visit in the latter section of our article.
The Property Taxes: Apart from affordable real estate, you have lower property taxes too. It should come as no surprise that you'll be saving a lot more on housing than anything else. Of course, the area and location of property do play a role in influencing the rates of these taxes, but you won't get a shock when the tax bill is mailed home.
Amazing Food: You won't be on an empty stomach in this place. Arkansas has some of the finest Southern delicacies such as chocolate gravy, possum pie, potato donuts, delta tamales, and fried chicken. Barbecue parties are common throughout the state as well, so don't reject any party invites!
Cons
High Crime Rate: One of the factors you should consider is the crime rate before moving to any state. When it comes to the crime rate in Arkansas, you'll be disappointed because the rate is higher than the national average.
According to BestPlaces, violent crime stands at 30 on the crime index scale; the national average is 27.7. Similarly, property crimes are at 44.6 while the US average is 35.4.
Sub-par Public Transportation System: If you rely on public transport to get you to work, then don't bother coming into this state. Although the state has a pretty impressive roadway system, the public transportation system is lacking in many ways. Rural areas are affected the most because of their remote nature and rugged terrain. A car is a must if you want to get around Arkansas efficiently.
High Obesity Ratio: A state with good food is bound to have a high obesity ratio. Around one-third of the population suffer from obesity. We said "suffer" because it plagues the health of an individual. When in Arkansas, enjoy the cuisine, but don't go overboard with it.
Wildlife And Mosquitoes: Arkansas' vast scenic terrain comes with a price. Beware of venomous snakes such as copperheads, cottonmouths, and rattlesnakes. Stay far away from them unless you're a snake catcher. Black bears and bobcats are a common sighting as well, so be vigilant when you hike.
There is a common joke among the locals that the mosquitoes should be made the official bird because of their size. So check for any stagnant sources of water and take care of them as soon as possible.
Tax Rates
The tax rates in Arkansas vary greatly. There are moments to cheer about and some other moments to strategize your spending. For starters, the income tax rates on the residents of Arkansas are some of the lowest in the country. Depending on how much you earn, the progressive income tax rate varies from 0% to 6%. Also, if you're looking to buy a house, then there's good news! You'll be saving a lot because Arkansas has the property tax rate set to 0.61%, which is way below the national average. An Arkansan spends an average of $1,605 per year on property taxes.
Now here comes the bit where tax rates exceed the national average. The top marginal sales tax rate in this state is at a whopping 11%. This is because each county stacks an additional tax rate on top of the sales tax rate imposed statewide. That means buying motor vehicles or home appliances will be pricier than in some other states.
Housing Rates
People leave their dream of owning a house for the sole reason of escalating real estate prices. However, that dream can be fulfilled here in Arkansas because the price of real estate is cheap and we did tell you about the property tax rate as well. In other words, you have more freedom to grow vegetables in your backyard and more options to customize your house.
Let's get down to the numbers, the state has a median home cost of $145,300, which is approximately 50% less than the national average. If buying a house is not on your checklist, then renting an apartment is your next best option. Again, the prices are below the national average and you'll be saving a lot of money. Here's a table of the rent per month compared to the US average.
| | | |
| --- | --- | --- |
| Size Of The Apartment | Average Rent Per Month | US Average Rate |
| Studio | $589 | $949 |
| 1-bedroom | $625 | $1,048 |
| 2-bedroom | $765 | $1,278 |
| 3-bedroom | $1,030 | $1,681 |
| 4-bedroom | $1,215 | $1,950 |
Cost Of Living
Moving to a different state only makes sense if you want to cut down costs. On the cost of living index (a 100 point scale), Arkansas scores a 79. That means the cost of living here is less than the national average. Factors such as affordable transport, cheap groceries, and inexpensive utilities contribute to the lessening of the cost of living in this state.
Here is an estimate of the inexpensive utilities we talked about. It comes to $333 per month, which is 16% less than the US average of $400.
Electricity: $110
Gas: $78
Water: $27
Sewer: $39
Cable: $48
Internet: $31
Weather And Natural Disasters
Since Arkansas is a southeastern state, expect hot and humid summers. The average daytime temperature is around 92°F and sometimes crosses 100°F in some southern parts of the state. The high humidity in the air causes frequent thunderstorms and tornadoes to occur especially in July when the temperatures are the highest. If possible, don't plan on moving to Arkansas during the summer.
Winters are frigid in this state. With average low temperatures between 24°F to 34°F, you'll know that carrying a few extra woolen clothes is a must. The best time to visit Arkansas is during the fall season when the leaves are changing and the daytime temperatures are pleasant.
Economy
If you're looking for a state with a booming job market accompanied by a low cost of living, look no further because Arkansas has a GDP of $ 114.37 billion in 2020. Here are some of the state's major contributors to the economy:
Aerospace and defense
Technology
Corporate and shared services
Food and beverages
Manufacturing
You're in luck if you happen to be associated with any of those fields above because such lucrative jobs are in abundance in this state. As a result, the unemployment rate stands at 4.8%, which is below the national average of 6.0%. Another reason why people prefer moving to Arkansas.
You'll earn an average income of $22,595 a year, which is 20% less than the national average. But you don't have to worry since the cost of living is below the US average. So that amount will be sufficient for you to live on. Similarly, the median household income is $41,264, which is 22% less than the US average.
Traffic And Transportation
Arkansas has an extensive road system and ranks as the 13th highest in the country. Traveling is much easier when interstates such as I-40 and 1-30 run across major cities like North Little Rock and Fort Smith. People can drive to work and the strain is not felt much. But the downside is the congested traffic and the numerous accidents that make Arkansas lose a few brownie points. Arkansas has seen a total of 467 fatal crashes in 2019 where the deaths per 100,000 people sticks are 16.7; the national average is 12.4.
Some parts of the state such as Hot Springs and Fort Smith have poorly maintained roads and this increases the maintenance costs of your vehicle. So you might want to consider these factors before taking the plunge to come here.
As far as public transportation is concerned, it is underfunded and undeveloped. Some rural parts of the state don't even see any form of public transport; hence, people end up walking to their destination. So, it will be better to own a car to get to places efficiently. You'll see some bus services in Little Rock, but even then, they're pretty much limited.
Schools And Universities
While higher education excels in Arkansas, post-secondary education is subpar in this state. Where quality of education is concerned, Arkansas ranks 41th in the country according to USNews. Due to improper funding to higher secondary institutes by the state government, good teachers have been leaving to search for opportunities elsewhere in the country. However, we have curated a list of some decent schools based on reviews from parents.
Elementary
Omaha Elementary School, College Road West Omaha, Omaha School District
Atkins Elementary School, Northwest 4th Street Atkins, Atkins School District
Middle
Ashdown Junior High School, South Ellen Drive Ashdown, Ashdown School District
Atkins Middle School, Northwest 4th Street Atkins, Atkins School District
High
Armorel High School, Highway 137 Spur Blytheville, Armorel School District
Barton High School, Highway 137 Arkansas 85 Spring Creek Township, Barton-Lexa School District
Universities And Colleges
University of Arkansas, Fayetteville
The University of Arkansas at Pine Bluff
Arkansas Tech University, Russellville
Henderson State University, Arkadelphia
Southern Arkansas University, Magnolia
University of Central Arkansas, Conway
Hendrix College, Conway
Arkansas Northeastern College, Blytheville
Black River Technical College, Pocahontas
Places To Visit
Garvan Woodland Gardens
This is the more natural side of Arkansas. If you need to spend the weekend with your family or alone with your dog, then you should visit this place. The surroundings are lush because of the numerous botanical gardens (20 to be precise) present and have a nearby cafe if you need a coffee break while appreciating the scenery around.
Hot Springs Mountain Tower
If you want to have a bird's-eye view of the mountains of Arkansas, then this 216-foot structure will not disappoint. You'll see 150 miles of scenery covering the Ouachita Mountains, the Hot Springs Mountain, and the Diamond Lakes Area. There is also a gift shop and a small eatery at the foot of the tower.
Clinton House Museum
This place is a small nugget of American history. This National Historic Landmark was once the home of President William J. Clinton and First Lady Hilary Rodham Clinton. Located in Fayetteville, this structure holds numerous photographs and artifacts that showcase the time spent by the Clintons. The Clinton House Museum is indeed a time machine that will take you back to 1975.
Other Notable Places You Should Visit:
Magic Springs Water & Theme Park
South Arkansas Arboretum
Compton Gardens & Arboretum
William J. Clinton Library & Museum
Thorncrown Chapel
Best Places To Live In Arkansas
1. Rock Creek
Rock Creek has a more laid-back lifestyle and is suited for those who want to escape the hustle and bustle of rush hour. The area is surrounded by parks and recreational activities, so you don't have to drive to another part of town to exercise. Not buildings, but people make up a neighborhood. And in Rock Creek, you're going to have some of the warmest welcoming people ever. You can just ring them up if you need help with anything at any part of the day. The area has several elementary schools, so if you're looking for education nearby, Rock Creek has you covered.
Here are some places that you ought to visit to know more about its parks and surroundings:
Bowman Curve II
Chenal Parkway
Rock Creek Recreation Area & Campground
Population: 18,320
Median Home Value: $241,234
Monthly Median Rent: $1,179
Annual Median Household Income: $78,764
2. Fayetteville
We did mention the Clinton House Museum, right? Well, if that attracts you, wait till you get to hear the rest of what this town offers. Many students have been moving here to take advantage of the University of Arkansas. Although Fayetteville is considered to be a college town, you can still raise a family here thanks to its quiet neighborhoods. The streets are lined with numerous shops, delicious eateries, and clean parks. Also, the number of cultural programs organized by the community will make you feel homely.
Here are some of the places often visited in Fayetteville:
The Walton Arts Center
Lake Fayetteville
Donald W. Reynolds Razorback Stadium
The Fayetteville Farmers Market
Population: 85,166
Median Home Value: $207,600
Monthly Median Rent: $799
Annual Median Household Income: $43,690
Conclusion
Summing up everything, Arkansas has a low cost of living, cheap real estate, and rich scenery. Although there are a couple of flaws such as heavy traffic, and sometimes extreme weather, these points can be dealt with or adjusted in time. If the positive side of Arkansas resonates more than the negative aspects, then you should plan on moving to Arkansas. Plan well and have fun!
FAQs
Is Arkansas A Good State To Move To?
Numerous reasons make Arkansas a good state to move to. The economy is diverse, the people are friendly, and the neighborhoods are much quieter than other places.
What Should I Know Before Moving To Arkansas?
Arkansans are huge sports buffs. College sports, due to the presence of the University of Arkansas Razorbacks football team, are a big deal in this state. To fit in, you might need to support a team. Also, Arkansans are known for their chocolate gravy. Try dipping a couple of biscuits or crumbling some bacon on top of it. It tastes heavenly!
How Much Money Do You Need To Comfortably Live In Arkansas?
You'll need an annual salary of approximately $22,000 to live a decent life in Arkansas. This will cover rent, utilities, and groceries.
Enter your information
Almost done!
Enter your information to view your quote.
Your information is safe with us. By using this service, you agree to receive email communications solely regarding your relocation process