Moving to New Jersey | Relocation Guide for 2022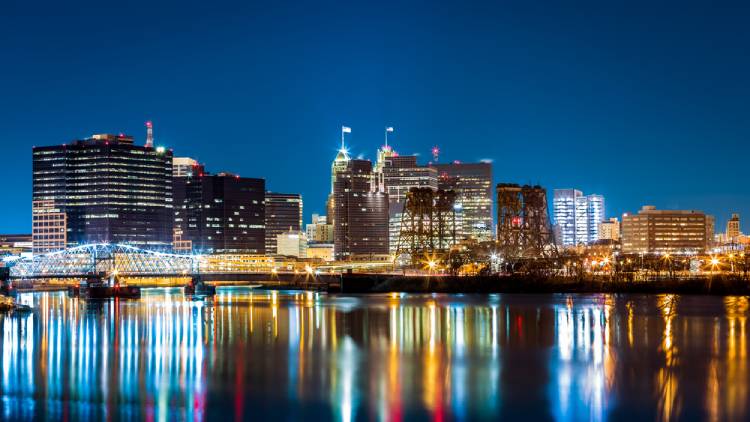 Have you ever wondered what it would be like to live by the Atlantic Coast in one of the most culturally diverse places in the United States? New Jersey has many more attributes that make the idea of living there mesmerizing. Home to the Statue of Liberty and some intense politics, the state is rich in culture, beaches and food. It's also situated on the Northeastern Megalopolis which makes it extremely accessible.
If you're thinking of moving to New Jersey, we've compiled a list of things that you need to know. Keep reading to get insights about this state.
Living In New Jersey: What To Know Before Moving To NJ
The population of New Jersey has seen a steady rise in the last two decades. It is not surprising since the state boasts of the best public education system, great healthcare infrastructure, and higher job opportunities. New Jersey also has a higher quality of living and is ethnically more diverse as compared to most American states.
According to the Census Bureau of the Government of New Jersey, the population has been increasing by 0.50% per annum. The population stands at 9,241,900 residents as of 2020. Consequently, New Jersey is the most densely populated state in the country.
Pros And Cons Of Living In New Jersey
We give you a list of the pros and cons of living in the state which might help you decide.
Pros
1. Education
As you've read already, New Jersey ranks first in the United States for public education. Apart from that, the state also has a total of 63 high schools and universities, giving you a diverse option to choose from. Additionally, these schools also rank pretty high for learning opportunities and student diversity.
2. Nature
New Jersey is rich in its flora, with numerous national parks and gardens across the state. Living here is comparatively quiet as compared to the other American states because of growing natural cover. Some well-known spaces dense with nature are the Greenwood Gardens and the Great Swamp National Wildlife Refuge.
3. Hospitality And Culture
New Jersey is home to numerous restaurants and bars that provide a wide range of options. Due to the population's ethnic diversity, you will be sure to find restaurants that offer a wide variety of cuisines for your taste buds. The state is also a rich cultural center. If you love jazz music, you'll be happy to know that one of the world's top jazz clubs – the Madisons Shanghai Jazz is in New Jersey. You will also find museums and theatres like Paper Mill Playhouse, a Tony-Award-Winning theatre which is also the "State Theatre of New Jersey".
4. Job Opportunities
The state has a booming economy owing to the number of industries and firms ranging from pharmaceuticals and healthcare to professional and financial services. The state also has some of the biggest industries in the country, thus creating a multitude of job opportunities. The tourism industry in the state also leads to the generation of thousands of jobs a year.
Cons
1. Expensive
With such facilities comes mounting price tags. Living in New Jersey whether on rent or in your own house is expensive. From taxes to property rates, the cost of living in the state is pretty high, especially if you want to live in the bigger cities.
2. Traffic
Urban congestion is a major problem in most cities in New Jersey. If you have jobs in the bigger cities like Garden City or Newark, you can be sure that commute time can go high during peak hours. Highway infrastructure is also in a pretty beaten down condition in most areas.
Tax Rates
If tax rates factor in your list of things to consider if you want to move, it's crucial that you research the rates that apply now and might apply in the future. When it comes to New Jersey, you might want to be more careful because it's one of the highest taxed states in the United States.
The average sales tax in the state stands at 6.625%, which isn't much as compared to other states and falls very close to the national average. However, property taxes are the second-highest in the United States, the average standing at 2.44% which is way over the national average. Income tax rates range from 1.40% up to 10.75%, and yes, that falls in the highest top rates in the country. However, you can take a breather if you don't own a house or your income falls in the lower bracket, as the taxes you pay will consequently reduce.
New Jersey Housing Market
New Jersey is an exorbitantly expensive state to live in. With all the benefits that you will experience by living in the state, the cost of this experience will be steep too.
New Jersey has two of the wealthiest counties in America, namely Hunterdon County and Somerset County. Most residents in the state fall in the high-income bracket which makes buying or renting a house extremely competitive. At the same time, if you are one of those people and you're looking to buy a house, keep in mind that property taxes are steep too.
According to the Apartment data from 2017, the median rent of a studio apartment in New Jersey falls at $1,084 per month and the median home value is $448,778. The appreciation rates of housing in the state are also steadily increasing with the last quarter itself showing an increase of 2.35%.
Living in the suburbs can be more affordable as compared to living in the cities. Some of the more affordable suburbs where you can choose to move are Beckett, Lincroft and Phillipsburg, and Springdale.
See Also: Largest Cities in New Jersey
Cost Of Living
The average cost of living in a state can be on the lower or the higher end, depending on the lifestyle you choose to lead. However, as compared to other states, the cost of living in New Jersey is relatively high.
Healthcare is more expensive than most other states in the United States, going way above the national median for those living in cities. However, these costs are lower in the suburbs. The median monthly energy bill in the state is $102.38, which is cheaper than the national median. However, this might steeply increase if you live in the state's big cities like Newark and Jersey City. When it comes to monthly groceries, you will have to pay higher than the national average. In the bigger cities, residents pay an average of $300 a month on food. This estimate might rise or fall depending on where you live and your lifestyle.
To conclude, the cost of living in New Jersey is high. Consequently, if you're moving from a low taxed state, you might want to consider this while you plan your future budgets
Weather And Natural Disasters
In New Jersey, you will experience one of the two weather conditions, depending on where you choose to reside. The north-west part of the state has a humid, but cooler climate due to its elevation. On the other hand, the north-east, south, and central parts have a humid climate that's subtropical in nature. Summers in the state are hot and stand at an average of 90 °F (32 °C) while winters can reach a low of 43 °F (6 °C) to 28 °F (−2 °C). In the north-western part of the state, however, as expected, annual winter temperatures can drop to sub-0 °F (−18 °C). The state experiences precipitation throughout the year, specifically in late spring and summer.
New Jersey doesn't experience many natural disasters compared to other states in the country. However, Nor'easters or northeasters which are macro-scale cyclones in the West Atlantic Ocean typically cause blizzards or excessive flooding in the northeastern regions in late spring or early winter months. The best way to stay safe is by staying indoors and keeping batteries charged to avoid getting injured by strong winds outside. Snowstorms are also common in the winter months but there's no need to worry since they do not cause havoc. Furthermore, New Jersey hardly experiences other disasters like earthquakes, tornadoes, and tropical storms.
The Economy
New Jersey's economy has thrived due to growing tourism in the last decade. According to The Economic Impact of Tourism's 2019 report, tourism in New Jersey has single-handedly contributed to the generation of thousands of jobs while supporting around 342,937 jobs in the same year. Additionally, tourism has generated a revenue of $5.1 billion for state and local taxes in the year 2019 itself. Visitor spending in the state has grown by $6 billion since 2015 which is higher than most states in the country. New Jersey is also situated in the Northeast Megalopolis, which has the most extensive transportation system with numerous airports and highways, making it easier for national and international tourists to visit the state. The state is also close to New York City and the Philadelphia Metropolitan region, both of which attract a massive influx of tourists.
When it comes to Industries, New Jersey has a vibrant variety of scientific industries like pharmaceutical firms, chemical development plants, biotechnology, telecommunications, and food processing among others. Additionally, the state is home to numerous Fortune 500 companies making counties like Somerset and Monmouth the highest-income counties in the United States. These are responsible for generating a large number of employment opportunities and revenue for New Jersey's economy. Furthermore, the state's geographic location comes with a huge added advantage – the New Jersey Port is the busiest on the east coast apart from the Port of New York.
Traffic And Transportation
When it comes to transportation, most residents of the state travel in public transport. However, commute times are higher in the cities as compared to the suburbs. According to data by the Census Bureau, the median commute time in New Jersey is also five minutes extra than the median national commute time. A recent report by the Reason Foundation on highways in the country reported that New Jersey's cities have the worst traffic congestions in the country. Furthermore, New Jersey's roads are some of the worst in the United States, which is shocking. Additionally, Garden State is notorious for having the most aggressive drivers in the country.
If you own or buy a car, a gallon of gas will cost you $2.92, which is the state average, a little higher than the national average of $2.90. If you apply for car insurance, the median annual premium in the state stands at $1,520.
Things To Do In New Jersey
New Jersey is a cultural hub that's also big on hospitality. It also has numerous national parks and gardens that nature lovers can visit. Since there are so many things to choose from, we give you five places you can visit.
See Also: Best 5 Moving Companies in New Jersey
Pinelands Adventure, Shamong
If you love the natural cover that forests offer, Pinelands Adventure in Shamong is the best for hikes and long walks. Every story that you must have read centering around pirates, ghost towns and meandering rivers is most probably inspired by this forest. Here, you'll also find a
vast area of cranberry bogs.
Trenton Punk Rock Flea Market, Trenton
When you think of vibrant markets, Trenton Punk Rock Flea Market is the one that doesn't fail to take center stage. Vendors from all around New Jersey come to sell their products here. You will find food trucks, music, street-ware, and jacket patches among other goods.
Battleship New Jersey, Camden
The Battleship is a World War II ship that was put into service in 1942. When you walk on the deck of this ship, you will feel history coming alive in front of your eyes. You must at least visit it for the view of the sun setting behind the ship which will leave you in awe.
Thomas Edison Home and Laboratory, West Orange
For lovers of Edison's work, his lab and home can now be toured. This lab was where he invented the bulb, the motion picture and electric grid.
Albert Music Hall, Waretown
Are you someone whose heart can't stop throbbing for bluegrass music? Then you have to definitely visit Albert Music Hall! It is spread out in an area of 6,000 square feet and was first opened on January 5, 1997. Every Saturday, all year round, local bands play bluegrass country music that you can tap your feet and groove to.
NJ Schools And Universities
If you have kids, you would be glad to know that the state of New Jersey has a higher ranking education system as compared to the other 50 US States. The public school system has also been ranked as the best in the country by Education Week. The state is thickly populated, and the population here is diversified, so you can find both the rich and qualified, along with the underprivileged poor and uneducated among the population.
Most of the population is settled in counties surrounding New York City, Philadelphia, and along the eastern Jersey Shore. According to research conducted in 2019, The High Technology High School situated in Lincroft, Monmouth County is the best public school followed by Bergen County Academies, at Hackensack. The High Technology High School is also ranked as the best in the country for STEM education. However, getting into these schools is very competitive, since the application numbers are high and the seats limited.
With good education comes a steep price tag. Top-notch private schools in New Jersey are extremely expensive. For example, for a private elementary school, the average fee is around $9,000 annually and for high school, it is somewhere around $18,000 annually. The private elementary school average is $9,114 per year and the private high school average is $18,435 per year. The private school with the highest tuition in New Jersey is The Lawrenceville School, with a tuition fee of $66,360.
With respect to colleges, New Jersey has some of the best. From these, the top includes Princeton College which is an ivy-league college situated in Princeton followed by Rutgers University-New Brunswick in Piscataway.
See Also: New Jersey DMV Change of Address
How To Become A Resident Of New Jersey
Becoming a resident of New Jersey is a simple process. Like a few other states, to obtain residency in New Jersey, it is crucial that you reside in the state for a period of 183 days and maintain a permanent home. The first step to becoming a resident will involve applying for a driver's license.
New Jersey MVC
Which license you can use to drive in the state depends on whether you are planning to be a temporary resident for vacation or business purposes or a permanent one. If you are a temporary resident, an out-of-state license is enough for you to drive on the roads of the state. However, according to the state's law, you must carry your insurance and vehicle registration cards with you at all times.
Note that you are not permitted to drive to or in the state with a license that's expired, revoked, or suspended.
If you own a vehicle, your out-of-state license and vehicle registration/title must be transferred within 60 days. For those transferring a commercial driver's license, the period is only 30 days. For this purpose, you will have to visit a Motor Vehicle License Centre and submit the documents, insurance information, and original title. Furthermore, you will have to purchase a transfer permit and pay an additional fee when a four-year New Jersey license is given to you.
You will require to provide the following documents to pass the 6 point ID requirements:
Any one primary ID (check the state website for the options)
Any one secondary ID (check the state website for the options)
Social Security number that is verifiable
Address proof
We advise you to check the state website for more information about the documents required. Additionally, only those applying for a transfer of a Commercial Driver's License (CDL) will be required to give a medical certificate, pass an eye test, and provide fingerprint documents that are necessary.
If you are an international citizen, a temporary visa will suffice in order to apply for a driver's license. However, you must fit in one of the several categories that the state website mentions to apply for the same. 
Four Best Places To Live In New Jersey
As you've already read, New Jersey has a very competitive real estate market. This is also because most places in the state come equipped with every little thing that buyers want. From safe localities to impeccable infrastructure, we give you a list of some great places to live in New Jersey.
1. Princeton, New Jersey
Princeton is located in Mercer County and has a population of 30,540. It is located almost exactly between Philadelphia and New York, making it a perfect suburb for people who might want to travel frequently to both these places but want to live in a quiet suburb.
The cost of living is steep in Princeton with people normally owning independent homes. The median home value stands at $349,800 and average rent at $1,223 for a single-family home. It is a great place to shop, walk around and eat, with many parks and eateries around. Princeton also has a very low crime rate and is relatively safe to live in. It also has good public schools and the famous Princeton University.
2. North Arlington
North Arlington is located in Bergen County with a population of 15,800. This suburb stood at No. 8 in TIME's Money Magazine's Best Places to Live in America 2017. Arlington is a
beautiful suburb with a low crime rate and will offer you all the benefits of a big city.
New York is just 10 miles away from North Arlington, and the Meadowlands Sports Complex and MetLife Stadium are within a considerable distance. The median home value stands at $349,800 and average rent for a single-family home is $1,223.
3. White Meadow Lake
With a population of just 9,000 White Meadow Lake is a happy little suburb in Morris County, falling in the top 10 list of happiest places in New Jersey. The suburb has many meadows and picturesque places with good public schools like the Copeland Middle School, which is part of the Rockaway Township Public Schools. It is one of the safest suburbs in the state and the unemployment rate is the lowest here.
4. Ridgewood
Ridgewood in Bergen County has a population of around 25,000 living in picturesque turn-of-the-century farmhouses and old Victorian homes. Living here is expensive as the average home value in this village is $716,400 and rental prices are around $1,981 a month. However, irrespective of the rates, the population has been increasing due to the parks, good schools and the better quality of living.
---
Conclusion
Thinking of moving to New Jersey? The move can be extremely beneficial for you and your family owing to everything the state has to offer. From a quieter living and proximity to cities like New York to the best education in the country, the state comes with its pros. The state's beautiful suburbs can also make a great place for retirement. If you can afford the costs, New Jersey is the best place you can move to!
See also: Moving Companies in New Jersey
Enter your information
Almost done!
Enter your information to view your quote.
Your information is safe with us. By using this service, you agree to receive email communications solely regarding your relocation process