Moving to Massachusetts | Relocation Guide for 2022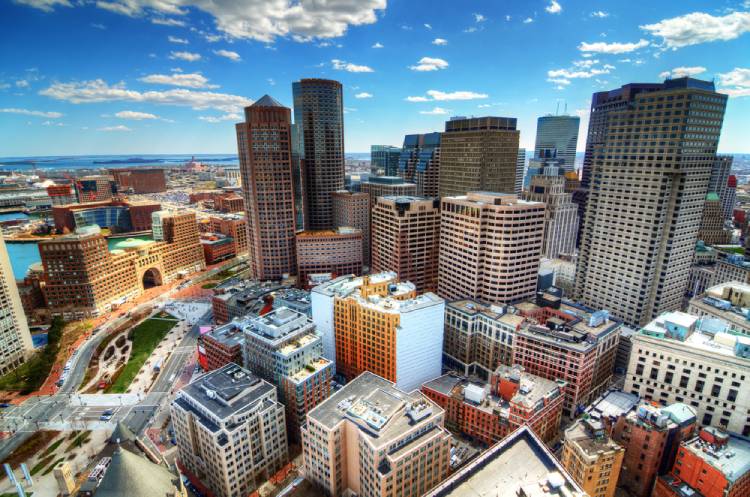 You might know of this beautiful state because of the prestigious Harvard University or the Massachusetts Institute of Technology. Maybe you have also heard of it being called the Commonwealth of Massachusetts. The state of Massachusetts is fondly nicknamed the Bay State or the Old Bay State, because early settlements were first built on Cape Cod. Moreover, it is also in reference to the Massachusetts Bay Company, which was given a royal charter to encourage settlement in the new land in 1629. On the other hand, Massachusetts is called a commonwealth for a simple reason that it exists in the constitution and was never changed.
If you are planning on moving to Massachusetts, we have compiled a list of things you might want to know and read about before you decide to move.
Living in Massachusetts: What to Know Before Moving to Massachusetts
The state of Massachusetts ranks third in terms of population density in the United States, with a population of 2.7 million. Moreover, among the six eastern states, Massachusetts is the most densely populated state. The state also has some of the Best Places to Live in the United States and the best public school system in the country.
Pros and Cons of living in Massachusetts
Let us share with you a short list of the pros and cons of living in Massachusetts, which will give you a small insight into what living in the state is like.
Pros
1. Education
Massachusetts ranks first in the United States for education and 27th for higher education. If you have children, you can be sure that they will get to be a part of the best public school system and the best colleges in the country. Furthermore, the state is also the most educated state in the country.
2. Job opportunities
The state ofMassachusetts has a number of Fortune 500 companies. At the same time, it is home to numerous industries that range from biotechnology to finance. These industries generate a large number of jobs annually, making the state great for young professionals and others alike.
3. Flat Tax Rates
Massachusetts levies flat rates on your taxes, which means that irrespective of what you earn, the taxes levied will not change. This is a plus point if you fall in the higher income brackets or if you're a young professional looking to advance in your career.
Cons
1. Expensive
The Bay State has exorbitantly high real estate prices, which makes it unaffordable to a large section of the population. The cost of living in Massachusetts is also higher than the national average.
2. Traffic and Transportation
Most cities and suburbs in Massachusetts have massive congestion problems. Cities like Boston are notorious for hours spent in the car navigating traffic. At the same time, the mass transit systems usually breakdown or cause great grievance to commuters.
Tax Rates
Massachusetts is one of the nine states in the United States that levies flat rates on their taxes. The income tax stands at 5.05% with no tax brackets. This is a bonus if your income increases, since your tax rate will not fluctuate. However, if your income falls in a lower bracket, there is no need to be alarmed, as taxpayers can make deductions based on college tuition, child care expenses, student loan interest payments, rental expenses, etc. Furthermore, you can also lower your taxable income by applying for personal exemption, which can vary depending on filing status. Visit the state website for more details on whether you can make deductions in your taxes.
The sales tax stands at 6.25%, which has to be paid irrespective of what you purchase. On the contrary, some items are exempt from the tax like newspapers, most grocery store products, healthcare products, and personal or professional services. Clothing items up to $175 are also exempt from taxes. Property tax rates won't dig a hole through your pockets in Massachusetts. Of course, that depends on where you live, as they range from 0.31% up to 1.68%, with the average rate of 1.22%, which is certainly high.
Massachusetts Housing Market
Buying or renting a home in a new state can be fairly challenging. When it comes to the Bay State, you might want to put a fair amount of money aside for housing purposes. You also have to consider property tax rates, the average of which stands at 1.22%. To give you some more perspective, that's the 18th highest in the United states.
The median home value in the state stands at $443,771, which is again considerably higher than most states. In the last five years, total appreciation rates for housing in the state have climbed by 27.53%. This increases in major cities like Boston, for example, where the median home value is $460,300. That's higher than both Washington D.C. and New York!
When it comes to renting, the median rent for a studio apartment in the state stands at $1139 – certainly higher than most states. To add to that, average rent for a one bedroom and two bedroom apartment is $1274 and $1580 respectively.
See Also: Massachusetts DMV Change of Address
Cost Of Living
According to a 2018 study by CNBC, Massachusetts is the third most expensive state in the United States to live in. Consequently, this means that the cost of living will also be higher than most states in the country.
According to Salarycom, in cities like Boston, Brookline, Warthem, Medford and Arlington, the cost of living is 50% higher than the national average. According to the Greater Boston Food Bank, Massachusetts has the highest food rates in the country. Moreover, this cost increases by 24% in most Eastern Massachusetts cities. So no surprise that you can expect to keep around $300 to $369 for food monthly. Energy prices in the state are also high, with the cost per kWh being 22.57 cents, which is the third highest in the country.
The state law requires residents over 18 years of age to have health insurance, unless it's not affordable. Moreover, if not complied with, the state can impose penalties. A positive point is that the Bay state is ranked as the second best state for healthcare and its subsequent affordability. A welcome respite to help reduce your financial burden to some extent at least.
To conclude, the cost of living in Massachusetts is insanely high. Moreover, in bigger cities, the average can rise even higher, due to better facilities and the mounting price of utilities, food and transportation. We suggest you budget your finances well to live a comfortable life, in case you are planning on moving to Massachusetts.
Weather And Natural Disasters
Massachusetts has a continental climate that's also humid in nature. This is characterised by hot and humid summers and cold winters that receive abundant snowfall. The highest average temperature is usually recorded in the month of July and can go above 80 °F (26.7 °C). The nights are cooler with the average low falling to 66°F (18°C). January receives the most snowfall with areas in the inner parts of the state experiencing temperatures below 0°F (-17.8°C). The coastal areas are usually cooler in the summers and warmer in the winters as compared to the inland areas.
Every region is prone to some forms of natural disasters and Massachusetts is no exception. The state is prone to wildfires, hurricanes, snowstorms, floods and droughts. Moreover, the Bay State also experiences frequent thunderstorms in the months of spring and summer. In these times, you must try to be indoors, while securing outdoor items that are at risk of being pushed around by strong winds. Snowstorms are common in November, with the western and central parts of the state relieving an average of 2540mm of snow in the winter months of November to January. Don't be surprised if you also end up witnessing your fair share of storms coming from the North East in these months.
The Economy
The economy in Massachusetts has highly grown, thanks to the state's numerous industries that range from venture capital investment, biotechnology and finance to high technology, healthcare and information technology. The state is home to twelve Fortune 500 companies like TJX companies, Boston Scientific and Liberty Mutual, among others which generate new jobs annually. Fun fact: the Bay state is the second highest producer of Cranberries and has around 33,000 non-profit organizations that employ a large number of residents. Additionally, Massachusetts ranked fifth in handling the economy in 2017 in the U.S News and World Report.
Tourism has also had a significant impact on the economy. As of 2018, according to the MOTT report, tourism alone supported 153,200 jobs and paid $5.6 billion in wages. The industry also contributed $1.6 billion to state taxes. Furthermore, out of the 2.5 million international visitors, 26% were Canadian and 74% were from overseas. The Boston-Logan International airport makes it extremely easy for international tourists to visit the state, especially Canadians. Boston and Cape Cod see millions of visitors annually.
See Also: Largest Cities in Massachusetts
Traffic And Transportation
Massachusetts has an extensive transportation system like public transport, commuter trains, ferries, highways and air services. The state also has several regional transit services that connect different parts of the state.
However, urban congestion has become a serious issue in Massachusetts, specifically in the cities. In 2019 itself, Boston city was ranked first in traffic congestion in the United States. Even though other cities in the state might not have a similar fate, the problem still exists. To tell you more, the problem has become worse due to mounting housing costs which forces the working class to move far away from work. Not all places are connected by the Boston T, which is also prone to frequent breakdowns and heavy crowding. If you own a vehicle, a regular gallon of gas will cost you $2.104. To put things in perspective, that's just a little lower than the national average of $2.164.
Things To Do In Massachusetts
Massachusetts is a cultural hub filled with museums, theatres and historic sites. With so many places to see, here is a list of the five places that you must visit in the Bay state.
Cape Cod
Massachusetts is home to the beautiful Cape Cod, which has around 500 miles of white sand. These beaches might be crowded in the summer, but you can find quieter spots during other times in the year. If you take route 6-A on the northern shore, you will find quiet spots to relax near Brewster and Sandwich. The stretch of beaches also has Cedar woodlands that you can explore, and nesting birds that you can spot and marvel at.
The Museum Of Fine Arts And The Isabella Stewart Gardner
If you are a lover of art, we recommend you add these two museums to your list. These buildings situated right next to each other are resplendent in fine art and world renowned paintings. The Boston Museum of Fine Arts is well known for its large collection of American and Impressionist paintings.
The Isabella Stewart Gardner on the other hand, has around 2,500 pieces, some notable ones being those of Rembrandt and Vermeer.
Freedom Trail
This iconic three-mile trail is a must see in Boston which connects 16 historic attractions and monuments. Some of these include the Charlestown Navy Yard, the Old State House and the birthplace of Benjamin Franklin.
The highlight of the trail is the Faneuil Hall which was once the place where abolitionists and evolutionaries held their meetings. Now converted into a museum, you will also get the chance to visit the Faneuil Hall Marketplace which has numerous stalls, food shops and things to look at.
Salem
You've definitely heard of Salem, either from the notorious Witch Trials or its mention in various Halloween movies. You can visit the historic houses here which were built by rich traders, as it was the main port for trading with China. Here, you can visit the Salem Maritime National Historic Site and the Peabody Essex Museum.
Moreover, you can also book the Salem Morning Stroll Historic Tour, which is two hour long and will give you good insights into Salem's history.
The Norman Rockwell Museum
Fans of the legendary painter will be glad to know that you can visit his home in Berkshire! The house where he spent decades painting now hosts the largest collection of his paintings which have been well preserved. The collection also has his original pieces and those from his Sunday Evening Post covers.
Schools And Universities
As you mentioned earlier, Massachusetts stands first in the country for the public school system. The state also ranks high for the quality of education and literacy levels among the population. Moreover, the higher education institutions in the state offer a broad range of curriculum, as well as allow students to specialize in fields of their choice like Pharmacy.
Some of the best public high schools in the country are in Massachusetts like the Boston Latin School and the Sturgis Charter Public School. The state is also home to many prestigious universities like Harvard University and the Massachusetts Institute of Technology (MIT). The average tuition fee for public colleges and private colleges in the Bay state stand at $9,286 and $31,094 respectively. Colleges in the state are also divided based on 4 year or high colleges and 2 but less than 4 year colleges, the average tuition for which is $12,330 and $11,147 respectively.
In conclusion, moving to Massachusetts with your kids won't be a decision you will regret as they will be getting the best of education. But of course, the best sure comes at a price! You can also apply for state funding like the Massachusetts Tuition and Financial Aid, to ease the burden of mounting tuition fees.
How To Become A Resident Of MA
If you are planning on moving to Massachusetts, you will have to consider the steps to apply for residency. This is a fairly straightforward and easy process in the Bay state. Like other states, to become a resident of Massachusetts, you are required to live in the state for 183 days while maintaining a permanent place.
Massachusetts RMV
You can drive in the state with your out-of-state license till you receive your residency, after which you have a period of 30 days to transfer it. To start the procedure of transferring your out-of-state license to Massachusetts, you have to first visit a Registration of motor vehicles office. The application can also be started online to save time. However, the documents have to be submitted at the Registry office itself. Moreover, you will be required to carry the following forms with you when you visit the Registry office:
Social security card
An application for the Out of State License that's completed. You can find this application online as well.
Proof of lawful presence in the country/U.S citizenship
Massachusetts residency proof.
Note that if your name on your out-of-state license and proof of lawful presence is different, you will be required to provide a proof of legal name change. The state charges a fee of $115 to $140, depending on the type of license you apply for. Additionally. you will not be asked to give a driver's test again. Check out the state website for additional details.
To register your vehicle, you will have to visit the Registry office and pay anywhere between $60 and $100, the breakdown of which you will find on the state RMV website.
Visit the RMV with the following documents:
Current out-of-state registration and/or title
The application for the registration or title
Insurance Proof
Incase you don't have your out-of-state license or it was expired within the span of 1 year, you will also have to provide the following:
Photo ID (Refer to the list of acceptable photo IDs on the RMV website)
A copy of your driving record that's certified. This cannot be more than 30 days old.
If your out-of-state license has been expired for more than a year, you will also have to give an eye test, a written as well as a road test. Moreover, if you have a foreign driver's license, you are permitted to drive in Massachusetts with the same. However, we suggest you visit the RMV website for their terms and conditions and additional information.
Five Best Places To Live In Massachusetts
Choosing where to live when you plan on moving to Massachusetts can be a confusing and overwhelming experience. To make things easier for you, we give you five places you can consider living in.
1. Brookline
Wondering if there's a suburb in the busy Commonwealth State that has everything you need? Brookline is your answer! With a population of only 59,234, the suburb has a quiet feel while offering you with every urban facility. It is also both kid friendly and has low crime rates. Moreover, the suburb is just 15 minutes from the metropolitan New York City, giving you access to a variety of jobs and opportunities.
Real estate website Niche rates it as the Best place, Best Suburb and Best Suburb to Raise a Family in Massachusetts. Unsurprisingly, with the best of facilities comes mounting costs. The median home value in Brookline is $885,700 while median rent is $2,194, both of which are extremely higher than the national median.
On the other hand, Brookline has 15 public and 10 private schools. Interestingly though, it's only 20 minutes by road from the prestigious New York University!
2. Hopkinton
You might have heard of this town in Middlesex county if you are a marathon runner or follow them on television. Hopkinton is the starting point of the famous Boston Marathon and home to the Dell EMC. The town has a number of parks, libraries and recreational centres like a bird sanctuary and a trail system. Moreover, the town is extremely family friendly, racially and ethnically diverse, while also boasting of low crime rates. Now isn't that a plus point if you plan to raise children or want a quiet retirement?
With a population of just 17,000, Hopkinton was rated as the fourth safest place to live in, by the Boston Magazine. Real estate website Niche ranked Hopkinton first, in terms of place to buy a house and as the sixth best place to raise a family in Massachusetts. When it comes to real estate prices, even though Hopkinton is a town, the median home value is exorbitantly high. The median home value stands at $581,700 and the median rent stands at $1,740. Fortunately though, you will notice that the median income of the population is also high and most residents have completed their high school education.
The picturesque town has 7 public schools and 1 private school. The closest college to Hopkinton is the Framingham State University, whereas the prestigious Harvard University is a 30 minute commute by road.
3. Cambridge
If you're a young professional or have children who are just entering the job market, chances are, you're looking for a place to live which ranks high on parameters of high quality education and job availability. In this case, Cambridge is the place for you. With a population of 115,615, this city ranks first for Best Places for Young Professionals to move to in Massachusetts. The city is also a cultural hub with museums, galleries and numerous parks.
The median house value in the city stands at $719,300, while the median rent stands at $2,071. Cambridge has some of the best public schools in the state, like the Cambridge Rindge and Latin school and the Martin Luther King Junior school. In totality, the city has 26 public schools and 17 private schools. Naturally, it becomes a great place to raise a child in. Cambridge is also home to the prestigious Harvard University and the Massachusetts Institute of Technology.
4. Arlington
Arlington also ranks high in terms of safety, education and friendly neighbourhoods. This suburb in Boston has a population of 45,147 with numerous parks and other recreational facilities like the Regent Theatre. It will give you an urban feel as you spend your days experiencing the peace and quiet that a city cannot provide.
The median home value in the suburb stands at $609,800, whereas the median rent stands at $1,645. Arlington has around 12 top-rated public schools and 5 private schools. The suburb is close to many colleges like Tufts University, Bentley University, Cambridge College and Harvard University.
5. Athol
Wondering if Massachusetts has any affordable suburbs to live in? We have the answer for you – Athol in Plymouth county. The tiny town has a mere population of 11,000 and ranks as the most affordable place to live in the state. This rural town will give you the peace you need, with its lush green cover and many opportunities for long walks and hikes on the weekends.
The median home value in Athol stands at $152,300, which is great for first time homeowners and the median rent stands at $885. Consequently, Niche ranked this town sixth in the lowest cost of living in Massachusetts. Athol has four public schools and is close to two community colleges, namely Greenfield Community College in Greenfield and Mount Wachusett Community College in Gardner. Students can also commute to Amherst, Worcester and Keene for higher education.
---
Conclusion
If you're planning on moving to Massachusetts, there are many factors you have to consider. The high cost of living might not be everyone's cup of tea. But then there are numerous other undeniable perks which makes Massachusetts one of the best states to live in the US. Especially for those looking to study or take their career up a level
See also: Moving Companies in Massachusetts
Enter your information
Almost done!
Enter your information to view your quote.
Your information is safe with us. By using this service, you agree to receive email communications solely regarding your relocation process